2 Year yoga course incorporating several specialist yoga teaching areas', in Byron Bay & Melbourne
Prerequisite: 10865NAT Certificate IV in Yoga Teaching with Byron Yoga Centre. If you don't have this then sign up for the Certificate IV in Yoga Teaching and the Diploma (total 3 years) and enjoy a discount on fees
(International students can apply for a 2 or 3 year student visa to Australia.)
RTO No. 91522 | Course Code. 10677NAT | CRICOS Code. 03418E
Byron Bay Intakes
| | | | | |
| --- | --- | --- | --- | --- |
| Name | Course Start Date | Course End Date | Cost | |
| D11 January 2021 | 25/01/2021 | 24/01/2023 | $20,000.00 | |
| D12 April 2021 | 26/04/2021 | 25/04/2023 | $20,000.00 | |
| D13 July 2021 | 12/07/2021 | 11/07/2023 | $20,000.00 | |
| D14 October 2021 | 04/10/2021 | 03/10/2023 | $20,000.00 | |
| D15 January 2022 | 24/01/2022 | 23/01/2024 | $20,000.00 | |
| D16 April 2022 | 18/04/2022 | 17/04/2024 | $20,000.00 | |
| D17 July 2022 | 11/07/2022 | 10/07/2024 | $20,000.00 | |
| D18 Oct 2022 | 03/10/2022 | 02/10/2024 | $20,000.00 | |
Melbourne Intakes
| | | | | |
| --- | --- | --- | --- | --- |
| Name | Course Start Date | Course End Date | Cost | |
| D7M January 2021 | 25/01/2021 | 24/01/2023 | $20,000.00 | |
| D8M April 2021 | 26/04/2021 | 25/04/2023 | $20,000.00 | |
| D9M July 2021 | 12/07/2021 | 11/07/2023 | $20,000.00 | |
| D10M October 2021 | 04/10/2021 | 03/10/2023 | $20,000.00 | |
| D11M January 2022 | 24/01/2022 | 23/01/2024 | $20,000.00 | |
| D12M April 2022 | 18/04/2022 | 17/04/2024 | $20,000.00 | |
| D13M July 2022 | 11/07/2022 | 10/07/2024 | $20,000.00 | |
| D14M October 2022 | 03/10/2022 | 02/10/2024 | $20,000.00 | |
Byron Yoga Centre's two year 10677NAT Diploma of Purna Yoga Management imparts specialist teaching skills in areas such as Yin Yoga and Restorative; it also includes training in Ayurveda and in small business management but does not offer specific qualifications in these two subjects.
The Diploma of Purna Yoga Management is the next step from the 10865NAT Cert IV in Yoga Teaching which is a prerequisite.

International students who are accepted onto the Diploma course can apply for a 2 years Australian student visa. Students who first need to complete the 10865NAT Cert IV in Yoga Teaching can apply for a 3 years visa. For more details on how to obtain the student visa, please refer to the Department of Home Affairs (DHA) website.
Course Overview
This training will build on the Certificate IV in Yoga Teaching. You will study advanced asana and philosophy and you will expand your yoga teaching skills, working to develop, teach and monitor personal yoga programs. You will also undertake units in Yin Yoga and Restorative Yoga.
The course includes the study of Ayurveda – the sister science of yoga. You will learn to make client assessments and to tender Ayurvedic lifestyle advice. You will also gain the skills and knowledge to manage a small business such as a yoga studio or health centre, please note there are no specific qualifications in these two subjects.
This course will also deepen your own yoga practice and further your personal growth.
Locations
This course runs in two locations (You will be provided with a timetable closer to your start date.). You can choose from Byron Bay and Melbourne.
The Melbourne training is held at a studio in Fitzroy. The Byron Bay course is run from the training facilities at 50 Skinners Shoot Road. Please note: The trainings in Byron Bay are not at Byron Yoga Retreat Centre.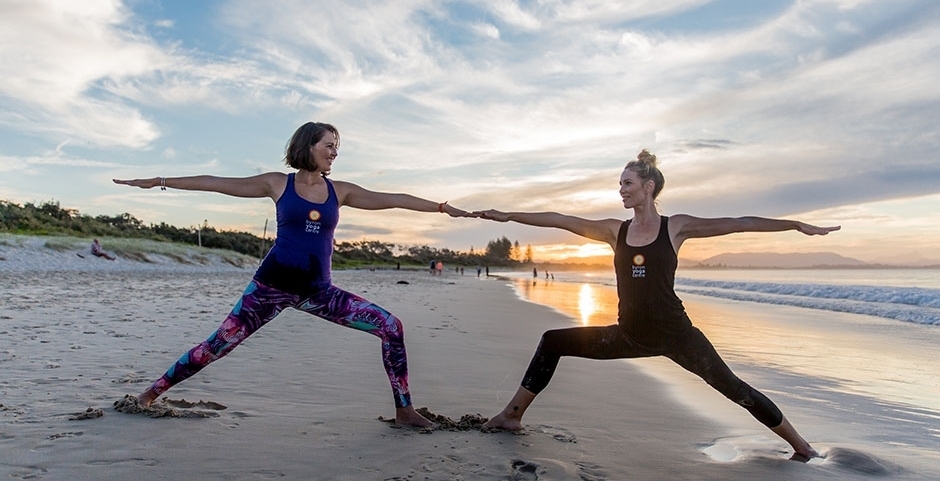 Duration
The Diploma is a 2 years course with 8 terms of 10 weeks each for 20 hours per week. There are 2 days per week of 7.5 hours and 1 day of 5 hours including face to face instruction, yoga practice, teaching experience plus assignments and assessments. You will be provided with a timetable closer to your start date.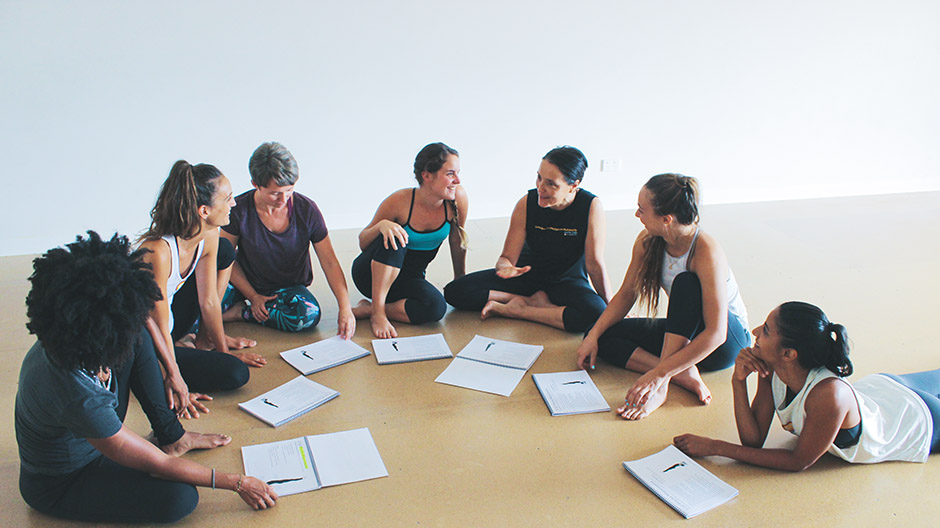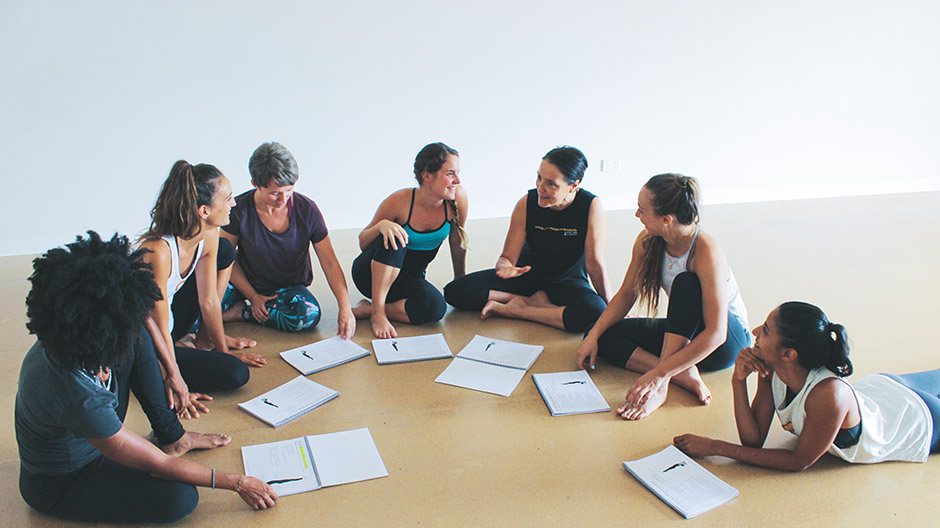 Fees*
2 year Diploma Course AUD$20,000
3 year Certificate IV ($10,000) and Diploma pay a total of just AUD$27,500
The indicative course fees shown apply to international students studying on-campus in Australia for the relevant 2 years only. All fees are subject to annual review and may be adjusted.
*In accordance with ESOS Act
The tuition fees are AUD$20,000 which includes the required props to use in class, manuals and books. There is no application fee. If you are enrolling for both courses, then a discount applies and the cost of the Diploma will be only AUD$17,500 (total fees for both the Certificate IV and Diploma is $27,500).
As a RTO, Byron Yoga Centre is required to implement a process or strategy that will ensure that fees collected in advance from students are suitably protected.
Accordingly, no more than 50% of the entire course fee will be requested upfront. Fees collected in advance from international students are protected under the provision of the Tuition Protection Service (TPS). Byron Yoga Centre will manage a designated bank account in this regard, where all tuition collected in advance from international students will be housed until the student commences the course.
Diploma fees are payable as follows:
Deposit of AUD$1500 payable upon acceptance of application
A further AUD$3500 due on course commencement
Balance of 6 payments of AUD$2500 required every 3 months
*In the event that a student receives a student visa refusal notice prior to course commencement, an administration fee of AUD$250 will be retained by Byron Yoga Centre and all other monies paid by the student will be refunded.
Course information in detail
The course is comprised of 10 units of competency. These are:
YGTMYS501 Manage a Yoga School
YGTAYP502 Perform A range of Advanced Purna Yoga Practices
YGTTEA503 Teach an advanced Purna Yoga Class
HLTAYV002 Make Ayurvedic Lifestyle Assessments
HLTWHS004 Manage Work Place Health & Safety
HLTAYV004 Provide Ayurvedic Lifestyle Advice
CHCPRP001 Develop and maintain networks and collaborative partnerships
BSBLDR511 Develop and Use Emotional Intelligence
BSBADM504 Plan and Implement administrative systems
BSBSMB404 Undertake small business planning
Application requirements
A Certificate IV in Yoga Teaching is a prerequisite. You can undertake this one year course with Byron Yoga Centre in either Byron Bay or Melbourne.
You must demonstrate English Language Proficiency and hold an IELTS Certificate showing an Overall Band Score at a minimum level of 5.5, if you have completed the Certificate IV with another organisation.
You must demonstrate your yoga background. A pre-enrolment interview will be organized in order to access your yoga experience.
Potential students must be over 18 years of age.
You must have a laptop or access to a computer to complete the online homework.
You may apply for Recognition of Prior Learning; however it should be noted that only Australian qualifications will be accepted by Byron Yoga Centre and that such Recognition could affect the term of your visa. For RPL enquiries, contact: admin@byronyoga.com
Working while studying in Australia
If you are granted a student visa, you are permitted to work a maximum of 40 hours per fortnight when your course is in session, and unlimited hours when your course is out of session. Please note you cannot work until you have commenced your course in Australia.
Work that is formally registered as part of your course is not included in the 40 hours per fortnight limitation.
Students must comply with the work conditions for student visa (subclass 500) holders. Please refer to the Department of Home Affairs (DHA) website.
PLEASE READ THESE BEFORE APPLYING:
INTERNATIONAL STUDENT HANDBOOK (Download Here) 
REFUND (Download Here)
COMPLAINTS POLICY (Download Here)
POLICIES and PROCEDURES (Download Here) 
How to apply
Please complete the online application form. Just click on the green 'Apply' button on the dates table at the top of the page.
Tel: +61 (2) 6685 8327 (outside Australia)
(02) 6685 8327 (inside Australia)
Email: education@byronyoga.com
Application Step-by-Step Process Model:
Student enquiry and Application online or via email
Application interview is arranged, documents requested and evidence is provided by the student
Letter of Offer is issued by Byron Yoga Centre
Student Acceptance: return signed forms and payment of deposit is arranged
Confirmation of Enrolment (COE) is issued by Byron Yoga Centre
Health cover arrangements (OSHC) by the student
Student Visa application with the Department of Home Affairs (Immigration)
Student makes payment of balance of fees
Once visa is granted, student travels to Australia and sets up living arrangements, mobile phone, bank account, etc.
Student arrives at Byron Yoga Centre Studio for Orientation and commencement of the course
Teaching Faculty
Under the guidance of Byron Yoga Centre's Director and veteran yoga teacher, John Ogilvie,  the teaching staff on this course are all experienced and dedicated. You'll be inspired by our resident and guest yoga teachers alike, who 'walk their talk', living the yoga lifestyle, and are all knowledgeable and passionate about their subjects.
Other teachers include:
John Ogilvie | Kara Goodsell | Davina Kruse | Michael Nazar
Agents
Find a list of Agents Byron Yoga Centre is currently engaged with here
Training Location – Byron Bay
The Byron Bay courses are held at our training facilities at 50 Skinners Shoot Road (not at Byron Yoga Retreat Centre).
Training Location – Melbourne
The Melbourne trainings are held at the Ashtanga Yoga Centre of Melbourne, Level 1, 110 – 112 Argyle St, Fitzroy. This is a fantastic area for cafes and shops.
Byron Bay – General Information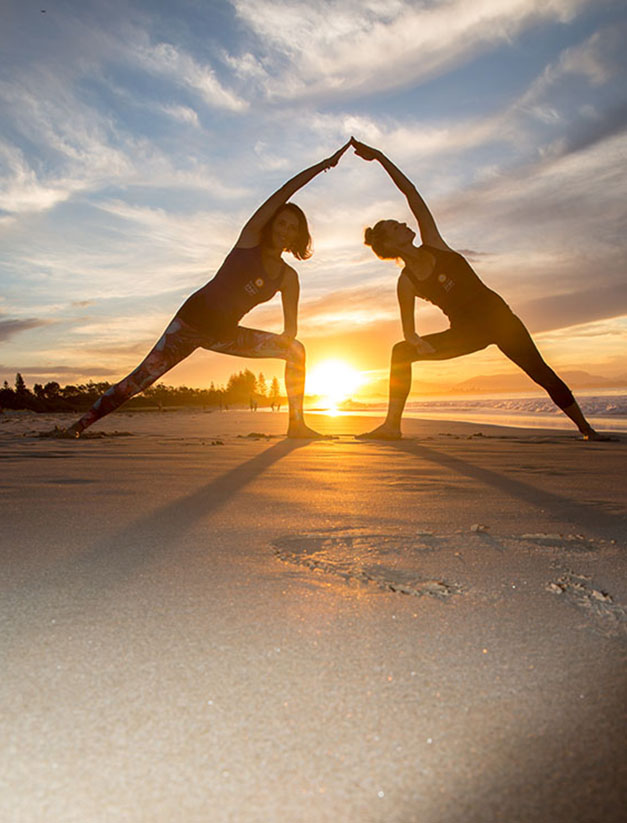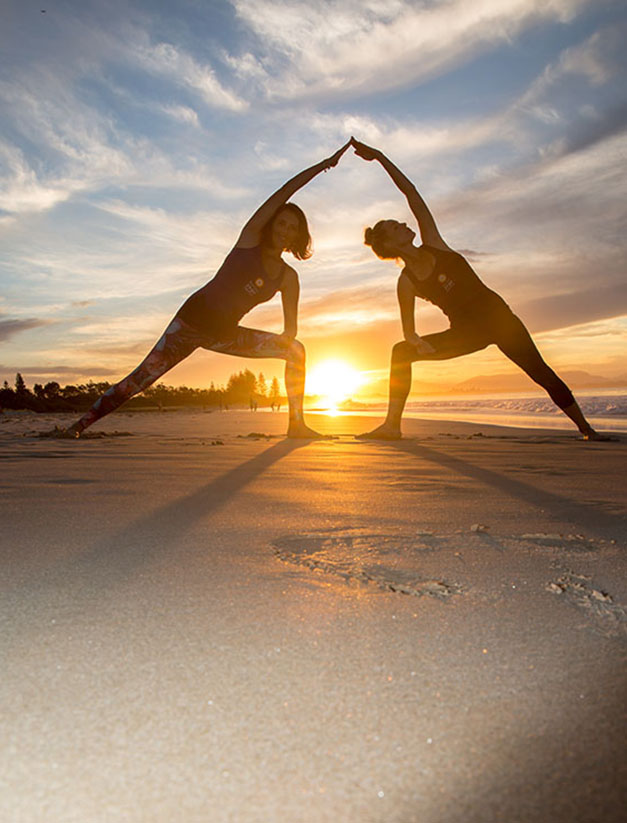 Cape Byron is Australia's most easterly point, located on the North Coast of New South Wales. With its numerous beaches, unspoilt hinterland, and relaxed lifestyle, Byron Bay is a popular tourist destination. It is also a place where artists, musicians, dancers, writers, surfers, healers and of course yogis express their diversity and individuality.
The town has all major facilities: a hospital, cinema, supermarket, health food stores and great restaurants, as well as a flourishing alternative health industry. Bicycle is the easiest way to get around town and easily organised through Byron Yoga Centre.
The average summer temperature is 21C – 28C, and average winter temperature is 15C – 21C, There are also periods of heavy rainfall, especially in summer. The area has a total annual rainfall of 1734mm. Byron Shire has a population of close to 30,000, while the town of Byron Bay has a population of about 9,000.
Byron Bay is located just off the Pacific Highway, 800kms north of Sydney, 175kms south of Brisbane. Airports are located in Ballina (30mins south) or Coolangatta (60mins north) and buses and trains arrive regularly.
The following websites provide information about Byron Bay and the surrounding area:
www.byronbay.com  | www.echo.net.au | www.byronbaynow.com | www.byronbay.org
Melbourne – General Information
Melbourne is the coastal capital of the southeastern Australian state of Victoria. At the city's centre is the modern Federation Square development, with plazas, bars, and restaurants by the Yarra River. The Fitzroy area is an inner-city suburb of Melbourne, 3 km north-east of Melbourne's Central Business District.
Melbourne's alternative side is full-force in Fitzroy, the inner-city mecca for all things cool and kooky. Wander along Brunswick Street, Fitzroy's main drag, for tonnes of vintage clothing stores and second-hand bookshops. Take your pick from an array of cafés and restaurants, like the famous vegetarian spot Vegie Bar.
The following websites provide information about Melbourne and the Fitzroy area:
www.melbourne.vic.gov.au | www.visitvictoria.com | www.lonelyplanet.com | wikipedia.org – Fitzroy