25 Hour Modular Training Course with Andrew Olson
Practical Anatomy: 25 hour training for yoga teachers, trainees and anyone wishing to deepen their understanding of anatomy within the context of yoga (open to non-yoga teachers)
Priced from $1250 (includes tuition, all meals and 3 nights in quad (4) share room with shared bathroom, other accommodation options subject to cost and availability)
Earlybird Price from $1090 – for bookings made more than 8 weeks prior to course commencement.
This 25 hour training program with Andrew Olson offers a down-to-earth exploration of practical anatomy for yoga teachers and experienced practitioners. You will look at key concepts that build on areas covered in Byron Yoga Centre's Level 1 Teacher Training to solidify and expand your knowledge. You will gain a greater awareness of the body from an anatomical perspective to benefit your own practice and increase your skills as a teacher.
Modular Trainings
Byron Yoga Centre's 50 and 25 hour Modular Trainings are designed to be stand alone specialty courses as well as being applicable to part of your 200 or 300 certificates. They fit particularly well as part of a Level 2 300 hour course. To be counted as part of a Level 1 or Level 2 the modular course must be undertaken after the residential intensive not before. These modular course hours can also be used for the ongoing professional development required each year by Yoga Alliance and other professional bodies. Or you could just do one because you want to learn more.
Practical Anatomy Training with Andrew Olson 
Trauma-Aware Yoga with Chris Thompson Lang

Meditation Teacher Training with Swami Pujan
Yoga For Teens Training with Chloe Thorogood

Practical Anatomy: Apply a deeper understanding to your yoga teaching and practice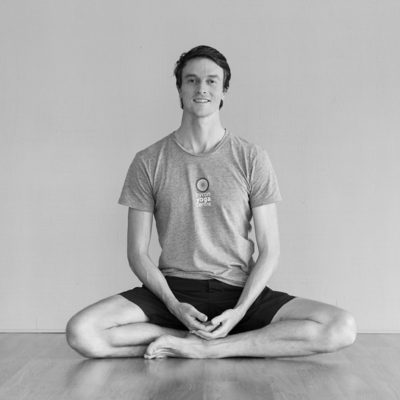 Byron Yoga Centre's 4 day Practical Anatomy Training led by Andrew Olson is for teachers, recent graduates and experienced practitioners looking to develop a broader understanding of the key anatomical concepts within the framework of yoga. You will learn how to help avoid yoga injuries and how to work with common limitations. The course is a mix of theoretical sessions and practical workshops designed to increase your knowledge of the skeletal and muscular systems and how to apply this to your yoga teaching.
This Practical Anatomy training is ideal for our Level 1 graduates who are looking to review and build on the topics covered in the 200 hour course and increase their comprehension and confidence.  The course is also applicable for 500 Hour RYT's who feel that they lack expertise in the area of applied anatomy. Experienced practitioners would also benefit from joining this course as it can be viewed as a 4 day immersion into the functional aspects of anatomy for yoga.
Course details
This 25 Hour Practical Anatomy course is a concentrated training program with a mix of anatomy study sessions and practical workshops in teaching skills, all balanced with yoga classes and time for relaxation and integration.
At the start of each day you will enjoy an early morning asana, pranayama and meditation class, giving you the opportunity to deepen your own practice. This will also set you up for a day of learning and active participation in the sessions.
Andrew Olson has created the program of theoretical and practical workshops which focus on key areas that will help yoga teachers better assist their students and teach more safely from a place of greater anatomical understanding. A fundamental aspect of the course is learning correct alignment and injury prevention. This will be applied in a practical way to teaching skills, specifically to corrections and adjustments.
In the theory sessions, Andrew will explore how our muscular and skeletal systems influence the practice of asana. Topics will include specific cues for standing poses, a focus on the pelvis, spine and shoulders plus a look at arm balances. These areas will be looked at in terms of applying the concepts of applied anatomy for great safety and strength.
You will also participate in experiential style learning and practical workshops to increase your confidence in guiding students into appropriate alignment by offering corrections and adjustments, plus you will learn specific posture modifications for students with injuries and limitations.
The evening sessions, after (a delicious) dinner, are a chance for integration with practices such as guided meditations, restorative pranayama and Yoga Nidra.
Course Content
Early morning asana, meditation and pranayama classes with senior teachers
Theory sessions on practical anatomy with Andrew Olson will include:

Exploration into how the muscular and skeletal systems influence the practice of yoga asana
Learning how specific cues can increase muscular control in standing postures
Discovering how to safely move the pelvis and spine with greater muscular control
How to increase your ability to practice and teach arm balances with greater strength
Practical Workshops to solidify your knowledge by experiencing the concepts with in your body will include:

Learning how to reduce shoulder injuries when practicing Chaturanga Dandasana
Increasing your confidence in giving accurate corrections and adjustments to assist students with their practice
Learning specific posture modifications for students with common injuries
Time for self practice, self study (Svadhyaya), relaxation and integration
Evening program of guided meditations, restorative pranayama and Yoga Nidra
Certificate of Attainment
You will receive a certificate of completion and this can be counted as 25 hours towards any Level 1 or Level 2 where you have already participated in the residential intensive.
This 25 hour training can be counted as your CPD (Continuous Professional Development) as required by Yoga Alliance (YACEP) and Yoga Australia.
Note: There are no assessments or online requirements for this course (yay!).
Your Teacher Trainers
This course will be led by Andrew Olson
 
Sample Program – 4 Day Practical Anatomy Training
This program is subject to change.
Day 1:
2:00pm - Arrive and settle in to your accommodation
3:00pm - Welcome Circle
3:30pm - 'Review of the Muscular and Skeletal Systems' Theoretical session with Andrew Olson
5:00pm - 'Specific Cues for Muscle activation' Experiential learning with Andrew Olson
6:00pm - Dinner
7:00pm - Yoga Nidra / meditation / pranayama
Day 2-3:
6:30am - Asana, meditation and pranayama class
8:00am - Breakfast
9:00am - 'Standing Strength' Theoretical session with Andrew Olson

10:30am - Break
11:00am - 'Alignment and Adjustments' Practical workshop with Andrew Olson
12:30pm - Lunch
2:00pm - 'Pelvis, spine and shoulders' Theoretical session with Andrew Olson
4:00pm - 'Teaching safely' Experiential learning with Andrew Olson
6:00pm - Dinner

7:00pm - Yoga Nidra / meditation / pranayama
Day 4:
6:30am - Yoga practice
8:00am - Breakfast, check out of rooms
9:00am - Final session and closing circle
Noon - Departure (you are welcome to stay on to use the facilities and have lunch)
* Daily program may vary slightly
Course Venue
This fully residential training will be held at the Byron Yoga Retreat Centre, Byron Bay.