| Dates | Register |
| --- | --- |
| November 25 - December 2, 2018 | Register Now |
| December 2 - 9, 2018 | Register Now |
| December 9 - 16, 2018 | Join waiting list |
| January 6 - 13, 2019 | Register Now |
| January 13 - 20, 2019 | Register Now |
| January 20 - 27, 2019 | Register Now |
| January 27 - February 3, 2019 | Register Now |
| February 3 - 10, 2019 | Register Now |
| February 10 - 17, 2019 | Register Now |
| February 17 - 24, 2019 | Register Now |
| February 24 - March 3, 2019 | Register Now |
| March 3 - 10, 2019 | Register Now |
| March 10 - 17, 2019 | Register Now |
| March 17 - 24, 2019 | Register Now |
| March 24 - 31, 2019 | Register Now |
| March 31 - April 7, 2019 | Register Now |
| April 7 - 14, 2019 | Register Now |
| April 28 - May 5, 2019 | Register Now |
| May 5 - 12, 2019 | Register Now |
| May 12 - 19, 2019 | Register Now |
| May 19 - 26, 2019 | Register Now |
| May 26 - June 2, 2019 | Register Now |
| June 2 - 9, 2019 | Register Now |
| June 9 - 16, 2019 | Register Now |
| June 16 - 23, 2019 | Register Now |
| June 23 - 30, 2019 | Register Now |
| June 30 - July 7, 2019 | Register Now |
| July 7 - 14, 2019 | Register Now |
| July 14 - 21, 2019 | Register Now |
| July 21 - 28, 2019 | Register Now |
| August 4 - 11, 2019 | Register Now |
| August 11 - 18, 2019 | Register Now |
| August 18 - 25, 2019 | Register Now |
| August 25 - September 1, 2019 | Register Now |
| September 1 - 8, 2019 | Register Now |
| September 8 - 15, 2019 | Register Now |
| September 15 - 22, 2019 | Register Now |
| September 22 - 29, 2019 | Register Now |
| September 29 - October 6, 2019 | Register Now |
| October 6 - 13, 2019 | Register Now |
| October 13 - 20, 2019 | Register Now |
| October 20 - 27, 2019 | Register Now |
| October 27 - November 3, 2019 | Register Now |
| November 3 - 10, 2019 | Register Now |
| November 10 - 17, 2019 | Register Now |
| November 17 - 24, 2019 | Register Now |
| November 24 - December 1, 2019 | Register Now |
Our 8 day retreat is priced from $1995 (includes all treatments, meals and 7 nights in twin share room with shared bathroom, other accommodation options subject to cost and availability)
Earlybird price from $1800*
*Earlybird – offer only available for bookings made more than 8 weeks prior to course commencement.
Check our other Special 8 day Retreats:
Click here to view retreat dates and register your place
Imagine yourself unwinding, surrounded by the unhurried atmosphere of Byron Bay in Northern NSW. Your day begins with yoga or a walk and dip in the ocean, a delicious, healthy breakfast, then you might enjoy another yoga class, relax by the ocean or enjoy a complimentary treatment. Our wellness retreat offers you the chance to rediscover your spark and re-energize yourself in body, mind and spirit. Combining yoga, meditation and pranayama as well as an evening program that includes teachings on nutrition, wellness and ayurveda, this special retreat is the perfect way to bring back the feeling of health, happiness and clarity. Led by our experienced and caring teachers from Byron Yoga Centre, you can be assured of a rich, varied and holistic experience of yoga & wellness while at the same time enjoying the beautiful surroundings that Byron has to offer.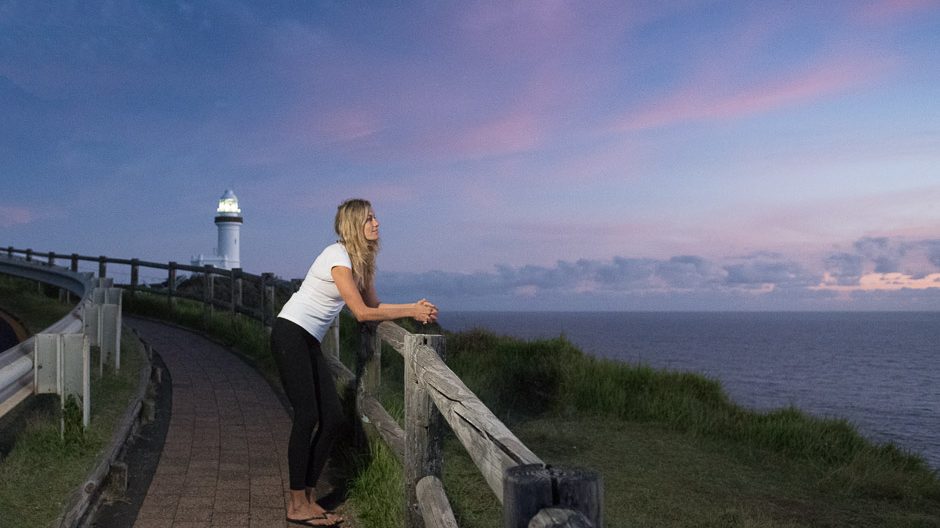 Retreat Description
This is a very special retreat designed to help you to develop an overall wellness program, which you can integrate into your life. We'll teach you practical approaches to common issues such as stress and weight management through healthy eating and a yoga program which includes not just the physical postures but breathing, meditation and special relaxation techniques. Our nutritionally balanced menu, combined with yoga, will naturally detox the body leaving you feeling refreshed and rejuvenated. The special diet is based on nutrient-rich super foods, which will help to detoxify the body while giving you energy. Through diet, yoga, meditation & breathing techniques we will give you the tools required to naturally regulate the hormones in the body and reduce strain on the adrenal system.
Our retreats are suitable for people of all levels of yoga experience from beginners right through to long time yogis. For registered yoga teachers, this retreat more than meets the required 12 points for Yoga Australia's annual CPD policy for its members. Variations of poses are offered in all classes and there is always the option to rest if necessary. Most of all we aim to teach you healthy lifestyle modifications, which will be sustainable in your everyday life.
Price Includes:
All accommodation
Buffet breakfast
Buffet lunch
Buffet dinner
3 massages or treatments
Twice daily yoga
Talks on ways to make positive life style changes
Evening program such as music, films and guided meditations
Byron Yoga Retreat Centre accommodation and food
For information on the accommodation and food, plus to find out more about Byron Bay – click here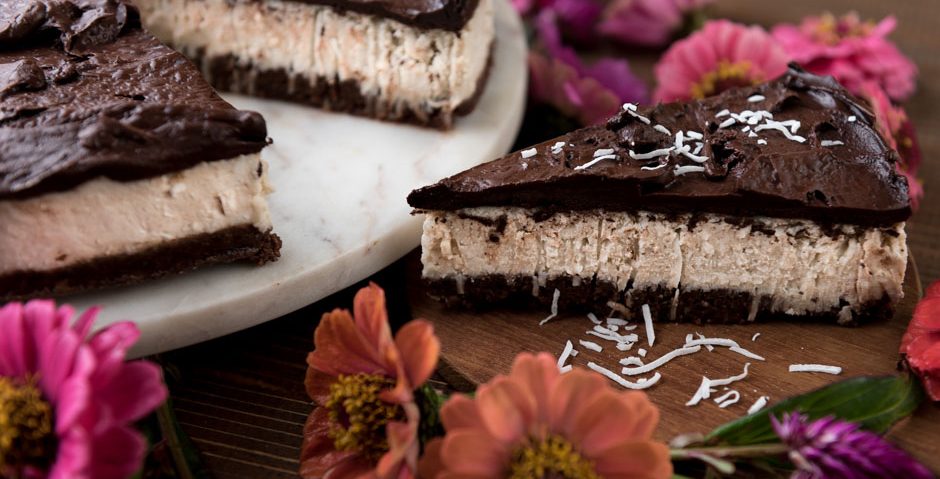 Schedule
The schedule is flexible and planned to maximise your experience of wellness & yoga whilst allowing free time to explore the surrounding area and engage with the local culture.
There are options for alternative sessions and off-site activities (see below the program for details) and you can also choose extra treatments when you purchase your retreat or book a consultation with our experienced Naturopath – benefit from her comprehensive report and recommendations, more info here (all these are subject to availability, minimum numbers and additional costs).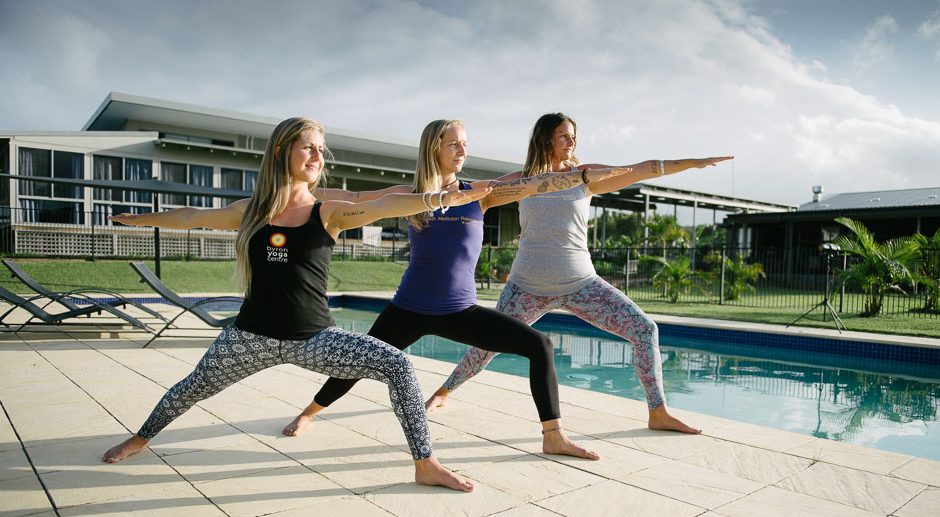 Sample retreat schedule:
Arrival Day:
8:00am - 2.45pm - Arrive anytime and settle in to your accommodation
12:30pm - Lunch (optional)
3:00pm - Welcome Circle and Meditation
4:30pm - Restorative / Yin Yoga Class
6:00pm - Dinner
7:00pm - Guided Meditation / Yoga Nidra
Full Days:
6:45am - Morning Flow Yoga / Lighthouse Walk
8:00am - Breakfast
9:00am - Wellness / Philosophy / Cooking session
10:00am - Fresh Juice Break
10:30am - Yoga Class
12:00pm - Relax

12:30pm - Lunch

1:30pm - Relax / Treatments / Surfing
4:30pm - Restorative / Yin Yoga Class

6:00pm - Dinner

7:00pm - Guided Meditation / Philosophy / Wellness session


Final Day:
6:45am - Morning Flow Yoga
8:00am - Breakfast
9:00am - Ongoing Wellness and Closing Circle
11:00am - Check out and departure (you are welcome to stay on to use the facilities and have lunch)
* Daily program may vary slightly
I feel inspired and re-focussed after spending time at the incredible Byron Yoga Centre. I have learnt so much. I feel completely relaxed and rejuvenated. Coming was the right decision for me and I hope many others yet to experience this too. Katherine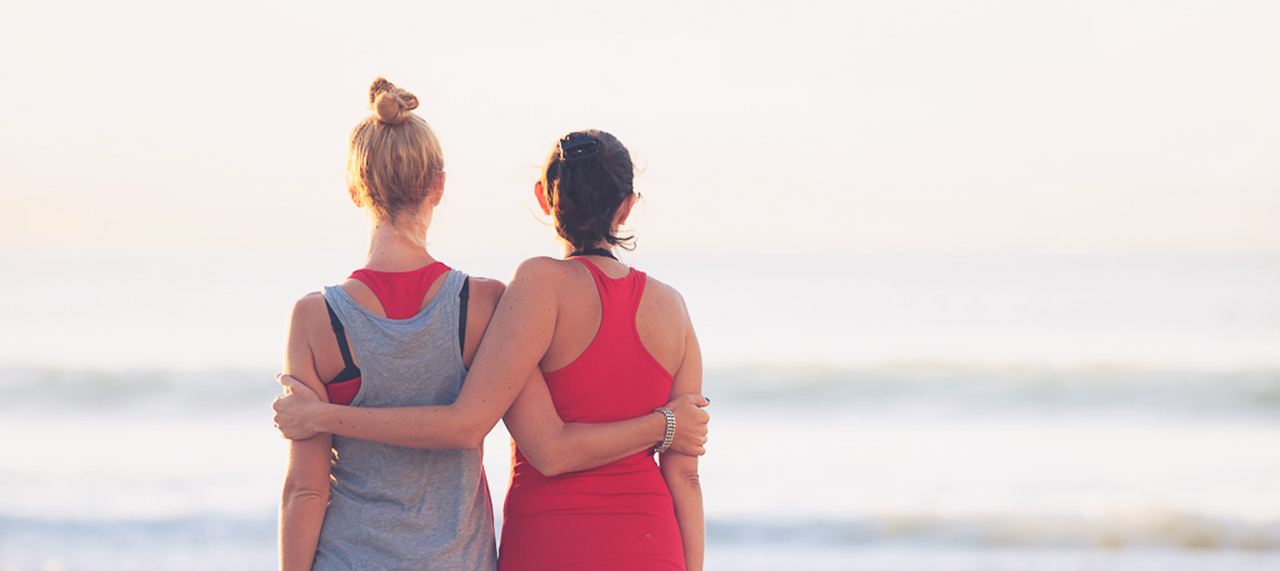 Program options and off-site additions
For returning guests who are looking for a varied experience, or for those wishing to combine the retreat with more adventurous activity or to explore the local area – we have several program options and activity partners (subject to availability, minimum numbers and additional costs). You can also choose to book extra options when you purchase your retreat. See below for more details.
Activity
Availability
Minimum number
Additional cost
Booking process
Surf Lesson
Could be 9am or after lunch for approx 4 hours, tide and weather dependent
No Minimum number
$65 per person per lesson (board and wetsuit included)
Book with your retreat (refunded if cancelled due to weather)
Kayaking
Could be 9.30am or 2pm for approx 4 hours, weather dependent
No Minimum number
$70 per person
Book with your retreat (refunded if cancelled due to weather)
Naturopath Consultation
(personal advice on diet, lifestyle & supplements)
Your 1.5 hour consultation could be any day between 1pm & 4pm, extensive health report & treatment plan will be emailed. More info: www.sallypattison.com.au
No Minimum number, appointment takes place at the Retreat Centre
$190 for consultation and the report
Book with your retreat (subject to availability, refunded if not available)
Crystal Castle
Mon, Wed or Sat, pick up at 12.20pm return by 5pm
Minimum 2 people required
$65 per person (includes transport, entry fee and the peace meditation)
Book with your retreat (refunded if not Minimum number)
Whale Watching Boat Tour
1pm - 4pm (Only available May to end of October)
Minimum 4 people. (Guests from outside retreat join as well)
$90 per person (includes 3hr boat tour, transport to/from the boat not included)
Book with your retreat (refunded if not Minimum number)
Deposit
To secure your place we require a $625 deposit per person. We conveniently offer internet banking and credit card facilities for online registrations via our secure payment gateway.
Click here to view retreat dates and register your place
Please note, bookings close at 2pm on the Friday prior to the start date