Take the next step with your practice … in paradise
30 June to 13 July 2015
Cost :
$3,350 includes 13 nights accommodation
Non residential option – $2,950
Note: Course starts 3pm on 1 July, ends the morning of 12 July
Bookings close 10 June
If you've ever thought, 'one day I'd love to become a yoga teacher', our yoga teaching training intensive offers the perfect opportunity to do just this, sharing the experience with a group of like-minded people on a Bali adventure together.
Click here to view course dates and register your place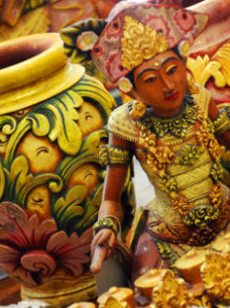 Byron Yoga Centre invites you to explore your practice of yoga in a 12-day Teacher Training Course in Bali. Immerse yourself in Balinese culture in the relaxed and tranquil environment at the Yoga Barn in beautiful Ubud.
Held in conjunction with our yoga retreat the teacher training is a 12 day intensive course (1 July to 12 July). The accommodation package includes 13 nights (30 June to 13 July) so that attendees have time to settle in before the opening circle at 3pm on 1 July. There is also an additional 24 hours free time after the closing circle before check out time.
With Byron Yoga Centre's teaching team on site, you can be assured of a rich, varied and holistic experience of yoga while at the same time enjoying the exotic surroundings that Ubud has to offer; rice fields, temples and local markets.
It's the ideal place to adjust to the Balinese way of life and the perfect launch pad for travelling around the island on your own after the course.
As there is limited free time during the intensive we recommend you extend your stay so that you have time for sightseeing afterwards, if your schedule permits.
Experience makes the difference
Teaching yoga consists of more than simply the skills required to perform asanas correctly or knowledge of anatomy and physiology. Ultimately, the path to teaching yoga with awareness and understanding involves deepening your own practice.
Byron Yoga Centre's 12-day Teacher Training Course in Bali is part A of the fully accredited (Yoga Alliance) and Fitness Australia approved course. It is designed to deliver holistic training that encompasses the physical, emotional and spiritual aspects of the yogic path. Part B is conducted by correspondence, or could be completed by study at Byron Yoga Centre in Byron Bay. Part B non-residential is included in the cost.
The course is completed by correspondence after the intensive at a personal pace, for as long as the trainee needs.
Teachers
Our lead teachers have a combined teaching experience of over 50 years offering a wealth of knowledge and expertise to share with participants. John Ogilvie, the founder and director of Byron Yoga Centre, has been teaching yoga for over twenty years. He encourages a light heartedness in our approach to yoga and to ourselves.
Other experienced teachers include:
Michael Nazaar has a background in fitness, remedial massage and sports injury therapy which is apparent in his dynamic Vinyasa flow-style classes. He has been practising yoga since 1990 and gained his level 1 and 2 teaching qualifications from Byron Yoga Centre in 2006 and 2007. Michael seeks to incorporate the ethical and moral teachings of yoga into his classes, as well as pranayama and meditation, and lectures on the teacher trainings as well as teaching regular general classes at the Centre.
Swami Pujan was born as Stephan Kahlert in Hamburg, Germany and became a Swami after his Initiation. Bhagvan Shree Rajneesh, the world famous Spiritual Guide and Eastern Philosophy Teacher who lived in Puma, India, initiated Stephan Kahlert and taught him that spirituality is a joyful journey full of passion and celebration. Pujan has worked in many different industries, as a change consultant in corporate Australia, in drug rehabilitation and in private practice as a counselor and therapist. He is a qualified Purna Yoga teacher, but his main focus remains always Jnana Yoga, the path of knowledge. Pujan has been teaching philosophy and meditation at Byron Yoga Centre for over six years, and has shared his knowledge with hundreds of students.
 Sample intensive schedule
Students need to arrive on 30th June or 1st July to settle into their accommodation prior to the course commencing on 1st July. A brief introduction to people and the course will be held at 3:00pm (1st July). The first yoga class starts at 6.00am the following day. The course will finish on the morning of the 12th July. Checkout is 13th July.
*Please note the schedule below may vary
| | | | |
| --- | --- | --- | --- |
| 6:00am | - | 7:30am | Asanas with focus on Sequencing, Pranayama and Meditation |
| 7:30am | - | 9:00am | Practical and Lectures |
| 9:00am | - | 10:00am | Breakfast |
| 10:00am | - | 11:30am | Practical and Lectures |
| 11:30am | - | 1:00pm | Asana Class |
| 1:00pm | - | 3:00pm | Lunch and free time |
| 3:00pm | - | 4:30pm | Asana Class |
| 4:30pm | - | 6:00pm | Practical and Lectures |
| 6:00pm | - | 7:30pm | Dinner |
| 7:30pm | - | 8:30pm | Practical, Lectures, Meditation or Kirtan |
Accommodation
Yoga Barn, Ubud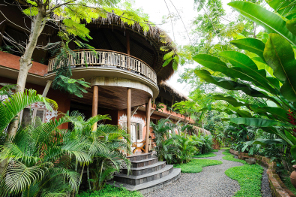 The shared, on-site accommodation at the Yoga Barn is only minutes from central Ubud, yet remains quiet and secluded. It's a peaceful haven and a great base from which to explore.
The comfortable Balinese accommodation is set in tropical gardens with courtyards, salt water pool and lounge areas to relax in between yoga and visits to the local sights.
You'll stay (twin share) in a spacious room individually decorated with unique furniture and local artifacts. All rooms have en-suite facilities and ceiling fans and/or air conditioning.
Accommodation package is from 30th June (check in after 2pm) until 13th July (check out 10am). If you would like any extensions to your accommodation, please make your own arrangements.
Cuisine

Delicious vegetarian meals are included in your Bali Yoga Retreat. Breakfast is provided at your hotel, lunch and dinner will be at Garden Kafe at the Yoga Barn.
Price Per Person:
$3,350
Non residential option – $2,950 
Click here to view course dates and register your place
Inclusions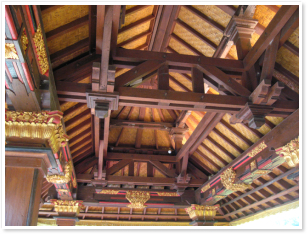 All meals
13 nights twin share accommodation*
Airport transfers (available only on 30th June/1st July and 12th/13th July)
Tuition
Training manuals
Prices do not include the following:
International airfares to Bali
Visas (required), travel insurance (recommended) and vaccinations (optional). Please seek professional advice from your travel agent and health practitioner
Required texts and DVD's are an additional cost.
For those more interested in a yoga retreat or relaxing holiday, rather than the intensive training, have a read through details of our yoga retreat for other options. Non-residential options available for $2,950 (includes all meals).
*All teacher training accommodation is twin share. Limited single accommodation may be an option, pending availability. Single supplement of $500 applies. Please contact us to inquire about  single accommodation.
International Flights
Please note: prices do not include international airfares to Bali.
You can book directly with your travel agent or online. Travel insurance is recommended. We recommend you book the flights with Virgin Blue, Jetstar or Garuda Airways as early as possible to secure the best available airfare. Return airfares range from approx $600 including taxes to $1000 subject to availability at time of booking.
Deposit
To secure your place we require a $600 deposit per person. We conveniently offer internet banking and credit card facilities for online registrations via our secure payment gateway.
Full Payment
The due date for full payment of bookings is 6 weeks prior. However we can still accept new bookings after this date, subject to availability.