Including BaliSpirit Festival tickets VIP Gold Passes to all day and evening events
$1440 (Deluxe upgrade: $1900)
2016 dates to be announced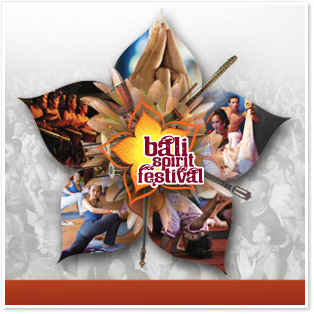 Since 2008 the BaliSpirit Festival has grown from a local event to a renowned holistic and wellness festival, which boasts the best yoga teachers from around the globe.To make the most of this fusion of yoga, music and dance, set in beautiful Ubud, we invite you to spend some extra time there with us.The retreat will begin two full days before the Festival begins to explore the island. During those days John Ogilvie will give a Purna Yoga class each morning and afternoon, together with optional group discussions, pranayama and meditation in the evenings. This schedule leaves plenty of time for you to go and explore the island at your leisure, or simply pamper yourself with a massage or spa treatment.The BaliSpirit Festival is around mid March each year, and John Ogilvie and other Byron Yoga teachers will be presenting workshops during the Festival.The Byron Yoga team are veterans, so with their expert knowledge you can be assured of a rich, varied and holistic experience of yoga while at the same time enjoying the exotic surroundings that Ubud has to offer: rice fields, cafes, Temples, silversmiths, artists and local markets.The luxurious resort offers a quiet and peaceful environment; it's the ideal place to adjust to the Balinese way of life and the perfect launch pad for travelling around the island on your own after the festival, if your schedule permits.
Teacher
John Ogilvie, the Founder and Director of Byron Yoga Centre, has been teaching yoga for over twenty years. He offers a wealth of knowledge and expertise to share with participants and encourages a light heartedness in our approach to yoga and to ourselves.
Location
Ubud is located in the center of the beautiful island of Bali, Indonesia.  Nestled among rice paddies and steep ravines, it hosts Bali's main arts and culture spots, and once you've been there it's obvious why it holds the TripAdvisor People's Choice Award 2012 for the best destination in Indonesia.
Accommodation
The Green Field Hotel, is only minutes from Ubud, yet remains quiet and secluded, which made it a favourite for John Ogilvie, Byron Yoga Centre's Director, who's stayed there several times.
John says, "It's a peaceful haven and a great base from which to explore."
The Balinese luxury accommodation is set in tropical gardens and offers picturesque views of the famous paddy fields, courtyards, gardens, salt water pool and lounge areas to relax in between yoga and visits to the local sights.
Designed in traditional Balinese style with sensitivity to the local culture, the resort offers you a comfortable travel experience and provides a wonderful backdrop for your next step on the yogic path.
You'll stay in a spacious room individually decorated with unique furniture and local artifacts.
The comfortable rooms all feature either queen or double beds, en-suite facilities and ceiling fans and/or air conditioning.
All rooms offer mosquito canopies and repellant coils, daily housekeeping, tea, coffee, two flasks of boiling water a day and a patio with table and chairs. Rooms are situated just next to the swimming pool, have a bathtub, are in a traditional Balinese-style building, and you'll have a beautiful view of Monkey Forest and the rice fields.
Upgrade accommodation option – Bale Pingit
These rooms on the first or second floor means your views of the rice fields and Monkey Forest are even more spectacular, and the extra space and additional daybed gives you that added touch of luxury.
Cuisine
Breakfast is included in the package, it's a mix of Balinese and Western-style foods and includes tropical fruits, scrambled eggs, fruit juices and freshly baked homemade bread; and there have even been whispers of fresh banana pancakes being delivered to eat on your balcony.The dining area is a beautiful light-filled space to enjoy socialising over delicious cuisine and you can choose to eat there for lunch and dinner, or take a wander (or free shuttle bus) into town to explore Ubud's many dining options.
Activities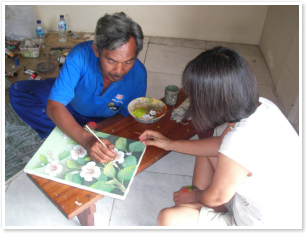 You'll have a great experience if you venture out and explore the ancient culture of Bali, or step into the local markets and shop with the locals.
Ubud is famous as an arts and crafts hub, and much of the town and nearby villages seems to consist of artists' workshops and galleries. There are some remarkable architectural sights, artistic gems to be found, and a general feeling of wellbeing to be enjoyed, all thanks to the spirit, surroundings, and climate of the place.
Should you be wanting something a little more energy-driven your hotel can arrange white water rafting, downhill mountain biking or a trip to Monkey Forest where you'll need your whit's about you if you want to take home everything you came with, because those monkeys can be sneaky!
You'll find details of these, and more on Trip Advisor.
If you'd prefer to stay at the resort, you can relax by the pool, take a spa treatment, read in the shade on your personal deck or discuss yogic philosophy under one of the stunning traditional Balinese pavilions.
One thing is for sure, you won't be short of things to do, even if your choice is to sit, relax and watch the world go by.
Price – Per Person
Inclusions
7 nights private accommodation and BaliSpirit Festival VIP Gold Pass to all day and evening events
Shuttle bus to Ubud town and the BaliSpirit Festival sites
Return airport transfers (on the start date and end date of the retreat only)
Breakfast
Twice daily yoga (first 2 days only, then you have all the wonderful yoga options of the Bali Spirit Festival!)
Evening programs (first 2 days only,  then you have all the wonderful evening options of the Bali Spirit Festival!)
Prices do not include the following:
International airfares to Bali (please arrange your own flights – recommended details are below)
Visas (required), travel insurance (recommended) and vaccinations (optional). Please seek professional advice from your travel agent and health practitioner
Optional activities
Lunch or dinner
International Flights
Please note: retreat prices do not include international airfares to Bali.
You can book directly with your travel agent or Byron Yoga Centre can help you book through its local travel agent. Travel insurance is recommended.
International Flights The local airport is Bali Airport in Denpasar and we recommend that you book the flights with Virgin, Jetstar or Garuda Airways as early as possible to secure the best available airfare.
Return airfares range from approx. $600 to $1000, including taxes, subject to availability at time of booking.
Deposit
To secure your place we require a $625 deposit per person. We conveniently offer internet banking and credit card facilities for online registrations via our secure payment gateway.
Full Payment
The due date for full payment of bookings is 6 weeks prior, to the festival retreat. However we can still accept new bookings after this date, subject to availability.
Visit the official BaliSpirit Festival website for details of the line-up or read more about the festival buzz in our recent news article.