Take the next step with your practice… in Melbourne
Cost $3,600
Earlybird Price $3,300*
*Earlybird – offer only available for bookings made more than 8 weeks prior to course commencement.
Click here to view course dates and register your place
2016 Weekends are:
Weekend 1 – 20-21 February
Weekend 2 – 12-12 March

Weekend 3 – 30 April-1 May

Weekend 4 – 14-15 May

Weekend 5 – 4-5 June

Weekend 6 – 18-19 June
Byron Yoga Centre Teacher Training Course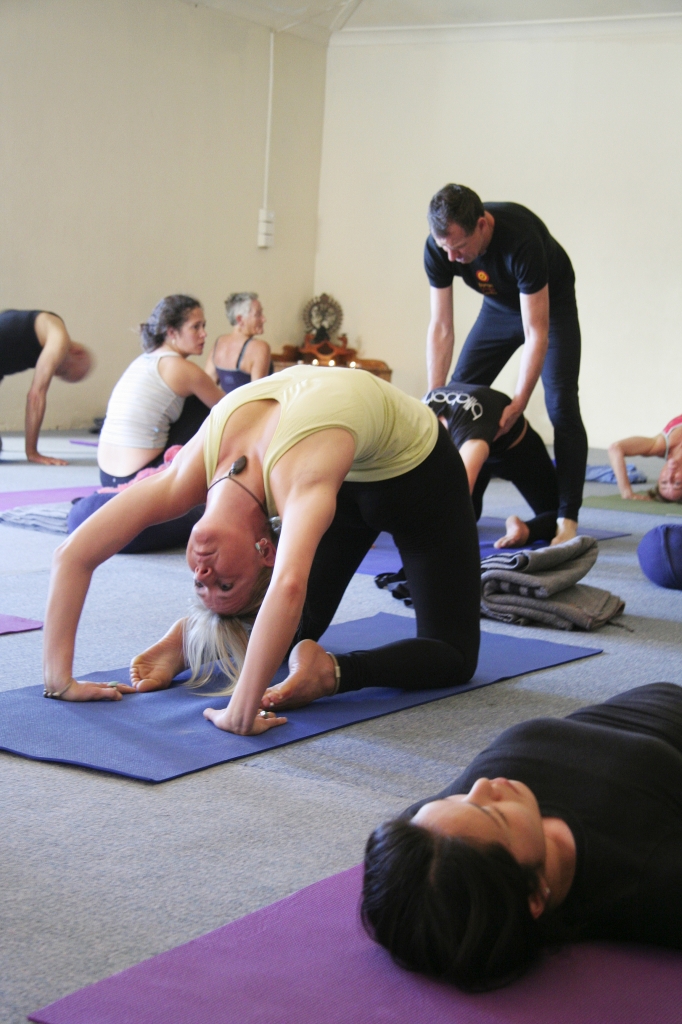 Experience makes the difference

Byron Yoga Centre's part time Non-Residential Melbourne Teacher Training Course is a complete experience with six weekends over five months. The course includes training by Australia's leading yoga training academy with some of the world's most experienced trainers.
Established in 1988 by John Ogilvie, Byron Yoga Centre is one of the longest running yoga schools in Australia. The lead teachers have over 20 years of knowledge and expertise.
John Ogilvie is the founder and director of Byron Yoga Centre. John has been teaching yoga for over twenty years. He encourages a light heartedness in our approach to yoga and to ourselves.
Teaching yoga consists of more than simply the skills required to perform asanas correctly or knowledge of anatomy and physiology. Ultimately, the path to teaching yoga with awareness and understanding involves deepening your own practice.
Course Content
The course consists of a comprehensive program covering a broad range of fascinating subjects all aimed at deepening your understanding of not just the postures, but also pranayama (breathing practices), meditation, and yoga philosophy and lifestyle.
A big focus for us is teaching you to teach and making sure that both your practice and your teaching is safe and aware. All teacher trainees get the opportunity to develop their teaching skills in a real-life context in teaching public classes.
Over a relatively short time, you'll emerge with the practical skills and confidence to launch your yoga teaching career.
Level 1 Teacher Training Qualification
The Byron Yoga Centre's Level 1 part time Teacher Training Course is fully accredited with Yoga Alliance and Fitness Australia approved for 15 CEC's. It is designed to deliver holistic training that encompasses the physical, emotional and spiritual aspects of the yogic path.
The style of yoga taught on the course is Purna Yoga – integrating asana, breath, meditation and philosophy.
Training Location
Venue To Be Announced soon
Melbourne
Teachers
The lead teachers have over 20 years of knowledge and expertise each.
John Ogilvie founded Byron Yoga Centre over twenty years ago.
Other experienced teachers include:
Schedule
Saturday all day 7.00am – 5.15pm
Sunday all day 7.00am – 4.15pm
Over six weekends
The first yoga class starts Saturday 20 February – 2016
The course finishes on Sunday 19 June – 2016
Practical and Lectures includes
Techniques – Training/Practice;
Teaching Methodology;
Anatomy & Physiology;
Yoga Philosophy/Lifestyle & Ethics for Yoga Teachers;
Practicum
Example of timetable
Saturdays & Sundays
| | | | |
| --- | --- | --- | --- |
| 7:00am | - | 10:15am | Practical and Lectures |
| 10:15am | - | 12:15pm | Brunch |
| 12:15pm | - | 3:25pm | Practical and Lectures |
| 3:25pm | - | 3:35pm | Tea Break |
| 3:35pm | - | 5:15pm | Practical and Lectures |
Package includes
Five Months Training
Byron Yoga Centre training manuals and journals
Bookings
All bookings must be paid in full 6 weeks before course start date. We offer internet banking and credit card facilities.
Click here to view course dates and register your place
Read an article all about the joys of undertaking part-time teacher training here.