Friday 17 February – Sunday 19 February 2107 Byron Bay
*Book before 6 January 2017 for special early-bird discount!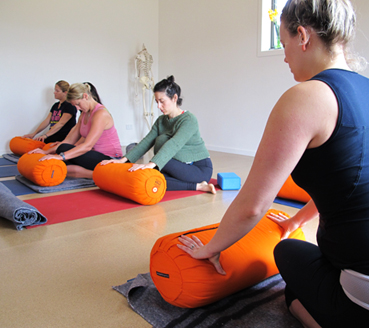 The Bliss Baby Prenatal Weekend Intensive is fun, practical and packed with information to help launch you into the growing field of teaching pregnant students.
This 22 hour intensive is designed to equip you with greater knowledge, confidence and a comprehensive 'tool kit' of appropriate asanas (postures) and practices for safely teaching pregnant women during all stages of pregnancy and to prepare for birth.
We will cover the theoretical and practical applications, including:
The three trimesters – psycho-physiological changes to mum and baby
Birth: stages of labour; supporting a woman for a natural birth
"The Golden Rules" – safety guidelines for prenatal students Sequencing for prenatal yoga – the 5 prenatal posture groups
Sequencing for prenatal yoga – the 5 prenatal posture groups
Applied Anatomy & Physiology for Prenatal Yoga: back problems and pelvic instability during pregnancy; other common prenatal complaints
Pelvic floor and squatting
Working with props to modify for various stages of pregnancy
Prenatal Restorative Yoga
Prenatal partner yoga
Pranayama and Yoga Nidra for pregnancy and birth
Presented by Yoga and Women's Health Specialists including: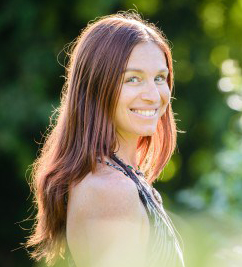 Star Despres is a devoted yogini, practising since she was 19 and teaching since 2006. She is a Senior Byron Yoga Centre qualified Teacher and Teacher Trainer, has been facilitating Bliss Baby Yoga Prenatal and Postnatal Yoga Teacher Training courses since 2010.
Star's passions rest in inspiring and empowering women to reconnect with the divine feminine, no matter what stage of life they are in, and assisting them to find a more nurturing approach to life. She especially loves to support women through pregnancy, the postnatal period and times of exhaustion and depletion via the practise of Restorative Yoga and daily self care rituals.
She is also the founder of Divine Star, an Online sanctuary for women to reconnect to their authentic selves. Her greatest role is as a mama of 2 daughters (17 years apart), and continues to fine tune the balance of work and Mamahood whilst also honouring her own needs.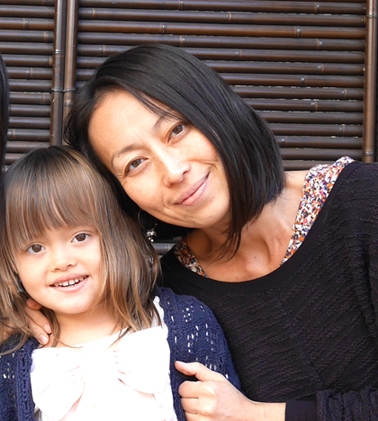 Kanako Yajima
has been practicing yoga since 2000, teaching since 2006 and teaching prenatal yoga since 2010. She has been trained in various styles of yoga including Solomon Yogalates, Ishta System with Rachel Zinman, the Five Element Form with Peter Clifford, and Prenatal / Postnatal Yoga with Bliss Baby Yoga. Kanako has worked internationally in many teacher trainings, retreats and workshops as both interpreter (for Japanese groups) and as a teacher trainer.
She is grateful everyday for being a mother to her daughter as it has been the most challenging yet beautiful and transformational yoga sadhana in life.
Kanako is part of the teaching faculty for our Bliss Baby Yoga Prenatal, Postnatal and Shakti Purna Yoga Teacher Training courses in Byron Bay, and in Japan.
Course Prerequisites ("Is this training appropriate for me?")
Our Bliss Baby Yoga weekend Prenatal / Postnatal 3-day intensive modules are suitable for yoga teachers, or those currently or planning to undertake yoga teacher training, as well as those working in related fields of women's health, such as midwives. The prerequisite to enrol in Bliss Baby Yoga's specialised teacher training courses is at least 6 to 12 months of yoga practice experience (so that you are familiar with the basic yoga postures and practices).
Pregnant women are very welcome to attend, ideally from 14 weeks gestation onwards.
Please note – this 3 day intensive training will not qualify graduates to teach prenatal yoga classes if they are not already a qualified yoga teacher. If you are planning on teaching prenatal yoga classes we recommend undertaking a general Level 1 (200 hr minimum) yoga teacher training course in addition to this specialised training (particularly for the purposes of gaining insurance to teach, and learning the basic skills of 'how to teach' which are not included in this specialised weekend module).
Click here for details about how to complete your 200 hr Yoga Teacher Training through Bliss Baby Yoga if you are not yet a yoga teacher.
If you are currently working in a related field of women's health (such as midwifery) and are planning to use this training to offer Prenatal Yoga practices within the context of your current work, your current insurance may cover you to do this.
If you have any questions regarding your suitability/eligibility to undertake this training please don't hesitate to contact us through the web contact form or email info@blissbabyyoga.com.
Accreditation
Attendance of the weekend modules provides ongoing Professional Development hours / points for Yoga Australia & Yoga Alliance members.
Members of both Yoga Alliance and Yoga Australia are required to complete ongoing professional development to keep their membership current.
Registrants of our weekend modules will receive a Completion Certificate and will be able to use the course hours to accrue these necessary professional development hours, as well as to gain the all-important knowledge and skills to launch them into this specialised area of women's health.
This Prenatal Module can be upgraded to be eligible to register as RPYT (Registered Prenatal Yoga Teacher) with Yoga Alliance through our RPYT Combined Training Package.
At the end of the course we will also include you on our online directory of qualified pre/postnatal yoga teachers.
Dates and Times

Friday 17 February, 2017, 3pm-8pm (dinner included)
Saturday 18 February, 2017, 6.30am-6pm (breakfast, lunch and dinner included)
Sunday 19 February, 2017, 7am-4.30pm (breakfast and lunch included)
This course is non-residential. On-site accommodation is available – please contact admin@byronyoga.com for enquiries regarding cost / availability of on-site accommodation.
Course Location
Byron Yoga Retreat Centre, 50 Skinners Shoot Rd, Byron Bay NSW.
This specialised 3-day training will be held at Byron Yoga Retreat Centre, Byron Bay.
This eco-friendly retreat and training centre is about a 5 minute drive or 20 minute walk from Byron Bay town centre and beaches.
Accommodation and Meals
This course is non-residential. On-site accommodation is available – please contact admin@byronyoga.com for enquiries regarding cost / availability of on-site accommodation.
Course fees include all meals (dinner Friday through to lunch Sunday).
Food
Course fees include all meals, prepared fresh onsite daily.
Food at Byron Yoga Retreat Centre is market-fresh. Enjoy healthy and delicious vegetarian cuisine, organic wherever possible – with some ingredients direct from the on-site gardens. The meals, which many trainees see as a highlight, are designed along Ayurvedic principles to be light and cleansing.
Course Fees
22 hour non-residential weekend intensive (including meals).
$675 AUD – EARLY BIRD DISCOUNT for bookings before 6 January 2017
$725 AUD – Full Course Fee (applicable for bookings from 6 January 2017 onwards)
This includes a comprehensive course manual and DVD, and all meals – healthy, delicious and vegetarian (from dinner on Friday through to lunch on Sunday).
Onsite accommodation is available at an additional cost – please contact admin@byronyoga.com for enquiries regarding cost / availability of on-site accommodation.
Bookings and enquiries
Got a query? Contact us here. 
What past participants of the Byron Bay 100hr Prenatal & Postnatal Yoga Teacher Training have to say about the course:
"I feel the course has given me some amazing tools if a pregnant women walks into my class. For me it was about getting the right tools, accurate information and practical experience of the different variations suitable for pregnant women. I think the course covered a lot of tools that I will take with me. I loved it!"  Ros

"I enjoyed the course a lot.  There was a lot of information covered that will help me to be a better instructor for my ladies.  I will come back."  Marie

"Thanks again for the training – it has bought me some new insights into myself and a stronger passion for supporting women to bring beautiful, healthy yoga babies into the world." Fiona Stevens, yoga therapist and teacher, Brisbane.

"Healing, restorative, inspirational. I love, love, loved the entire weekend! Infomative, passionate sharing of integrated knowledge, understanding and wisdom and extensive research," Jessica Phoenix, U.K.

"I found it very informative, easy to understand and paced well." Melanie Goppert, yoga teacher & doula, Sydney.

"Great theory for someone who hasn't had a baby. I feel very prepared to run my own class." Nicole Yarn, teacher training graduate, Canada.

"Thanks so much – I am excited about pregnancy now, and exploring teaching prenatal yoga – it's beautiful." Penne Parbat, yoga teacher, Melbourne.

"It's specialising in a particular area that is neglected in our society and in yoga." Jacque Halsall, mum and yoga teacher, Coffs Harbour.

"It's opened my mind & heart to new possibilities and pathways, given me a range of valuable tools and confirmed the ideas and knowledge which were already with me." Jodie Dolden, mum & yoga teacher, Port Macquarie.