with John Ogilvie
plus Rob and Kristin Ginnivan of Tidy Temple Yoga in Canberra
Saturday 16 and Sunday 17 May, 8am – 3.30pm
Two day workshop $330
One day (Saturday OR Sunday) $185
Meditation and Asana class (Saturday OR Sunday 8am – 10am) $50
Limited places, email now TO BOOK
This holistic weekend program offers students and yoga teachers the opportunity to be guided by John Ogilvie in delving deeper into all the elements of Purna Yoga – Asana, Breath, Meditation and Philosophy; and to advance their understanding of Mindfulness with Rob Ginnivan.
For those don't have time to join the whole weekend, we are offering the option of coming for one of the days or for just the 8am to 10am meditation and asana segment.
Participants who are with us on Saturday will benefit from a special session with John Ogilvie and Kristin Ginnivan exploring alignment, adjusting and correcting of asana, this is useful not just for yoga teachers but also students looking to refine their practice and particularly those considering signing on for a teacher training course. The hours from this weekend workshop can be used towards accreditation for current or imminent Level 1 or Level 2 teacher trainings. (Part time Level 1 starting in Canberra August 2015, MORE INFO)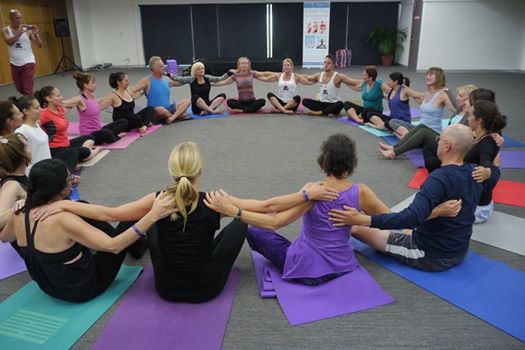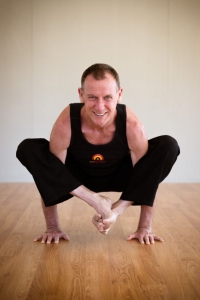 John Ogilvie will present two sessions of pranayama and philosophy,
focusing on the ethics of teaching yoga and looking at
how to bring yogic principles into all aspects of life, merging ancient
yogic philosophy with practical western ideas –
all presented with his unique insight and humour.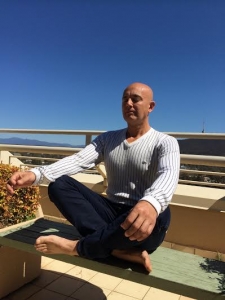 Rob Ginnivan, a highly experienced Mindfulness Coach will lead guided
meditation sessions plus workshops to help participants evolve their
understanding and skill of being Mindful.
His practical approach will impart
valuable tools for students to practice
being in the present moment and realise the
potential for greater contentment.
Along with all this knowledge and practical advice, participants will also enjoy asana classes with John Ogilvie and Kristin Ginnivan. These will be suitable for all levels of students as, in the Purna style of alignment based hatha yoga, variations are offered for beginners through to the advanced.
This weekend is an exceptional opportunity to deepen your practice, expand your knowledge and create the potential for increased peace and contentment.
Soldier On Headquarters, 44 Bellenden St, Crace ACT 2911  (Access off Barton Highway)
Please bring a water bottle, plate of food (both days) to share for lunch, yoga clothes and mat plus an open mind.
Two day workshop $330
One day (Sat or Sun) $185
Meditation and Asana class (Sat or Sun 8am – 10am) $50
Limited places, email now TO BOOK  
Schedule:
Saturday
| | | | |
| --- | --- | --- | --- |
| 8:00am | - | 8:15am | Introduction + Meditation - Rob + John |
| 8:15am | - | 10:00am | Asana Class - John + Kristin |
| 10:00am | - | 10:15am | Break |
| 10:15am | - | 11:45am | Exploring the principle of Alignment, adjusting and corrections within the asana - John + Kristin |
| 11:45am | - | 12:45pm | Lunch |
| 12:45pm | - | 2:15pm | Philosophy + Pranayama - John |
| 2:15pm | - | 2:30pm | Break |
| 2:30pm | - | 3:45pm | Mindfulness Meditation - Rob |
Sunday
| | | | |
| --- | --- | --- | --- |
| 8:00am | - | 8:15am | Meditation - Rob |
| 8:15am | - | 10:00am | Asana Class - John + Kristin |
| 10:00am | - | 10:15am | Break |
| 10:15am | - | 11:45am | Exploring inversions, arm balances and back bends - John + Kirstin |
| 11:45am | - | 12:45pm | Lunch |
| 12:45pm | - | 2:15pm | Philosophy + Pranayama - John |
| 2:15pm | - | 2:30pm | Break |
| 2:30pm | - | 3:45pm | Mindfulness Meditation - Rob |