Price from $5,200 (includes all meals and 13 nights in quad (4) share room with shared bathroom, other accommodation options subject to cost and availability)
Earlybird Price $4,900* (Offer valid until 24 August 2022)
Course Date: 15 October to 28 October 2022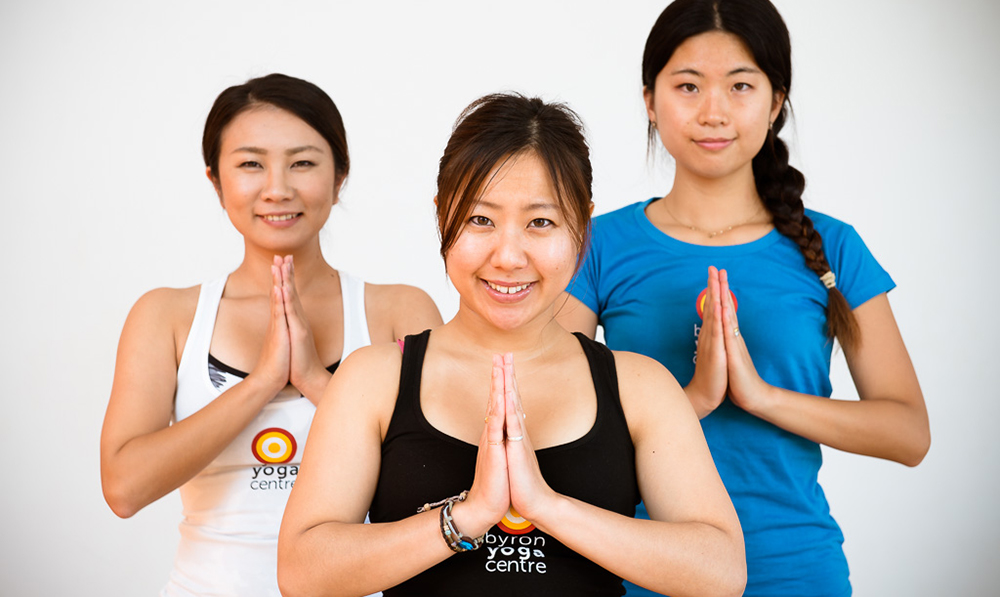 Take the next step with your practice … in paradise. Learn to be a yoga teacher by immersing yourself in the yoga lifestyle, the teachings and the natural beauty of Byron Bay, Australia. The Byron Yoga Centre – Level 1 Yoga Teacher Training Course is led by passionate and supportive teachers dedicated to your yoga journey. This is a yoga teacher training course with a difference: set against the stunning backdrop of pristine beaches and rolling green hills of the hinterland, your training in Byron Bay will be an experience you'll never forget.
"I learned a lot. Yoga is indeed deep. I learned very good foundation of yoga at BYC. Everyday was fun and the 2 weeks went very quickly. I will take the things which I learned here with me and launch my yoga journey."  Akiko, Level 1
Experience makes the difference
Byron Yoga Centre is one of the longest running yoga schools in Australia, established in 1988. With over 28 years' experience teaching yoga classes, training yoga teachers and hosting wellness retreats, we are fully accredited with Yoga Alliance and recognised by Yoga Australia.
This Level 1 Yoga Teacher Training Course caters specifically for the Japanese yoga student, with all content taught in both English and Japanese.
A setting like no other: beautiful Byron Bay
Byron Bay – known around the world as Australia's home of yoga – has an ancient, spiritual heritage and natural beauty that makes it the perfect setting for yoga learning and personal development. This beachside town located at Australia's most easterly point, is a creative mecca that attracts artists, musicians, writers, healers and yogis from all over the globe.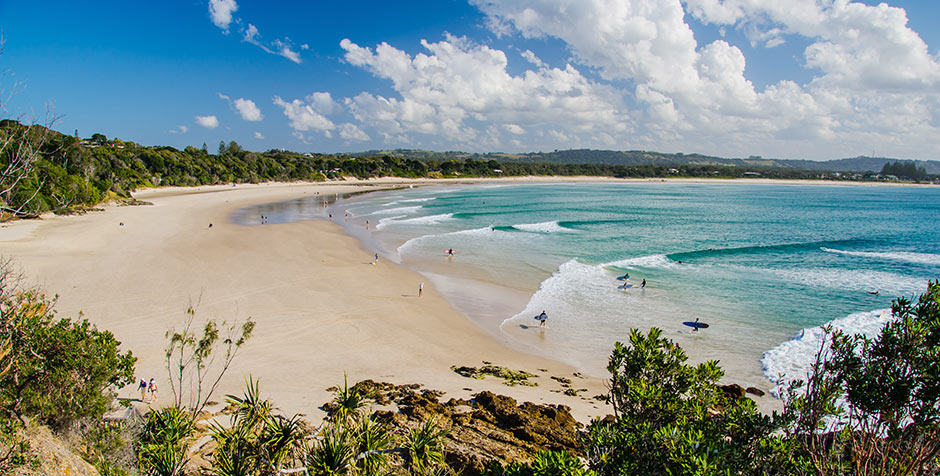 Guided by our experienced and caring teachers from Byron Yoga Centre, you can be assured of a rich, varied and holistic experience of yoga as well as the beautiful surroundings that Byron Bay has to offer. In the program you will have free time to spend surfing, kayaking, stand-up paddle boarding, exploring the different coastal and mountain walking treks, or meeting the local wildlife. As a fully residential training course, you will enjoy 13 nights / 14 days in our secluded rural setting, just minutes from Byron's beaches, shops and cafes.
About the course
Teaching yoga consists of more than simply the skills required to perform asanas correctly or knowledge of anatomy and physiology. Ultimately, the path to teaching yoga with awareness and understanding involves deepening your own practice.
Part A: 14-day residential Intensive
Held at our Byron Bay Training Centre, the Part A Intensive provides you with the opportunity to immerse yourself in your yoga studies and practice-teaching for 14 days (included are two half days and one full holiday for relaxing, sight seeing and personal time). All sessions are delivered in both English and Japanese.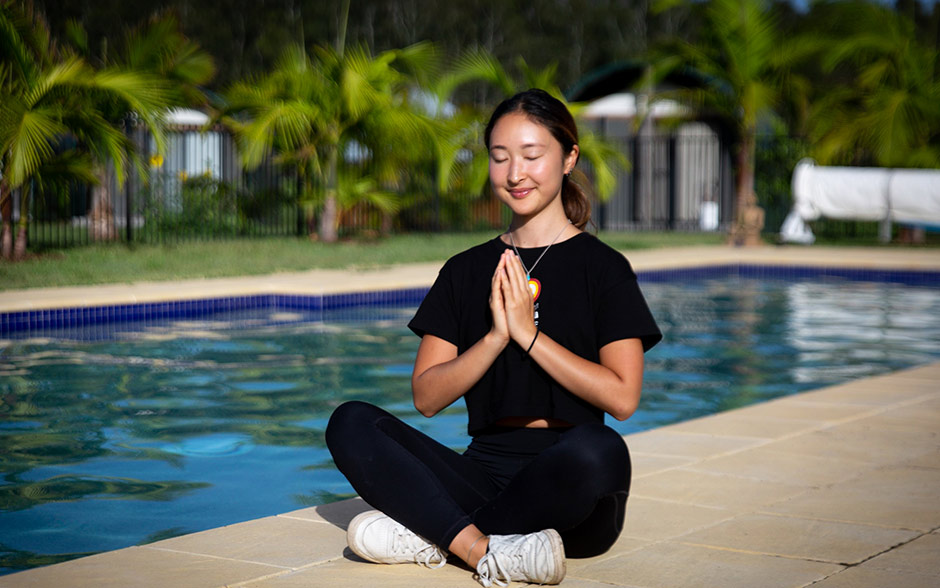 Part B: Correspondence
Part B allows you to complete your remaining training hours by correspondence, in your own time and is included in the cost. The correspondence component begins 4 weeks before the course commencement date (Part A) and then continues at a personal pace, after the 14 day intensive, for 24 months. The comprehensive teaching manual and Part B journals are in Japanese.
Teaching Faculty
Under the guidance of veteran yoga teacher, John Ogilvie, the teaching staff on this course are experienced and dedicated. You'll be inspired by our resident and guest yoga teachers alike, who 'walk their talk', living the yoga lifestyle, and are all knowledgeable and passionate about their subjects.
Other experienced teachers include:
John Ogilvie | Kara Goodsell | Davina Kruse | Marita Dortins | Maria Kirsten | Jade Abbott
Course Content
Part A consists of an intensive program covering a broad range of fascinating subjects all aimed at deepening your understanding of not just the postures, but also pranayama (breathing practices), meditation, and yoga philosophy and lifestyle.
A major focus for us is teaching you to teach and making sure that both your practice and your teaching is safe and aware. All teacher trainees get the opportunity to develop their teaching skills in a real-life context in student classes for the public at our yoga studio located in the heart of Byron Bay.
Over a relatively short time, you'll emerge with the practical skills and confidence to launch your yoga teaching career.
"I did not expect such a depth of content or practice, which I am finding beneficial from a personal level as well as a potential studio operation level. I am enjoying every piece of reading, homework and personal practice." T. Butler, Level 1 Graduate.
Schedule
Students need to arrive on the afternoon of the first day to settle into their accommodation.
The first session starts at 4.00pm. The course finishes on the last day at 7:00am.
Daily Schedule:
| | | | |
| --- | --- | --- | --- |
| 6:00am | - | 8:00am | Asanas with focus on Sequencing, Pranayama and Meditation |
| 8:00am | - | 9:00am | Breakfast |
| 9:00am | - | 11:00am | Practical and Lectures |
| 11:00am | - | 11:30am | Morning Break |
| 11:30am | - | 1:00pm | Asana Class |
| 1:00pm | - | 2:00pm | Lunch and free time |
| 2:00pm | - | 3:30pm | Practical and Lectures |
| 4:00pm | - | 6:00pm | Asana Class |
| 6:00pm | - | 7:00pm | Dinner |
| 7:00pm | - | 8:00pm | Practical, Lectures, Meditation or Yoga Nidra |
Bookings
All bookings must be paid in full 6 weeks before course start date, however we still accept bookings up until the day of the course. We offer internet banking and credit card facilities.