Yoga Teaching Courses in Byron Bay
(International students can apply for a 1 or 3 year student visa to Australia. Australian students can apply for Austudy)

Byron Yoga Centre's Certificate IV in Yoga Teaching runs for 12 months. In addition, students can also apply for the three year option and stay on to complete the 2 year 11113NAT Diploma of Advanced Yoga Practices and Teaching. If you have any questions about upcoming intakes, please email education@byronyoga.com
"The course was a great opportunity to grow as a human being, to create a sense of community, to learn how to conduct a safe and good yoga class. I am so happy I did it. One of the best courses of my life."
Byron Yoga Centre, a dedicated yoga teacher training organisation, was established in 1988 and has been a Registered Training Organisation since 2009.
International students accepted for the Certificate IV in Yoga Teaching Course can apply for 1 year Australian student visa, and for a further 2 years if they are also accepted onto the Diploma course. For more details on how to obtain the student visa, please refer to the Department of Home Affairs (DHA) website. Byron Yoga Centre does not offer any other courses for which students can obtain a visa, we operate exclusively as a yoga teacher training centre.
Australian students enrolled in this course can apply for Austudy.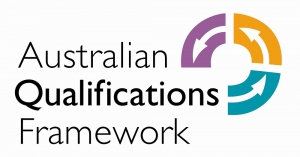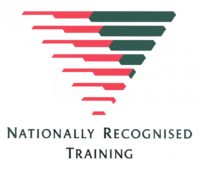 To offer this high standard of teacher training, Byron Yoga Centre is an RTO (Registered Training Organisation) in Australia which is similar to a TAFE, and all our trainers are nationally recognised training and assessment trained trainers.
Certificate IV Byron Bay Intakes
| | | | | |
| --- | --- | --- | --- | --- |
| Name | Course Start Date | Course End Date | Cost | |
| G30 July 2023 | 10/07/2023 | 09/07/2024 | $10,000.00 | |
| G31 October 2023 | 02/10/2023 | 01/10/2024 | $10,000.00 | |
| G32 January 2024 | 22/01/2024 | 21/01/2025 | $10,000.00 | |
| G33 April 2024 | 15/04/2024 | 14/04/2025 | $10,000.00 | |
| G34 July 2024 | 08/07/2024 | 07/07/2025 | $10,000.00 | |
Certificate IV Melbourne Intakes
The Melbourne campus is not currently taking new students. Expressions of interest are being taking for 2024, please email education@byronyoga.com
This course runs in two locations (the study days will be advised closer to the start date). We are currently taking applications for the Byron Bay campus. The Melbourne campus in Fitzroy will reopen in 2024.
The Byron Bay course is run from the Byron Yoga Centre studio in the centre of town and at the training facilities at 50 Skinners Shoot Road.  Please note: The trainings in Byron Bay are not at the Byron Yoga Retreat Centre. 
Student Accommodation at Byron Yoga Retreat Centre
If you are accepted into the 10865NAT Certificate IV in Yoga Teaching we are now offering a fantastic opportunity to stay at our retreat centre in Byron Bay and enjoy full board with all meals for up to 8 weeks when you first arrive in Byron Bay.
The Accommodation
We offer limited availability in our spacious quad-share cabins with shared bathrooms. You will be sharing the cabin with up to three other international students. Each cabin has wardrobes and shelves, a small balcony and they are heated in winter. The communal bathrooms are a short walk away and, in line with our eco-polices, they have compost toilets, rain water showers and solar heated hot water.
The course is a total of 805 hours with 20 hours per week for 39 weeks plus 25 hours in week 40. The 40 weeks are divided into 4 terms of 10 weeks with holiday periods.
The course is 3 days each week with 2 days per week of 7.5 hours and 1 day of 5 hours including face to face instruction, yoga practice, online research, reflective practice journaling, yoga teaching experience plus assignments and assessments. You will be provided with a timetable closer to your start date.
The program is divided into practical workshops and theory sessions which cover the key elements for developing the skills and knowledge to teach yoga safety and confidently. The session subjects include anatomy and physiology, sequencing, adjustments and corrections, use of props, women's health and more. The Certificate IV course comprise units (listed below) and includes interesting and useful workshops, covering sequencing and assisting, philosophy, pranayama, meditation and applied anatomy.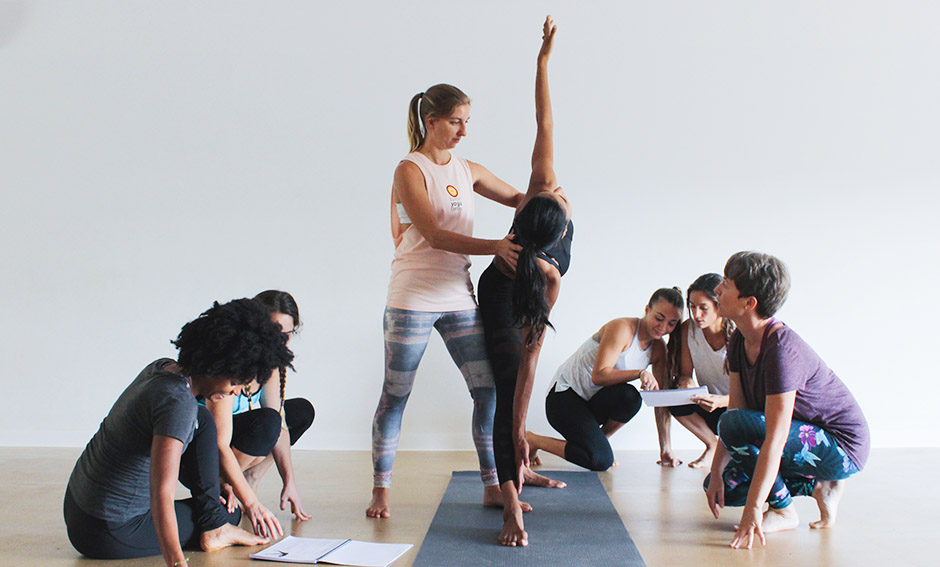 A key aspect of the course is the methodology for teaching asana, pranayama and meditation which enables graduates to gain a Level 1 200 hour and a Level 2 300 hour Teacher Training certificate, accredited with Yoga Alliance. Students can then apply for 500 hour RYT accreditation with Yoga Alliance. This certificate is internationally recognised as the standard qualification for yoga teachers.
1 year Certificate IV in Yoga Teaching AUD$10,000
(3 year option of Certificate IV in Yoga Teaching and Diploma of Advanced Yoga Practices and Teaching pay a total of just AUD$27,500)
The indicative course fees shown apply to international students studying on-campus in Australia for the relevant year only. All fees are subject to annual review and may be adjusted.
*In accordance with ESOS Act
The tuition fees are AUD$10,000 includes all training and learning materials. There is no application fee.
As a RTO, Byron Yoga Centre is required to implement a process or strategy that will ensure that fees collected in advance from students are suitably protected.
Accordingly, no more than 50% of the entire course fee will be requested upfront. Fees collected in advance from international students are protected under the provision of the Tuition Protection Service (TPS). Byron Yoga Centre will manage a designated bank account in this regard, where all tuition collected in advance from international students will be housed until the student commences the course.
Certificate IV in Yoga Teaching fees are payable in Term by Term or Monthly Payment Plans
 No enrolment fee
Deposit of only AUD$250 (non-refundable) payable upon acceptance of application before receiving the COE
Term by Term option: 1st payment of $1,250 due 2 weeks before course commencement and $2,125 x 4 payments due at the middle of each term
OR Monthly Payment Plan: 1st payment of $1,250 due 2 weeks before course commencement and $850 x 10 payments due at the first day of each month
Payment dates will be on the Letter of Offer
*In the event that a student receives a student visa refusal notice prior to course commencement, an administration fee of AUD$250 will be retained by Byron Yoga Centre and all other monies paid by the student will be refunded.
Please note, a student will be deemed to have defaulted as per Section 47 of the ESOS Act 2000 where the following occurs:
A student does not start or fails to arrive on the first day of the course as nominated by Byron Yoga Centre (this includes Orientation)
The student withdraws from the course whilst in Australia (before the start date)
Entry into the course refused by Byron Yoga Centre because either the student has failed to pay the required upfront fees; the student has breached a condition of their visa; or other misbehaviour by the student.
Once the student has been granted a visa, in the case of a student default as stated above, no refund is applicable except at the discretion of Byron Yoga Centre.
Course information in detail
The course is comprised of 9 units of competency.
HLTAAP001 Recognise healthy body systems
CHCCOM006 Establish and manage client relationships
HLTWHS001 Participate in workplace health and safety
HLTAID011 Provide first aid
BSBESB406 Establish operational strategies and procedures for new business ventures
NAT10865001 Work within a fundamental yoga philosophical framework
NAT10865002 Perform and teach yoga practices
NAT10865003 Plan and instruct general yoga classes
NAT10865004 Deliver specialised classes to meet individual needs
Byron Yoga Centre applies the principles of validity, reliability, fairness and flexibility in all assessments.
The objective of assessment is for the student to show that they have achieved the unit's competencies. Students may be assessed by one or more of the following methods:
Observation – the completion of a specified task or set of procedures, normally performed under close supervision, using a detailed checklist.
Oral questioning– a response is provided to a series of questions presented in order to demonstrate understanding of principles or reasoning behind the action taken.
Case study– an opportunity to display problem solving and decision making skills is provided in a simulated context.
Multiple choice– a question or incomplete statement followed by several options [usually 4 – 5] from which the trainee selects the appropriate answer/s.
Written short answer– a written response item consisting of a question/s with answers of a single word, a few words, a sentence, or a paragraph.
Project– an exercise or investigation based on a real life situation, generally requiring a significant part of the work being carried out without supervision, and involving the completion of a project report.
You must demonstrate English Language Proficiency and hold an IELTS Certificate showing an Overall Band Score at a minimum level of 5.5. It is essential that students are able to read and understand written English and are able to communicate effectively in English.
Must have a minimum IELTS score of 5.5 or equivalent.
A minimum of one hundred and twenty (120) hours of asana class instruction over a two (2) year period.
Be over 18 years of age.
Have a laptop or access to a computer.
Students are required to undertake a pre-enrolment interview.

You may apply for Recognition of Prior Learning; however it should be noted that only Australian qualifications will be accepted by Byron Yoga Centre and that such Recognition could affect the term of your visa. Direct Credit Transfer for certain units of competency may be available depending on your prior study. Please contact education@byronyoga.com for more information.
Working while studying in Australia
If you are granted a student visa, you are permitted to work a maximum of 40 hours per fortnight when your course is in session, and unlimited hours when your course is out of session. Please note you cannot work until you have commenced your course in Australia.
Work that is formally registered as part of your course is not included in the 40 hours per fortnight limitation.
Students must comply with the work conditions for student visa (subclass 500) holders. Please refer to the Department of Home Affairs (DHA) website.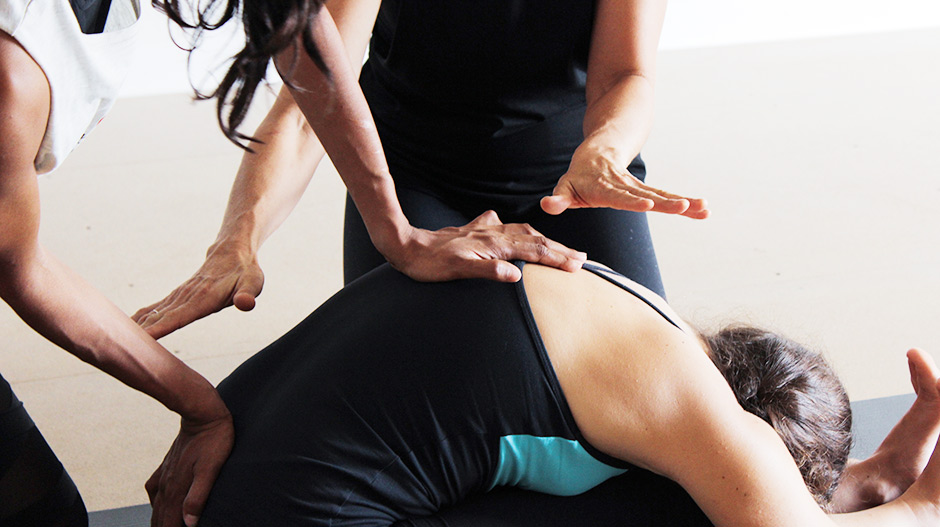 PLEASE READ THESE BEFORE APPLYING:
INTERNATIONAL STUDENT HANDBOOK (Download Here)
REFUND (Download Here)   
COMPLAINTS POLICY (Download Here)
POLICIES and PROCEDURES (Download Here) 
Please complete the online application form. Just click on the green 'Apply' button on the dates table at the top of the page.
Tel: +61 (2) 6685 8327 (outside Australia)
(02) 6685 8327 (inside Australia)
Email: education@byronyoga.com
Application Step-by-Step Process Model:
Student enquiry and Application online or via email
Application interview is arranged, documents requested and evidence is provided by the student
Letter of Offer is issued by Byron Yoga Centre
Student Acceptance: return signed forms and payment of deposit is arranged
Confirmation of Enrolment (COE) is issued by Byron Yoga Centre
Health cover arrangements (OSHC) by the student
Student Visa application with the Department of Home Affairs (Immigration)
Student makes payment of balance of fees
Once visa is granted, student travels to Australia and sets up living arrangements, mobile phone, bank account, etc.
Student arrives at Byron Yoga Centre Studio for Orientation and commencement of the course
Under the guidance of Byron Yoga Centre's Director and veteran yoga teacher, John Ogilvie,  the teaching staff on this course are all experienced and dedicated. You'll be inspired by our resident and guest yoga teachers alike, who 'walk their talk', living the yoga lifestyle, and are all knowledgeable and passionate about their subjects.
Other teachers include:
John Ogilvie | Kara Goodsell | Marita Dortins | Bec Isaacs
Student testimonials
"I have absolutely loved my time here. Love the teachers. Love learning. Love yoga! Thank you." – Certificate IV Graduate, 2011

"I learnt so much studying with the Byron Yoga Centre. I felt really supported by the teachers and enjoyed connecting to my group. Thank you! Marta from Italy."  Certificate IV Graduate, 2017
Find a list of Agents Byron Yoga Centre is currently engaged with here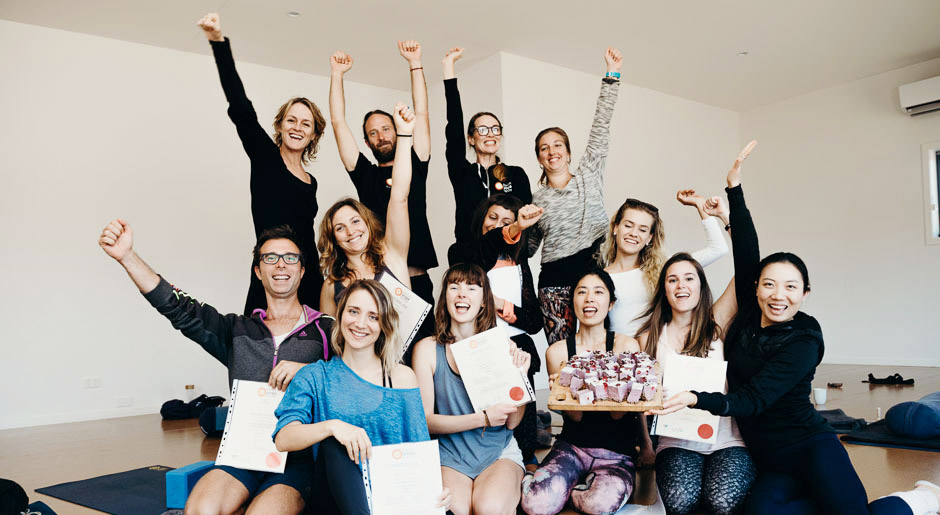 Training Location – Byron Bay
The Byron Bay courses are held at our studio in the centre of Byron Bay at 6 Byron Street and at the training facilities at 50 Skinners Shoot Road (not at Byron Yoga Retreat Centre).
"This environment that you all continually create is so valuable. I have never felt more supported and safe in my entire life than I do here at Purna. I never want to leave. I have such love, admiration and respect for absolutely everyone here. You are all absolutely fantastic!"  Certificate IV Graduate, 2011.
Byron Bay – General Information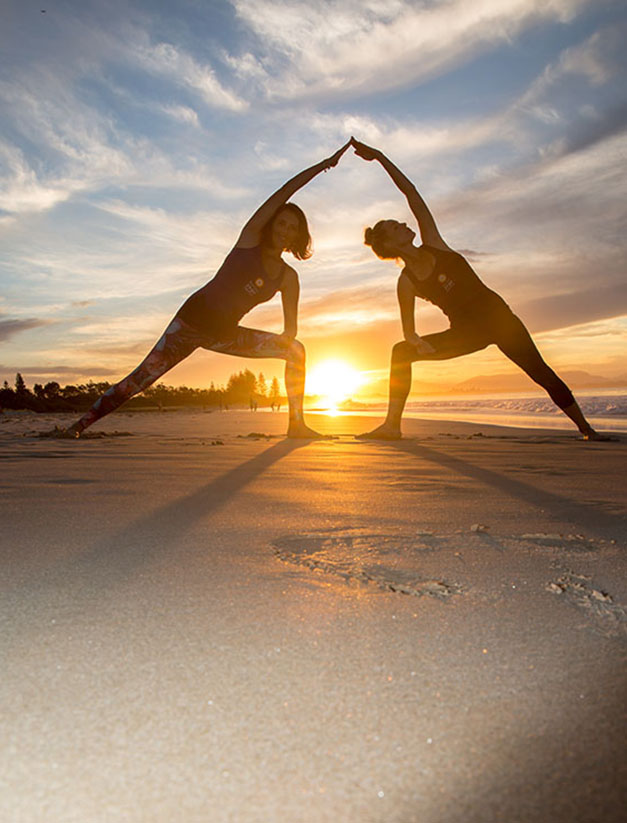 Cape Byron is Australia's most easterly point, located on the North Coast of New South Wales. With its numerous beaches, unspoilt hinterland, and relaxed lifestyle, Byron Bay is a popular tourist destination. It is also a place where artists, musicians, dancers, writers, surfers, healers and of course yogis express their diversity and individuality.
The town has all major facilities: a hospital, cinema, supermarket, health food stores and great restaurants, as well as a flourishing alternative health industry. Bicycle is the easiest way to get around town and easily organised through Byron Yoga Centre.
The average summer temperature is 21C – 28C, and average winter temperature is 15C – 21C, There are also periods of heavy rainfall, especially in summer. The area has a total annual rainfall of 1734mm. Byron Shire has a population of close to 30,000, while the town of Byron Bay has a population of about 9,000.
Byron Bay is located just off the Pacific Highway, 800kms north of Sydney, 175kms south of Brisbane. Airports are located in Ballina (30mins south) or Coolangatta (60mins north) and buses and trains arrive regularly.
The following websites provide information about Byron Bay and the surrounding area:
www.byronbay.com  | www.echo.net.au | www.byronbaynow.com | www.byronbay.org
Purna Yoga Pty Ltd t/a Byron Yoga Centre | RTO No. 91522 | CRICOS ID. 03418E
10865NAT Certificate IV in Yoga Teaching. Course code: 102571E
11113NAT Diploma of Advanced Yoga Practices and Teaching. Course code: 112426J