Take the next step in your yoga and in your life
Our yoga teacher training programs are designed to be affordable and flexible. We offer residential or non-residential, intensive or part-time courses, at the 200 and 500-hour levels, as well as the new 10540NAT Certificate IV in Yoga Teaching.
Experience that makes the Difference
When you make the pivotal decision to embark on yoga teacher training,  you know you're in safe hands with Byron Yoga Centre.  As one of the longest running yoga schools in the country, as well as one of the few yoga teacher training organisations that operate as an RTO (Registered Training Organisation), offering the highest possible qualification in yoga teaching, you can feel confident you've chosen the best.
Our yoga teacher trainers are all well-trained, experienced,  and passionate about supporting you on your professional and personal journey.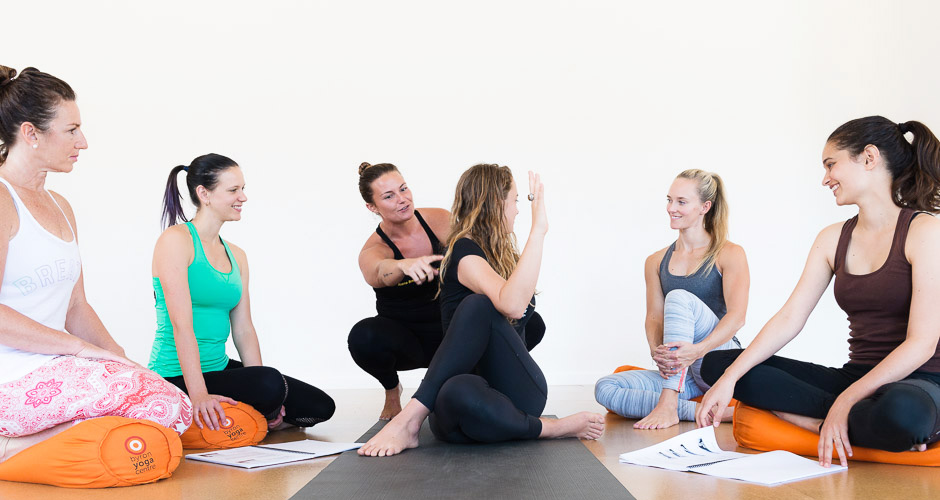 "Byron Yoga has a solid foundation – they KNOW what they are doing and yet still have a flexible, human, relaxed, as well as disciplined attitude," Level 1 Graduate, India
Comprehensive Course Content
Reflecting the holistic approach of our signature yoga style, Purna Yoga, the teacher training courses at Byron Yoga Centre are comprehensive and thorough, covering the many diverse elements of yoga, including systematic analysis of the postures, the breathing techniques, as well as the more subtle branches of meditation, philosophy and ethics.
We aim to maintain a standard of excellence in yoga education with a robust faculty of resident and guest senior teachers who are experts in their respective fields, such as Anatomy and Physiology, Yoga Philosophy, Women's Health, Ayurveda, and Kirtan (chanting).
"I feel I now have more of a complete understanding of yoga. It has definitely deepened my practice and understanding. I really enjoyed learning more about meditation and pranayama, as well as philosophy," Sarah, Level 2 Teacher Training Graduate
Teaching you to teach
We believe that the best way to learn how to teach, is, to teach! Byron Yoga Centre courses have a strong emphasis on the practical, so that you leave us not only knowing more about the art and science of yoga, but also with the vital experience behind you to go out there, and start teaching!
Unique to our courses is the practical experience we offer with ample opportunity to teach the public – 'real, live students' – not just endlessly practising on your fellow trainees.
Trainees receive their first experience of teaching the public by the end of the second week and, by the end of the course, have been involved in teaching at least 12 hours of open public classes.
Within this context of this practical experience, a big focus for us at Byron Yoga Centre, is teaching you to teach safely.
Change your life for the better
Many of our trainees find that yoga teacher training is a transformational experience, in so many unforeseen ways.
"Byron yoga has been the catalyst for change. It has encouraged me to be more aware of myself and to consciously and consistently practice my asana daily, which has readjusted the balance in my life. It has been the motivation which has prompted my husband and myself to not only fully embrace yogic life, but move to Byron!" Ella, Level 2 Graduate
10540NAT Certificate IV in Yoga Teaching
RTO No. 91522 | Course Code. 10540NAT | CRICOS Code. 03418E
10540NAT Certificate IV in Yoga Teaching is accredited as a ASQA (Australian Skills Quality Authority) nationally recognised course.
In order to be able to offer this high standard of teacher training, Byron Yoga Centre is a Registered Training Organisation (RTO) in Australia, and all our trainers are nationally recognised Training and Assessment trainers and assessors.
Ideal for international students as participants qualify for a 12 month student visa. Apply for this opportunity to study yoga, work and live in beautiful Byron Bay or Melbourne. This course is run over a 50 week period …read more
"It's always something that has been said to us in all the courses: that safety is first. I truly agree with that. In my own practice too: I have learnt to always pull back if I feel that I'm just pushing myself that little bit too much. You have to listen to your body it's very important," Irene, Level 2 Graduate
Level 1 Yoga Teacher Training Courses
All our Level 1 courses, both in Australia and overseas, are registered with the Yoga Alliance 200-hour Accreditation.
A flexible option for busy people. Part A is a fully residential, immersion course. Eat, sleep and deepen your passion for yoga, for 12 days straight! Part B is completed by correspondence, at your own pace…read more
This course integrates Part A and Part B of the above Level 1 Intensive course, within a do-able, 20 day time frame. Immerse yourself in yoga in beautiful Byron Bay for three, transformational weeks…read more
This residential Level 1 course caters specifically for Japanese students with all content taught in both English and Japanese. Held at our Byron Bay Training Centre this course is designed for Japanese yoga students wishing to be teachers and also for those who want to just deepen their own knowledge of all aspects of yoga. There is however a strong focus on teaching skills and opportunities to practice teaching in class situations…read more
Level 2 Yoga Teacher Training Courses
Top up your yoga teaching qualifications by completing this next level. Completion of both Level 1 and Level 2, will provide you with the 500 hours recognized by Yoga Alliance and eligibility for recognition by the Yoga Australia…read more
Byron Yoga Centre's 500 hour residential course encompasses both the 200 hour Level 1 and the 300 hour Level 2 courses. The 40 day course is fully accredited with Yoga Alliance, so you achieve the higher status of a RYT 500 certification with one course. You will start your yoga teaching career with many advantages, not only an elevated certification but also in your skills, knowledge and confidence. Next course January 2020 …
Part Time Yoga Teacher Training Courses