Byron Yoga Retreat Centre is on the outskirts of beautiful Byron Bay an easy walk from the town centre and iconic beaches.
Accommodation is simple and comfortable with the focus on enjoying the lush green surrounds. The site has a solar heated swimming pool and organic gardens that provide much of the food – healthy and tasty vegetarian meals. Byron Yoga Retreat Centre is a wonderful place to focus on your yoga, wellbeing and personal growth.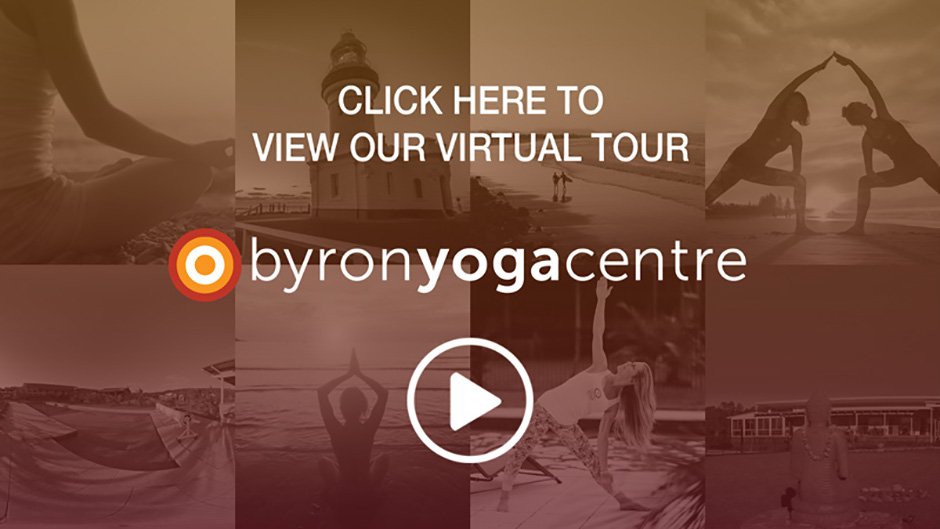 Byron Yoga Retreat Centre, a tranquil eco haven on the outskirts of Byron Bay, is the primary location for Byron Yoga Centre teacher training courses, health and yoga retreats and workshops. Accommodation is simple, with small bedrooms, the focus is on the natural surroundings.
If you wish, it may be possible for you to extend your stay beyond the course or retreat dates. To find out more, please email admin@byronyoga.com
In easy walking distance from Byron Bay town centre and the beautiful beaches, with a 20 metre heated mineral salt swimming pool, three yoga studios, a relaxing dining area with indoor and outdoor seating and abundant organic gardens this is a paradise within paradise!
We are proud of the centre's sustainability programs and continuously strive to improve our eco friendliness and waste management.
We have rainwater tanks, compost toilets, most of our hot water comes from a solar heating system and the mineral salt swimming pool is also heated by a solar system. We source much of the menu from our organic garden and work with local suppliers to ensure our food is fresh, locally produced and organic where possible.
On your arrival we will give you a short tour of the site and explain our eco principles including the compost toilets and recylcing programs. If you have any question prior to your arrival please contact us via email
The site is cigarette, alcohol and drug free and is a vegetarian site. Guests are asked to maintain social silence from 9.30pm until breakfast, being mindful that the Byron Yoga Retreat Centre is a place of relaxation and reflection.
*Please note Byron Yoga Retreat Centre is not a luxury resort! The centre is an eco community designed along the lines of an ashram rather than a holiday resort. We have created a peaceful haven reflecting the surrounding nature.
The town centre of Byron Bay and the beautiful beaches are just a short walk (20-25 minutes) away. You can choose to hire a cycle for your stay or utilise the local taxis. However, guests often experience a deep sense of calm on arrival and many don't leave the eco haven until the end of their stay!
.
Standard rooms for teacher trainings are quad share cabins, and standard rooms for retreats are the twin share rooms with shared bathroom. For a small supplement we can offer ensuite twin share or single occupancy rooms – subject to availability. All rooms are simple and small while being clean, restful and in line with the eco nature of the retreat centre.
Quad share Cabins, shared bathroom – standard accommodation for teacher training courses
These four share rooms are configured with four single beds in a comfortably sized cabin.
The Cabins are newly built structures with small decks taking advantage of the views to the beautiful green outlook. All Cabins have reading lamps and cupboards and there are heaters in the cooler months. Shared bathrooms are located close by. These Cabins are peaceful and private.
Twin share, shared bathroom – standard accommodation for retreat guests, supplements apply for teacher trainees
Twin share rooms are configured with two single beds in comfortably sized rooms. This is the standard accommodation for retreat guests, unless three or four friends come together would like to choose a triple or four share cabin.
The rooms are newly renovated with wooden floors and whitewashed walls. All rooms have reading lamps and cupboards and there are heaters in the cooler months. Shared bathrooms are located close by and are accessible by covered verandas.
Ensuite Twin Room – supplements apply
Ensuite rooms are configured with twin beds, or a double bed for couples and have adjoining bathrooms.
The rooms are newly renovated with wooden floors and whitewashed walls. All rooms have reading lamps and cupboards and there are heaters in the cooler months.
To enquire about the cost and availability please contact us email: admin@byronyoga.com
Single Occupancy Room Option – single supplements apply
Guests may be able to book either a room with shared bathroom or an ensuite room for single occupancy.
The shared bathrooms are located close to the rooms and are accessible by covered verandas. The ensuite bathrooms have a shower, toilet and washbasin.
Contact us to enquire about availability and cost, email: admin@byronyoga.com
.
The meals are specially designed to be nutritionally balanced, cleansing and nourishing but most of all – delicious! Byron Yoga Retreat Centre follows the principals of SLOW Food: Seasonal; Local; Organic and Without processed foods of any kind. While much of the produce comes super-fresh from our own organic gardens, we are now sourcing where possiple local, organic food in that is in season. The meals are therefore not only good for you but they also taste amazing!
SLOW means that all our trainees, retreat guests and staff benefit from toxin free food with maximum freshness for optimum nutrients. The benefits of local and organic produce is much documented and eating only seasonal foods helps the body be in balance with the rhythm of nature. We believe that the investment we make in SLOW Food pays off many times over.
All meals are vegetarian, and as well as following the principals of SLOW, the menus are prepared according to sattvic principles to promote healing and to lighten the body, mind and spirit. We are meat and fish free but we are now offering eggs at breakfast at an additional cost. Every meal includes gluten free, vegan and dairy free options and if you have any specific allergies just let us know when you confirm your booking.
The dining area has a large outdoor, undercover veranda to enjoy socialising over our delicious cuisine. Enjoy the peaceful view over the lush gardens and see the herbs and vegetables that are used in your meals growing around you.
Sample meals 
Main meals: Vegetable Tagine, Indian Korma Curry, Moong Dahl with Raita, Garden Vegetable Lasagne, Pad Thai with Tofu
Side dishes: Quinoa and Eggplant Salad, Pumpkin and Kale Subji, Roast Cauliflower with Almonds, White Cabbage and Broccoli Warm Salad
Daily: Garden Salad plus Salad Bar. Create your own bowl using ingredients freshly picked from the Byron Yoga Retreat Centre organic gardens
Retreat guests have complimentary juices in the morning breaks and for all guests there is a selection of herbal teas and fruit available throughout the day.
The Retreat Centre meals are so delicious that, due to the demand from our guests, we produced a recipe book!
We can cater for dietary restrictions including gluten free, vegan, dairy free and any specific allergies. Just let us know any requests when you confirm your booking.
The town has all major facilities: a hospital, cinema, supermarket, health food stores and great restaurants, as well as a flourishing alternative health industry. Bicycle is the easiest way to get to and around town – an easy 10 minutes ride to town for the Byron Yoga Retreat Centre.
The retreat program allows flexibility for guests to explore Byron Bay and take part in a range of activities on offer. Those on intensive teacher training courses have limited time so we suggest you extend your stay in Byron Bay for a few days after your course to enjoy the area, and the yoga! Ask us about availability to stay on at the Byron Yoga Retreat Centre email
admin@byronyoga.com
Major attractions include spending time at the beach, walking the iconic lighthouse trail and watch for dolphins or whales, hanging out in cafes and browsing the unique shops in this funky town known for its alternative and laid back atmosphere. Popular events are the Thursday morning Farmers Market, the monthly Sunday Craft Market and in the summer months, the Saturday Artisan Market.
If you're feeling a little more adventurous you can choose to book organised activities such as surfing lessons, kayaking, scuba diving or even skydiving! We have couples book into our retreats and with the flexible program half of the couple can do yoga while the other one goes surfing!
The unspoilt beaches, lush hinterland and flourishing alternative health industry plus the diversity of artists, musicians, surfers, healers and yogis who have made their homes here plus the town's relaxed pace is an ideal backdrop for yoga and wellness retreats.
Cape Byron is Australia's most easterly point, located on the North Coast of New South Wales. With its numerous beaches, unspoilt hinterland, and relaxed lifestyle, Byron Bay is a popular tourist destination. It is also a place where artists, musicians, dancers, writers, surfers, healers and of course yogis express their diversity and individuality.
The average summer temperature, Oct – May is 21C – 28C, and average winter temperature, June – September is 15C – 21C, There are also periods of heavy rainfall, especially in summer. The area has a total annual rainfall of 1734mm.
Byron Shire has a population of close to 30,000, while the town of Byron Bay has a population of about 9,000.
Byron Bay is located just off the Pacific Highway, 800kms north of Sydney, 175kms south of Brisbane. Airports are located in Ballina (30mins south) or Coolangatta (60mins north) and buses arrive regularly.
The following websites provide information about Byron Bay and the surrounding area:
www.byronbay.com | www.echo.net.au | www.byronbay.org
.