50 Hour Modular Training Course
Yin Yoga Teacher Training Course for yoga teachers, graduates and current trainees (also open to non-yoga teachers). Add Yin Yoga to your teaching skill set and personal practice with our 50 hour modular training course.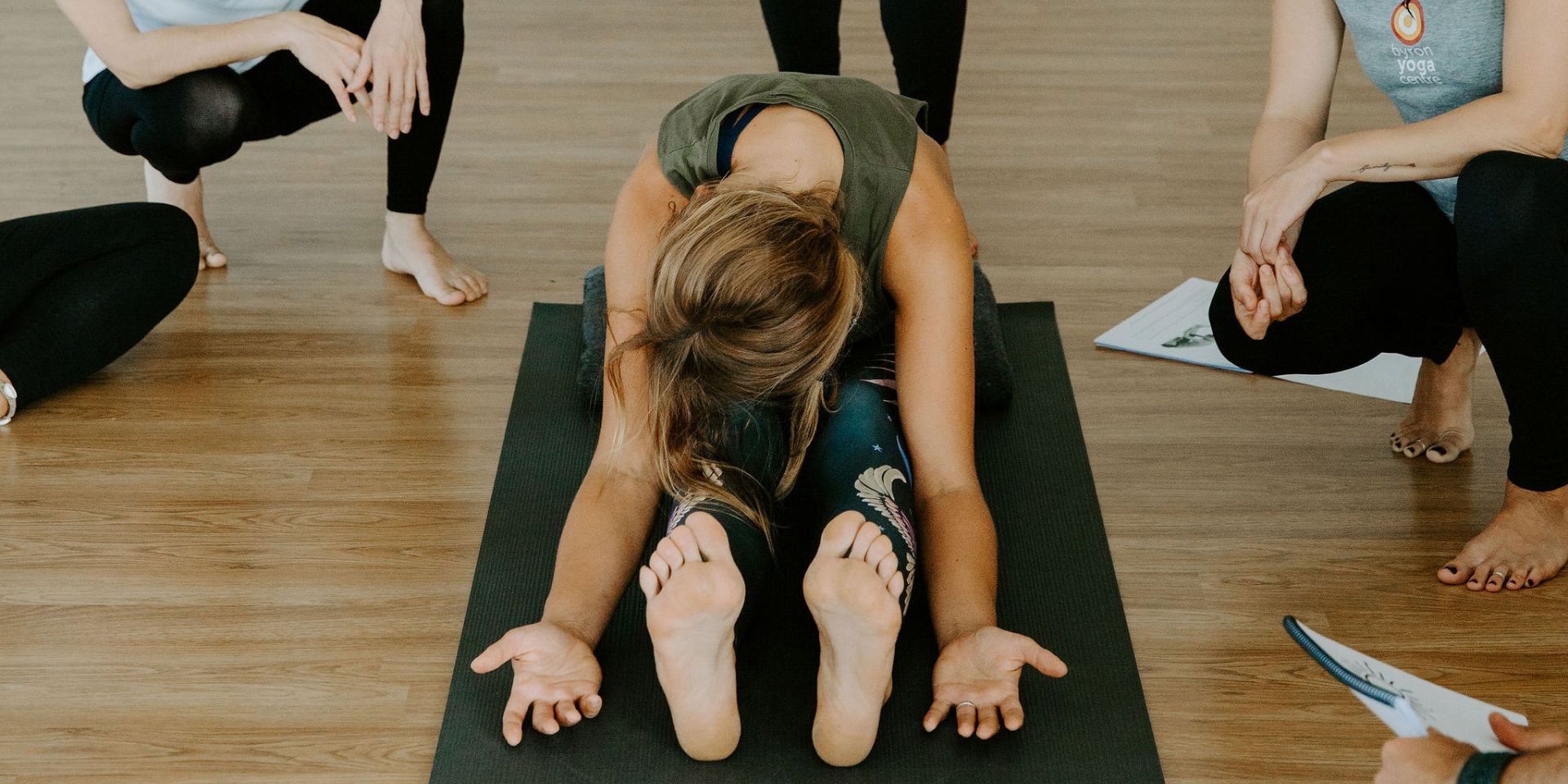 Designed to be stand alone specialty course or as part of your 200 or 300 certificates. They fit particularly well as part of a Level 2 300 hour course. To be counted as part of a Level 1 or Level 2 the modular course must be undertaken after the residential intensive not before. These modular course hours can also be used for the ongoing professional development required each year by Yoga Alliance and other professional bodies.
Course Dates
6 Day Residential Dates at Byron Yoga Retreat Centre
Course price from $2,200 (includes tuition, all meals and 5 nights in quad (4) share room with shared bathroom, other accommodation options subject to cost and availability)
Early bird Price available for bookings made more than 8 weeks prior to course commencement.
4 Day Restorative PLUS 6 Day Yin Dates at Byron Yoga Retreat Centre
Book both the restorative AND yin teacher training to receive a $300 discount. Includes an extra night accommodation at Byron Yoga Retreat Centre.
About Yin Yoga
Yin yoga has been growing in popularity as people increasingly seek balance in a fast-paced world.  The chance to sink into stillness, to connect to your centre and to relax into rest is a potent practice.
Many people see Yin Yoga as a complement to a vinyasa practice, the yin to the yang, but it is also an entire practice in itself. This training will equip you, as a teacher and as a practitioner, to add elements of Yin to the cool down of your class or to teach complete sessions of Yin Yoga.
Many people confuse Yin and Restorative Yoga, for a detailed explanation see here
Course Content
This residential course is a mixture of theoretical and practical sessions. You will have the opportunity for practical teaching experience or you can choose to participate as a student. Then the evening sessions will include teaching practice and also offer you time to relax and reconnect to yourself through guided meditation, pranayama and Yoga Nidra.
Learn to teach 20 Yin Yoga poses, safely and confidently
Yin intentions and principles
Physical and energetic theory and benefits of Yin Yoga asanas
Meridians of the body and how to develop themed classes
Sequencing, adjusting and use of props for Yin Yoga
Bio mechanics of Yin Yoga on the body
Practical teaching opportunities
Time to relax, enjoy the pool and explore the area
Guided meditations, Pranayama and Yoga Nidra
Certificate of Attainment
If you attend all the sessions and classes, you will receive a certificate of completion. You can choose to opt out of classes but you will not only get the 50 Hour certificate if you attend all sessions.
This can be counted as 50 hours towards any Level 1 or Level 2 where you have already participated in the residential intensive.
This 50 hour training can be counted as your CPD (Continuous Professional Development) as required by Yoga Alliance (YACEP) and Yoga Australia.
Note: There are no assessments or online requirements for this course (yay!).
Your Teacher Trainers
Course Venue
This fully residential training will be held at the Byron Yoga Retreat Centre, Byron Bay.
Sample Program – 6 Day Yin Yoga Training
In this 50 hour training, you will enjoy yoga classes, theory sessions and practical teaching opportunities to further your teaching skills plus time to relax and reflect.
Day 1:
2:00pm - Arrive and settle in to your accommodation
3:00pm - Welcome Circle
4:00pm - Yin yoga class
6:00pm - Dinner
7:00pm - Yoga Nidra
Day 2-5:
6:30am - Yin Yoga
8:00am - Breakfast
9:00am - Principles of Yin session

10:30am - Break
11:00am - Theory and Methodology workshop
12:30pm - Lunch
2:00pm - Theory and Methodology workshop
4:00pm - Practical teaching of Yin yoga class / Time to relax and reflect
6:00pm - Dinner

7:00pm - Self study
Day 6:
6:30am - Yoga practice
8:00am - Breakfast, check out of rooms
9:00am - Theory and Methodology workshop
11:00am - Closing Circle
Noon - Departure (you are welcome to stay on to use the facilities and have lunch)
* Daily program may vary slightly