Cost $3300
Earlybird Price $3000
*Earlybird – offer only available for bookings made more than 8 weeks prior to course commencement.
Click here to view course dates and register your place
Weekend 1:  14-15 Nov 2015
Weekend 2:  5-6 Dec 2015
Weekend 3:  6-7 Feb 2016
Weekend 4:  20-21 Feb 2016
Weekend 5:  19-20 Mar 2016
Weekend 6:  30 Apr – 1 May 2016
Our upcoming part time Level 1 yoga teacher training at The Yoga Well in Sydney is led by some of Australia's most experienced yoga teachers. Learn from and be mentored by highly trained yoga teachers, who want to make yoga safe for all!
When you make the pivotal decision to embark on yoga teacher training, you know you're in safe hands with Byron Yoga Centre. As one of the longest running yoga schools in the country, as well as one of the few yoga teacher training organisations that operate as an RTO (Registered Training Organisation), offering the highest possible qualification in yoga teaching, you can feel confident you've chosen the best.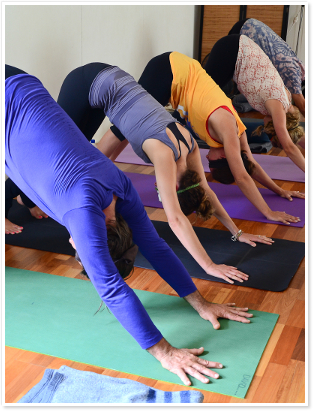 Take the next step with your practice …
Experience makes the difference
Byron Yoga Centre's and The Yoga Well part time Non-Residential Sydney Teacher Training Course is a complete experience with 6 weekends over 6 months.
The course includes training by Australia's leading yoga training academy with some of the world's most experienced trainers.
Established in 1988 by John Ogilvie, Byron Yoga Centre is one of the longest running yoga schools in Australia.
John Ogilvie  Lead Trainer – founder and director of the Byron Yoga Centre, has been teaching yoga for over twenty-five years and developed the Byron Yoga Centre teacher training courses. John encourages a light heartedness in our approach to yoga and to ourselves. Teaching regular classes as part of the Byron Yoga studio weekly timetable, his classes are both challenging and dynamic, and integrate the different yoga styles of Iyengar and Ashtanga, as well as the softer Sivananda and Satyananda practices of yoga and the energy principles of Aikido.
Marita Dortins Senior Trainer – founder and Senior Teacher at The Yoga Well, in Alexandria. She is recognised as an E-RYT 500 by Yoga Alliance; currently the highest designation available. She has taught yoga for over 13 years and has amassed thousands of hours' teaching experience, guiding students through classes, workshops, intensives and retreats. Marita's teaching is characterised by clear instruction, a strong focus on alignment, skilful hands-on assists and creative sequencing.
Teaching yoga consists of more than simply the skills required to perform asanas correctly or knowledge of anatomy and physiology. Ultimately, the path to teaching yoga with awareness and understanding involves deepening your own practice.
Level 1 Teacher Training Qualification
The Byron Yoga Centre's Level 1 part time Teacher Training Course is fully accredited with Yoga Alliance and Fitness Australia approved for 15 CEC's. It is designed to deliver holistic training that encompasses the physical, emotional and spiritual aspects of the yogic path.
The style of yoga taught on the course is Purna Yoga– integrating asana, breath, meditation and philosophy.
Training Location
40B Birmingham St. Alexandria
Practical and Lectures includes
Techniques – Training/Practice;
Teaching Methodology;
Anatomy & Physiology;
Yoga Philosophy/Lifestyle & Ethics for Yoga Teachers;
Practicum
Students who complete the 200-hour program will:
Will gain competency in the skills and knowledge in how to teach yoga safely to others, especially beginners.
Be qualified to teach yoga and will receive a certificate of completion.
Deepen and strengthen their practice and understanding of yoga.
Gain in-depth understanding of the postures and how to teach them.
Learn how to sequence and create a cohesive, well-rounded class.
Practice teaching, adjusting and correcting.
Acquire an understanding of yoga philosophy, anatomy and physiology.
Have the confidence and tools to begin teaching yoga by actual teaching of public classes under supervision.
Develop a greater understanding of meditation and pranayama.
Have the opportunity to teach at the Freshwater Yoga Studio after graduation.
Be able to register with Yoga Alliance.
Be inspired to practice every day.
Example of timetable
Saturdays & Sundays
| | | | |
| --- | --- | --- | --- |
| 7:00am | - | 9:00am | Practical and Lectures |
| 9:15am | - | 11:00am | Practical and Lectures |
| 11:30am | - | 1:00pm | Adjustments and Practical |
| 1:00pm | - | 2:00pm | Lunch |
| 2:00pm | - | 3:30pm | Practical and Lectures |
| 4:00pm | - | 5:30pm | Practical and Lectures |
Entry requirements
Byron Yoga Centre and The Yoga Room accepts all students for teacher training who: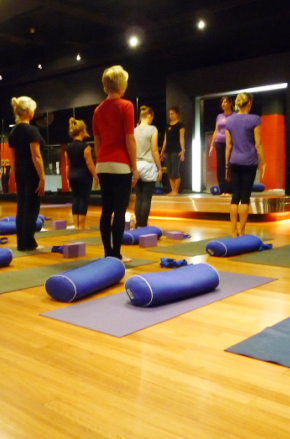 have shown a recent, regular commitment and devotion to the practice of yoga asana of 120 hours instruction for at least two years (for level 1, less than 2 years of serious and constant practice is considered); or hold a Certificate III in Fitness or Certificate IV in Personal Training
are ready to deepen their own practice on a physical, mental and spiritual level by gaining new insight and appreciation of the yogic path;
have adequate English language literacy and numeracy skills including proficient spoken and written skills;
Students are able to demonstrate the equivalent of Australian High School year 10 proficiency in literacy and numeracy;
agree to abide by the Byron Yoga Teachers' Code of Ethics and have understood and agreed to the policies and procedures of the Byron Yoga Centre as outlined in the Student Handbook
Payment
All bookings must be paid in full 6 weeks before start date, however we can take bookings right up to the start date. We offer internet banking and credit card facilities. Bookings may still be made after this date.