Stephen Mitchell (Three Rivers Press, 2000)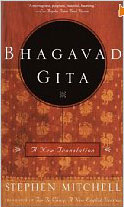 Mahatma Ghandi described it as his "eternal mother", and there is no doubt that the Bhagavad Gita has influenced many spiritual seekers over the centuries.  The title of this extended 'poem' means "The Song of the Blessed One" and is book six of India's national epic, The Mahabharata.
With many translations and interpretations now available for the Western reader it can be baffling to know where to start.  I recommend Stephen Mitchell's translation as a good launching-pad for your journey into the allegorical world of the Lord Krishna and the warrior-prince, Arjuna.
Mitchell's interpretation is a good introduction to this text because it is refreshingly easy to read and comprehend.  It flows as a continuous, lyrical poem, that is not weighed down by lengthy foot notes or explanations. This allows you to get a 'handle' of the overriding philosophies of bhakti yoga and what is described here as the yoga of 'actionless action' .
Once you have this version under your belt, you can stride more confidently into the world of academic translations and religious interpretations that are widely available.
Review by Ana Davis