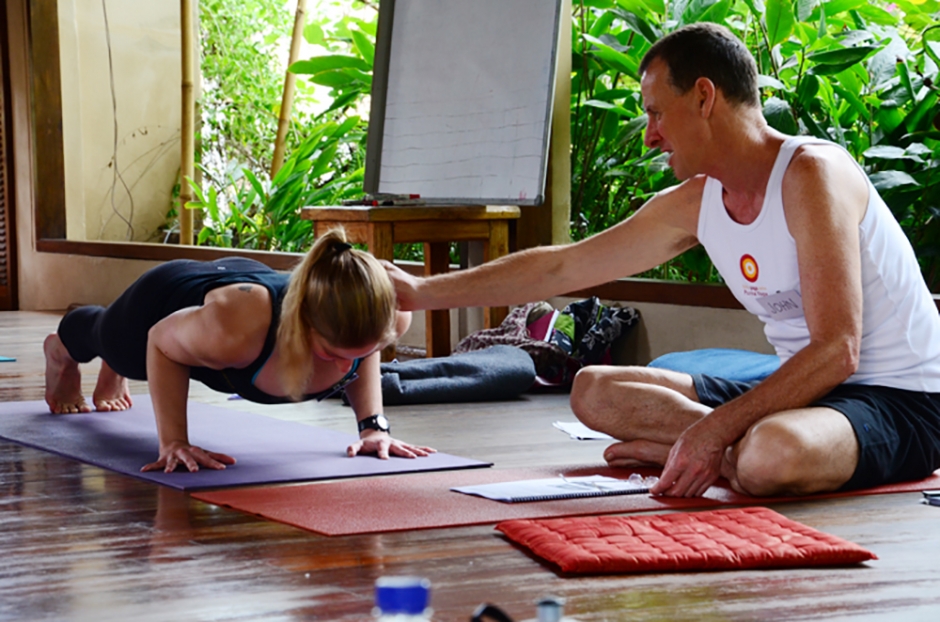 Take your teaching to the next level… in paradise
Our unique Graduate Program for Byron Yoga Centre Teacher training graduates is run parallel with the 12-day retreat and Level 1 Teacher Trainings in Bali. The graduate program is limited to 4 trainees and is a unique opportunity to increase your teaching experience. Graduates will be provided with a Graduate Advanced Teaching Practice Certification.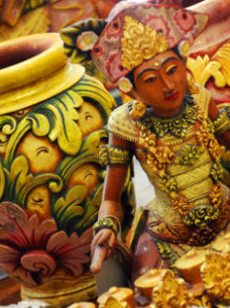 Graduates assist Byron Yoga Centre trainers in both the Yoga Retreat and the Level 1 Intensive Yoga Teacher training, in demonstration of asanas, adjustments and corrections in postures. They will have the opportunity to attend retreat yoga classes and training lectures.
Held in conjunction with our  yoga retreat and Level 1 Teacher Training Intensives, the 12 day graduate program provides a perfect opportunity to increase your yoga teaching experience in a relaxed and tranquil environment.
With Byron Yoga Centre's teaching team on site, you can be assured of a rich, varied and holistic experience of yoga while at the same time enjoying the exotic surroundings that Ubud has to offer; rice fields, temples and local markets.
It's the ideal place to adjust to the Balinese way of life and the perfect launch pad for travelling around the island on your own after the course.
As there is limited free time during the program we recommend you extend your stay so that you have time for sightseeing afterwards, if your schedule permits.
Experience makes the difference
Teaching yoga consists of more than simply the skills required to perform asanas correctly or knowledge of anatomy and physiology. Ultimately, the path to teaching yoga with awareness and understanding involves deepening your own practice.
Teachers
Our lead teachers have a combined teaching experience of over 50 years offering a wealth of knowledge and expertise to share with participants. John Ogilvie, the founder and director of Byron Yoga Centre, has been teaching yoga for over twenty years. He encourages a light heartedness in our approach to yoga and to ourselves.
Other experienced teachers include:
Stephan Kahlert | Michael Nazaar
Graduate Advanced Teaching Practice Certificate
Each day you'll be taking part in a morning led practice with your fellow graduates to refresh and build on your teaching and leadership skills. A senior teacher will provide you with feedback and support. The main focus of the Bali Graduate Program is assisting senior teachers on the Teacher Training Course and the Retreat. This program is open to Byron Yoga Centre Level 1 or Level 2 Graduates who would be interested in being involved eventually with working on Teacher Training Courses and Retreats or just furthering their teaching experience.
Sample intensive schedule
Students need to arrive early to settle into their accommodation. A brief introduction to people and the course will be held at 4:30pm.
The first yoga class starts at 6.00am the following day.
*Please note the schedule below may vary 
| | | | |
| --- | --- | --- | --- |
| 6:00am | - | 7:30am | Asanas with focus on Sequencing, Pranayama and Meditation |
| 7:30am | - | 9:00am | Practical and Lectures |
| 9:00am | - | 10:00am | Breakfast |
| 10:00am | - | 11:30am | Practical and Lectures |
| 11:30am | - | 1:00pm | Asana Class |
| 1:00pm | - | 3:00pm | Lunch and free time |
| 3:00pm | - | 4:30pm | Asana Class |
| 4:30pm | - | 6:00pm | Practical and Lectures |
| 6:00pm | - | 7:30pm | Dinner |
| 7:30pm | - | 8:30pm | Practical, Lectures, Meditation or Kirtan |
Accommodation

The Green Field Hotel, is only minutes from Ubud, yet remains quiet and secluded, which made it a favourite for John Ogilvie, Byron Yoga Centre's Director, who's stayed there several times.   John says, "It's a peaceful haven and a great base from which to explore."
The Balinese luxury accommodation is set in tropical gardens and offers picturesque views of the famous paddy fields, courtyards, gardens, salt water pool and lounge areas to relax in between yoga and visits to the local sights.
Designed in traditional Balinese style with sensitivity to the local culture, the resort offers you a comfortable travel experience and provides a wonderful backdrop for your next step on the yogic path.
You'll stay in a spacious room individually decorated with unique furniture and local artefacts.
The comfortable rooms all feature either queen or double beds, en-suite facilities and ceiling fans and/or air conditioning. All rooms offer mosquito canopies and repellent coils, daily housekeeping, tea, coffee, two flasks of boiling water a day and a patio with table and chairs.
Cuisine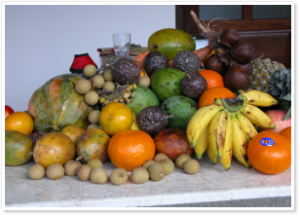 A highly rated buffet-style breakfast is included in the package, it's a mix of Balinese and Western-style foods and includes tropical fruits, scrambled eggs, fruit juices and freshly baked home made organic bread; and there have even been whispers of fresh banana pancakes being delivered to eat on your balcony.
The dining area is a beautiful light-filled space to enjoy socialising over delicious cuisine and you can choose to eat there for lunch and dinner, or take a wander (or free shuttle bus) into town to explore Ubud's many dining options.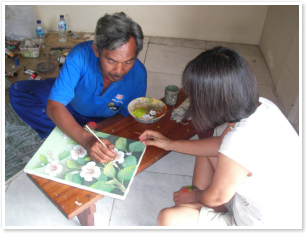 During your free time venture out and explore the ancient culture of Bali, or step into the local markets and shop with the locals.
It is famous as an arts and crafts hub, and much of the town and nearby villages seems to consist of artists' workshops and galleries. There are some remarkable architectural sights, artistic gems to be found, and a general feeling of well being to be enjoyed, all thanks to the spirit, surroundings, and climate of the place.
Price on application
International Flights
Please note: prices do not include international airfares to Bali.
You can book directly with your travel agent or Byron Yoga Centre can help you book through its local travel agent. Travel insurance is recommended.
International Flights
We recommend you book the flights with Virgin, Jetstar or Garuda Airways as early as possible to secure the best available airfare.
Return airfares range from approx $600 including taxes to $1000 subject to availability at time of booking.
Deposit
To secure your place we require a $600 deposit per person. We conveniently offer Internet banking and credit card facilities for online registrations via our secure payment gateway.
Full Payment
The due date for full payment of bookings is 6 weeks before the course commences. However we can still accept new bookings after this date, subject to availability.
Click here to view course dates and register your place
Alumni Association Graduate Program
The Byron Yoga Centre Alumni Association is open to all graduates of a Byron Yoga Centre Teacher Training Course. If you are interested in joining our Alumni Association or have a question for us please feel free to send a no-obligation enquiry using the form below. Please also feel free to suggest other places you would be interested in attending a graduate program eg. Japan, Vietnam etc.