2016 dates announced soon
Cost $1950 (includes all meals and accommodation)
Earlybird Price $1800
*Earlybird – offer only available for bookings made more than 8 weeks prior to course commencement.
Click here to view retreat dates and register your place
Embrace Breath, Asana and Meditation with Purna Yoga
Picture waking up to a breathtaking Balinese sunrise as it creeps its way above the horizon. Below the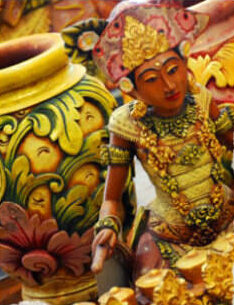 sparkling sun you see vast rice paddy fields and you watch as the rays shimmer through the tall rainforest trees. As you make your way to the yoga shala you stroll through the tranquil gardens, and pass the luscious salt water swimming pool. The crystal clear water flows infinitely, and you watch as it seems to trickle onto the fields, providing the rice and trees with sustenance.You enjoy a rejuvenating yoga and meditation practice, before indulging in a fresh, nutritious and delicious breakfast. You take some time to relax and unwind by the pool, enjoy a luscious massage, stroll into Ubud for some sight-seeing then make your way back to your sanctuary for a gentle, restorative yoga class followed by an evening of meditation, kirtan or discussion. Our Bali Yoga Retreats offer you the ideal opportunity to immerse yourself in your yoga practice, to truly unwind and take time to nurture yourself and experience the delights of Balinese culture. Experienced yogis can explore and enhance their practice, while new students can deepen their understanding of yoga asana (poses) and philosophy in a supportive and nurturing environment.
For a truly holistic experience led by the most knowledgeable teachers from the Byron Yoga Centre, join us to re-energise, unwind and re-connect with your true self while soaking up the blissful surrounds of beautiful Bali.
Teachers
Our lead teachers offer a wealth of knowledge and expertise to share with participants.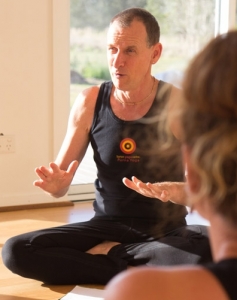 John Ogilvie, the founder and director of Byron Yoga Centre, has been teaching yoga for over twenty years. He encourages a light heartedness in our approach to yoga and to ourselves.
Michael Nazar  has a background in fitness, remedial massage and sports injury therapy which is apparent in his dynamic Vinyasa flow-style classes. He has been practising yoga since 1990 and gained his level 1 and 2 teaching qualifications from Byron Yoga Centre in 2006 and 2007. Michael seeks to incorporate the ethical and moral teachings of yoga into his classes, as well as pranayama and meditation, and lectures on the teacher trainings as well as teaching regular general classes at the Centre.
Bettina Kahlert first did yoga more than 30 years ago and became serious during pregnancy 20 years ago. She trained as a fitness instructor 20 years ago and more recently complemented this with Pilates teacher training. Bettina has done 4 different yoga teacher trainings, most recently with John Ogilvie and has recently been studying the use of yoga nidra in rehabilitation, recording a CD in India. Bettina's classes emphasise the core, pelvic floor and the bandhas. Bettina has been lucky to meet with and learn from several spiritual masters, including B.K.S. Iyengar, Pattabi Jois, T.K.V. Desikachar and Clive Sheridan.
Swami Pujan was born as Stephan Kahlert in Hamburg, Germany and became a Swami after his Initiation. Bhagvan Shree Rajneesh, the world famous Spiritual Guide and Eastern Philosophy Teacher who lived in Puma, India, initiated Stephan Kahlert and taught him that spirituality is a joyful journey full of passion and celebration. Pujan has worked in many different industries, as a change consultant in corporate Australia, in drug rehabilitation and in private practice as a counselor and therapist. He is a qualified Purna Yoga teacher, but his main focus remains always Jnana Yoga, the path of knowledge. Pujan has been teaching philosophy and meditation at Byron Yoga Centre for over six years, and has shared his knowledge with hundreds of students.
Retreat Description
If you are looking to deepen your yoga practice whilst holidaying in a culturally diverse oasis then this is the retreat for you! On our Bali Yoga Retreat the new yogi will be nurtured and encouraged to explore their asana practice but also to modify poses and rest if necessary. Experienced practitioners can take their practice to a whole new level while being supported by our most experienced teachers. Held in conjunction with our twelve day yoga teacher training graduate program, you will have the opportunity to experience a variety of different teaching styles and personalities, and to deepen your understanding of the yogic way of life.Our holistic approach will give you what you need to develop a practice and lifestyle that you can sustain long after your holiday ends. We will focus not only on asana but also on meditation, pranayama (breathing exercises) and relaxation techniques. Our flexible schedule is designed for you to explore your yoga practice but also immerse yourself in the local culture with plenty of free time to explore. Create your own yoga retreat, and participate in as many or few activities as you wish. Our opening circle will take place at 3pm on the first day and morning classes begin the next day. The final day ends after our morning yoga practice and breakfast.
Sample retreat schedule:
| | | | |
| --- | --- | --- | --- |
| 6:30am | - | 7:15am | Morning guided mediation |
| 7:30am | - | 9:15am | Morning yoga featuring pranayama and meditation |
| 9:15am | - | 10:00am | Breakfast |
| 10:00am | - | 1:00pm | Free time to read, relax by the pool or explore Ubud |
| 1:00pm | - | 2:00pm | Lunch |
| 2:00pm | - | 4:30pm | Massage or free time to rest, swim or explore |
| 4:30pm | - | 6:00pm | Restorative yoga |
| 6:00pm | - | 7:00pm | Dinner |
| 7:30pm | - | 8:30pm | Evening program eg: discussion, meditation or kirtan |
Day Trips
During your stay we will take you on a guided rice field walk and to a Purification Ritual and Blessing Ceremony at Tirta Empul Temple. As an optional extra, group trips can be arranged for your free time. Alternatively, you might like to explore solo or arrange for a small group to take a trip together in a local taxi. The hotel offers a free shuttle bus into town. If you'd prefer to spend your days relaxing by the pool or reading on your balcony whilst enjoying the tranquil surrounds, you may like to join in on our mid-morning yoga classes which will be run by our teacher trainees. Some areas of interest around the retreat venue include:
Monkey Forest
Ubud market
Ubud Palace
Temple at Munung Kawi
Goa Gaja (Elephant Cave)
Gunung Kawi (Poet Mountain)
Accommodation
The Green Field Hotel, is only minutes from Ubud, yet remains quiet and secluded, which made it a favourite for John Ogilvie, Byron Yoga Centre's Director, who's stayed there several times.   John says, "It's a peaceful haven and a great base from which to explore." The Balinese luxury accommodation is set in tropical gardens and offers picturesque views of the famous paddy fields, courtyards, gardens, salt water pool and lounge areas to relax in between yoga and visits to the local sights. Designed in traditional Balinese style with sensitivity to the local culture, the resort offers you a comfortable travel experience and provides a wonderful backdrop for your next step on the yogic path.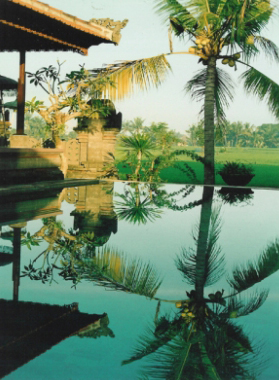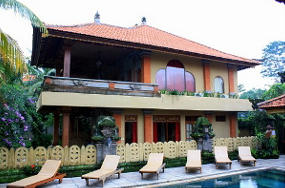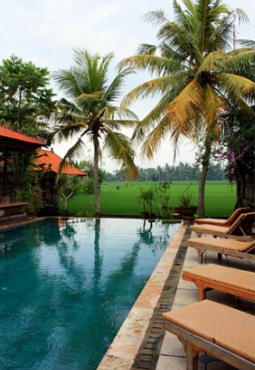 You'll stay in a spacious room individually decorated with unique furniture and local artifacts. The comfortable rooms all feature either queen or double beds, en-suite facilities and ceiling fans and/or air conditioning. All rooms offer mosquito canopies and repellant coils, daily housekeeping, tea, coffee, two flasks of boiling water a day and a patio with table and chairs.
Cuisine

Delicious vegetarian meals are included in your Bali Yoga Retreat.Breakfast is provided at the hotel, lunch will be out as part of an outing, at a local Ubud restaurant or at the Garden Kafe at the Yoga Barn. Dinner will be at Garden Kafe at the Yoga Barn.
Massage
Indulge in a one hour complimentary massage and feel your tensions and weariness melt away. You can choose to purchase additional wellness treatments to relax, nourish and heal imbalances.The resort is an oasis of rest and revitalisation offering a range of traditional and modern massage and wellness treatments for soothing your body and healing imbalances at very affordable prices.
Activities
Regarded as the cultural centre of Bali, Ubud provides its visitors with so many options you will be spoilt for choice. Perched on the slopes that lead towards the stunning central mountains, Ubud contains an array of Balinese cultural delights. Allow yourself to be drawn in by the town's remarkable architecture, dance and music shows, temples and markets selling jewellery, textiles and other local arts and crafts. Ubud is famous as an arts and crafts hub, with much of the town and many nearby villages consisting of artists' workshops and galleries.Bask in the village's aura of well-being and tranquillity while you explore local sights or relax by the pool or on your personal deck.   There are a variety of activities on offer for you to participate in, including:
Painting lessons
Rice field walking
Gamelan (Balinese musical instruments)
Cooking lessons
Batik
Wood or stone-carving
Massage training
Price is per person in private single rooms Cost $1950 (includes all meals and accommodation) Earlybird Price $1800 7 days, 6 nights Yoga Retreat Inclusions:
Accommodation
Return airport transfers (on the start and end date of the retreat only)
Breakfast
Lunch
Dinner
One massage
Twice daily yoga
Evening programs
Guided rice field walk
Balinese Offering class
Purification ritual & blessing ceremony to Tirta Empul temple

 
Prices do not include the following:
International airfares to Bali (please arrange your own flights – recommended details are below)
Visas (required), travel insurance (recommended) and vaccinations (optional). Please seek professional advice from your travel agent and health practitioner
Optional activities
International Flights
Please note: prices do not include international airfares to Bali. You can book directly with your travel agent or Byron Yoga Centre can help you book through its local travel agent. Travel insurance is recommended.
International Flights The local airport is Bali Airport in Denpasar and we recommend that you book the flights with Virgin, Jetstar or Garuda Airways as early as possible to secure the best available airfare. Return airfares range from approx $600 including taxes to $1000 subject to availability at time of booking.
Deposit
To secure your place we require a $625 deposit per person. We conveniently offer internet banking and credit card facilities for online registrations via our secure payment gateway.   
Full Payment
The due date for full payment of bookings is 6 weeks prior to the retreat commencement. However we can still accept new bookings after this date, subject to availability.