Price $3350 (includes all meals and accommodation)
Earlybird Price $3250
*Earlybird – offer only available for bookings made more than 8 weeks prior to course commencement.
Click here to view course dates and register your place
Take the next step with your teaching…
Upgrade your existing teaching qualifications with Byron Yoga Centre's Level 2 Part Time course conducted over 6 weekends in 4 months.  This residential course consists of 5 weekend intensives (Part A) held at Byron Yoga Retreat Centre ( to Sunday late afternoon). Students also complete a correspondence component (Part B) which is completed in your own time and can done during the 4 month period. Part B is included in the course fee.
Plus new for 2015: Sign up for Part Time Level 1 AND Part Time Level 2 (5 weekends between 7 August and 29 November) and save over $500! Cost for both Level 1 and Level 2 $6,350 or $5,950 earlybird please email us for details info@byronyoga.com  For information on Byron Bay Level 1 Part Time CLICK HERE
Dates for 2015:
Weekend 1 – Friday 7- Sunday 9 August
Weekend 2 – Friday 11 – Sunday 13 September
Weekend 3 – Friday 2 – Sunday 4 October
Weekend 4 – Friday 23 – Sunday 25 October
Weekend 5 – Friday 27 – Sunday 29 November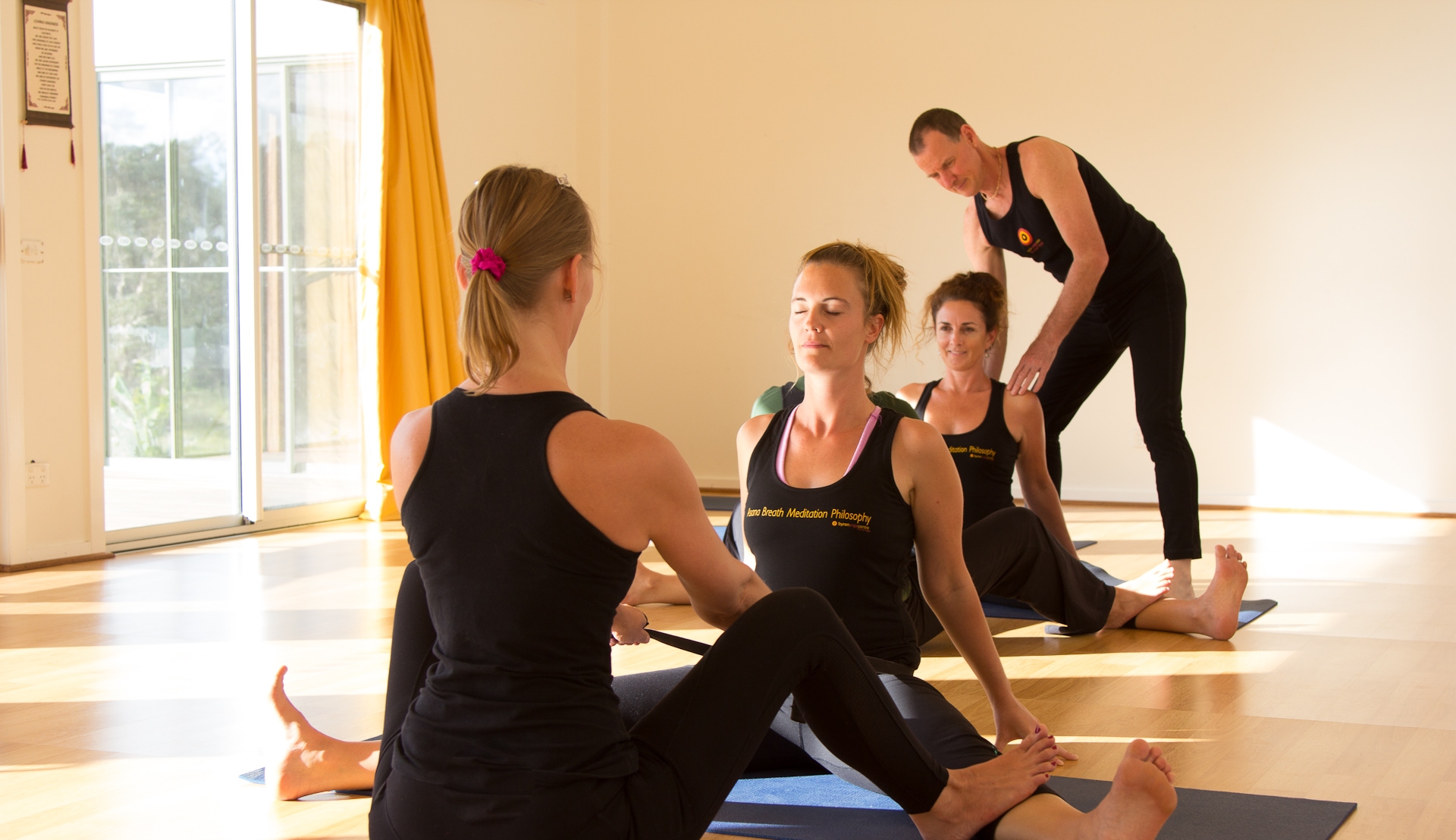 Part A & B combined comprise a total of 300 hours that can be added to your existing Level 1 qualification to comprise a total of 500 hours of recognized Yoga Alliance hours and eligibility to be recognized by Yoga Australia.  The Byron Yoga Centre Level II course is one of the first Australian Yoga Teacher Training courses accredited by Yoga Alliance as a 500 hour ERYT. This represents a very high qualification in yoga teaching that is recognised both in Australia and internationally, and you can be assured that by training with Byron Yoga Centre you're in experienced hands.
Please note that this course is open to graduates of any accredited Level 1 ( 200 hour) course.
This training has helped me move further along my own yogic path and will enable me to better help my students as well. – Krista, Level 2 Graduate
Level 2 Content Overview
The Byron Yoga Centre Level 2 Part Time Teacher Training Course is designed to deliver our characteristic holistic approach to training that encompasses the physical, emotional and spiritual aspects of the yogic path.   Guided by our knowledgeable and friendly teaching staff, in this comprehensive course, we'll be covering the following areas:
learn to teach pranayama and meditation
gain the skills and knowledge to teach an intermediate yoga class
Level 2 Yoga Philosophy
Level 2 Asanas
Level 2 Anatomy and Physiology
Refining your teaching skills with 'real life'  practice teaching opportunities from day 1
Part A: Practical and Lectures
Over the 6 weekends, practical and lecture sessions will include the following:
Techniques – Training / Practice
Teaching Methodology
Anatomy & Physiology for yoga teachers
Yoga Philosophy / Lifestyle & Ethics for Yoga Teachers
Practicum
Part B: Correspondence
Part B is conducted by correspondence and includes maintaining a journal of self practice. The preparation / study for the Part Time Level 2 Teacher Training Course begins 4 weeks before course commencement date, then continues by correspondence after the intensive at a personal pace, for as long as the trainee needs.
Teachers
Each of our lead teachers have over 20 years of knowledge and expertise. Under the guidance of veteran yoga teacher, John Ogilvie, the teaching staff on this course are experienced and dedicated. You'll be inspired by our resident and guest yoga teachers alike, who 'walk their talk', living the yoga lifestyle, and are all knowledgeable and passionate about their subjects. All are passionate about supporting you in your continuing yoga journey.
Other experienced teachers include:
Kara Goodsell | Michael Nazar | Pujan – Stephan Kahlert | Davina Kruse | Chloe Thorogood  | Maria Krsiten | Michael Sharpe | Lila Kirtana
Training Location – Byron Yoga Retreat Centre
Our  training and retreat venue is a conscious space of simplicity, sustainability and sharing – and one where we hope you will find connection to nature and your essential self. We thank all our guests for respecting the space and the land during their stay. Our water is sourced from the sky and filtered for drinking. Toilets are composting and our garbage recycled to minimise our ecological footprint.
Retreat guests stay in comfortable twin/triple share rooms with shared bathroom facilities and onsite yoga shalas. A real highlight is the 20-metre heated, mineral salt water pool that offers students the perfect cool down between active yoga studies. There are plenty of places to find peace and calm at the property and in the surrounding Byron Shire.
All our guests rave about Byron Yoga Centre's culinary creations. Our passionate yogi cooks in the kitchen prepare each meal by hand with love and the freshest ingredients. We harvest produce directly from our organic gardens and other local suppliers, showcasing at every opportunity the amazing food from this part of the world.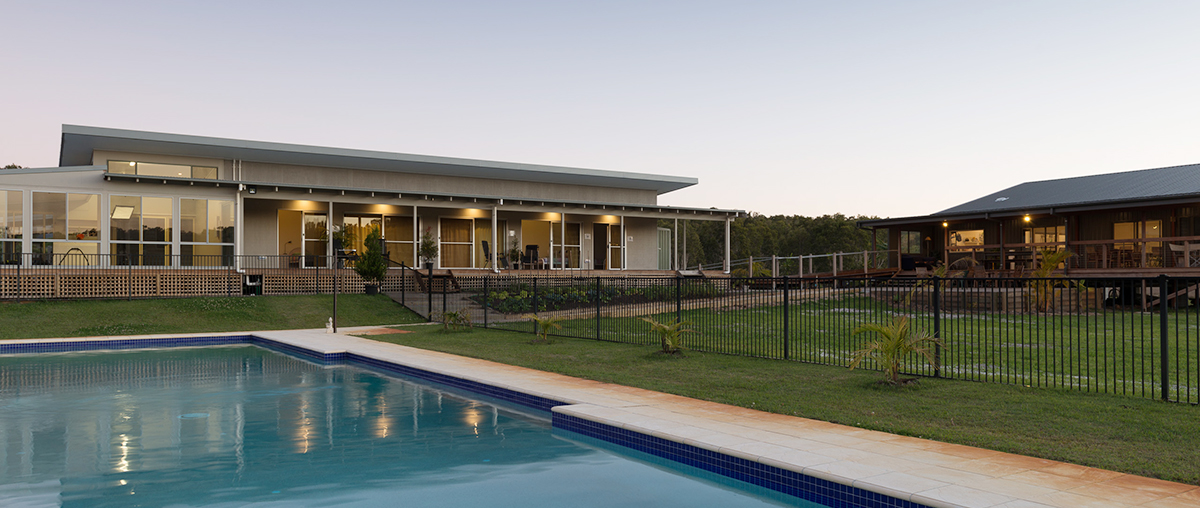 Schedule
Friday half day 1pm start
Saturday all day
Sunday all day – finish 4pm
The first training session starts at 1pm 7 August 2015, and the final weekend finishes on Sunday 4pm 29 November 2015.
Example of timetable
Fridays
| | | | |
| --- | --- | --- | --- |
| | - | 1:00pm | Arrive to start by 1:00pm |
| 1:30pm | - | 3:00pm | Practical and Lectures |
| 3:00pm | - | 3:15pm | Afternoon Tea |
| 3:15pm | - | 4:45pm | Practical and Lectures |
| 4:45pm | - | 6:30pm | Dinner |
| 6:30pm | - | 8:00pm | Practical and Lectures |
| 8:00pm | - | 8:30pm | Light Supper |
Saturdays
| | | | |
| --- | --- | --- | --- |
| 6:00am | - | 8.00am | Asana class |
| 8.00am | - | 9:00am | Breakfast |
| 10:45am | - | 11:00am | Morning break |
| 11:00am | - | 12:45pm | Practical and Lectures |
| 12:45pm | - | 1:30pm | Lunch |
| 1:30pm | - | 3:30pm | Practical and Lectures |
| 3:30pm | - | 4:00pm | Afternoon break |
| 4:00pm | - | 6:00pm | Practical teaching and lectures |
Sundays
| | | | |
| --- | --- | --- | --- |
| 6:00am | - | 8:00am | Asanas with focus on Sequencing, Pranayama and Meditation |
| 8:00am | - | 9:00am | Breakfast |
| 9:00am | - | 10:30am | Practical and Lectures |
| 10:30am | - | 11:00am | Morning Tea |
| 11:00am | - | 12:30pm | Practical and Lectures |
| 12:30pm | - | 2:00pm | Lunch and free time |
| 2:00pm | - | 4:00pm | Practical and Lectures |
Bliss out in Byron Bay – a setting like no other
Byron Bay – known around the world as Australia's home of yoga – has an ancient, spiritual heritage and natural beauty that makes it the perfect setting for yoga learning and personal development. This beachside town located at Australia's most easterly point, is a creative mecca that attracts artists, musicians, writers, healers and yogis from all over the globe.Guided by our experienced and caring teachers from Byron Yoga Centre, you can be assured of a rich, varied and holistic experience of yoga and meditation as well as the beautiful surroundings that Byron Bay has to offer. This very special 5-day meditation training course is held at our secluded rural Byron Bay venue, minutes from beautiful beaches.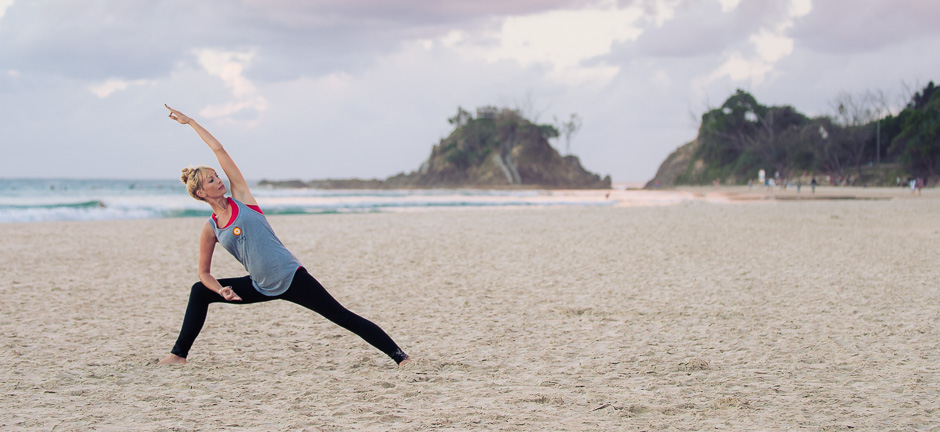 More about Byron Bay – Quick Facts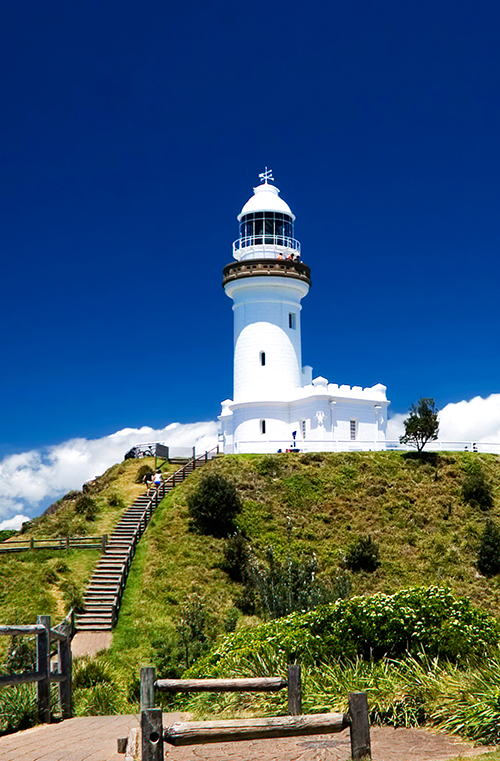 Cape Byron is Australia's most easterly point, located on the North Coast of New South Wales. With its numerous beaches, unspoilt hinterland, and relaxed lifestyle, Byron Bay is a popular tourist destination. It is also a place where artists, musicians, dancers, writers, surfers, healers and of course yogis express their diversity and individuality.
The town has all major facilities: a hospital, cinema, supermarket, health food stores and great restaurants, as well as a flourishing alternative health industry. Bicycle is the easiest way to get around town and easily organised through Byron Yoga Centre.
The average summer temperature is 21C – 28C, and average winter temperature is 15C – 21C, There are also periods of heavy rainfall, especially in summer. The area has a total annual rainfall of 1734mm.
Byron Shire has a population of close to 30,000, while the town of Byron Bay has a population of about 9,000.
Byron Bay is located just off the Pacific Highway, 800kms north of Sydney, 175kms south of Brisbane. Airports are located in Ballina (30mins south) or Coolangatta (60mins north) and buses and trains arrive regularly.
The following websites provide information about Byron Bay and the surrounding area:
www.byronbay.com  www.echo.net.au  www.byronbaynow.com  www.byronbay.org
Bookings
All bookings must be paid in full 6 weeks before course start date, however we still accept bookings up until the day of the course. We offer internet banking and credit card facilities.
Click here to view course dates and register your place
Read an article all about the joys of undertaking part-time teacher training here.