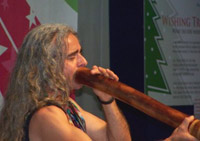 Written by Brook McCarthy
Byron Yoga Centre is pleased to welcome Rushika Parikh from Chatswood on an all-inclusive, seven-day retreat with us in Byron Bay in January and a Coma-Toes yoga pack of goodies, as the winner of our Mind Body Spirit competition. Rushika was one of several hundred people who entered our competition, held in conjunction with Coma-Toes, at the recent Mind Body Spirit Festival at Sydney's Darling Harbour.
Byron Yoga shared a colourful stand with Coma-Toes, which sells yoga, Pilates and meditation accessories, candles, aromatherapy and natural bodycare products. The four-day event, from November 6 to 9, attracted more than 12 000 spiritualists, seekers, and the plain curious who came to experience the many metaphysical delights on offer, from angel workshops, to psychic readings, and past life regression.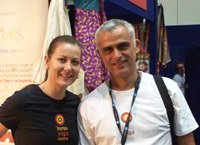 Byron Yoga Centre teachers Alex Hamilton and Michael Nazar flew down to attend the event and talk to hundreds of visitors about what we do at Byron Yoga Centre.
Our stand's close proximity to the stage meant we enjoyed the blissful mantras of Sacred Earth, Oka and the vibrant drumming of La Voz, among many other groups.