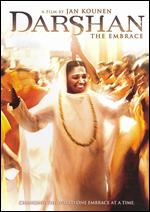 With the grounds of the yoga school lit with fairy lights, Byron Yoga Centre was transformed on Saturday March 1 for the screening of Darshan – The Embrace. The film follows Sri Mata Amritanandamayi Devi, or Amma ('mother') to her devotees, on her 2004 worldwide tour. Commonly known as 'the hugging guru', Amma is famous for her tireless and indiscriminate spiritual embraces and received the Gandhi King Prize in 2002 at the UN in Geneva, in recognition of 30 years of selfless work through her vast network of charities and development programs.
The evening was organised by the Byron Bay group of Amma devotees to raise funds for Amma's tour of Australia next month (April), when she will visit Brisbane, the Gold Coast, Sydney and Melbourne. A delicious vegetarian feast was served by Amma devotees, who led prayers before dinner, thus transforming the food into prasad – blessed food.
Many people new to both the yoga school and Amma joined yoga teacher trainees and Amma devotees to lie on cushions to watch the film. Dutch film-maker Jan Kounen and his crew began shooting footage for the film in 2003 during Amma's fiftieth birthday celebrations in Cochin, southern India. The team then travelled with her and her devotees on her Indian and international tours in order to complete the devotional documentary. With the audience transfixed by the screen, a feeling of tranquility in the yoga hall developed into a palpable sense of yearning as Amma's joyful and loving spirit was abundantly clear. Intimate shots captured Amma embracing thousands, singing kirtan and bhajans, cajoling, teasing and advising her devotees and well-wishers. Serene sunset scenes, lush tropical vegetation and recognisable streetscapes conjured up a distinctive Indian flavour to the film.
Amma and her devotees' tireless work was illustrated to great affect at the film's climax, with Amma hugging 45,000 admirers within 21 hours. The image of Amma's immaculate white sari stained on the right shoulder with people's sweat and tears after many hours of embracing was particularly poignant.
Amma's extensive and ceaseless ministering to the poor and needy was clear in the film and her practical involvement, including a vast and modern medical centre built at Cochin in southern India, shows how her impact extends beyond the spiritual.
Devotion to a guru, or bhakti yoga, is one of the six schools of Indian philosophy that make up Hinduism. In Bhakti yoga, based on the doctrine of 'love is God and God is love', everything is a manifestation of the divine. Amma's upcoming tour of Australia includes free public programs of talks, music, meditation and the opportunity to receive Amma's distinctive blessing and greeting, in Brisbane and Sydney, as well as retreats in Melbourne and the Gold Coast. More details are available at www.ammaaustralia.org.au.
Different film screenings are held at Byron Yoga Centre on alternate Saturdays, keep an eye on the website www.byronyoga.com for more details.