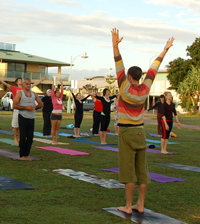 Written by Ana Davis
After a night of steady rain, Byron Bay yogis were blessed with a clear, albeit slightly soggy sunrise, in which to perform 108 Salutes to the Sun. Over 50 keen yoga students and teachers gathered for the Yoga Aid challenge at Main Beach Byron to do their part in raising money for children's charities.
The gathering coincided with a nation-wide event as people from Perth to Port Douglas, Broome to Bathurst, took up the challenge of performing 108 Salutes to the Sun over two hours.
More than $130, 000 has been raised so far, with the website – www.YogaAid.com – still open for donations.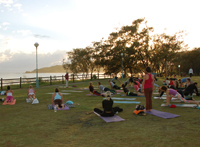 A big thank you to our top Byron fundraisers: Sarah Freeman who raised $510 for the Nelune Foundation, Terri Kibler with $325 also for the Nelune Foundation, and Katie Scholtes who gathered $400 for the Barnardos Foundation.
We look forward to next year's Yoga Aid event being even bigger and better.