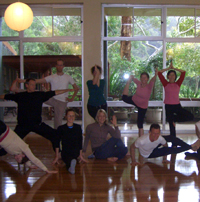 Written by Brook McCarthy
For those based in and around Sydney, a part-time residential teacher training course at Govinda Valley Spiritual Retreat Centre could be just the ticket, combining yoga-studies immersion with day-to-day life.
For those of us with jobs, relationships or children, taking a month or two off to live in Byron Bay and complete a full-time course is the stuff of fantasies. Yet just an hour south of Sydney, in the Royal National Park between Sydney and Wollongong, Byron Yoga Centre runs part-time residential courses in sublime Govinda Valley.
Matina Bourmas from inner city Sydney had been a student of John Ogilvie, founder of Byron Yoga Centre, for several years. She chose the Govinda Valley course because she liked his playful and caring style of teaching. "I wanted to recommit to my yoga practise and thought I needed a booster shot. I knew how good John is and I also liked the idea of removing myself from my everyday life. I knew that if I had to return home at the end of the day, I'd start working or cleaning and lose my focus."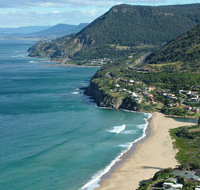 Working as an artist and silversmith, Matina paid the course in instalments which allowed her to save for the course as it progressed. "I liked the intensive style and the fact that some of the residents of Govinda Valley participated in the course helped our group form a tight bond."
"The practise sessions and group work were really helpful in consolidating the theory. The focus on pranayama was great, the teaching had so much integrity," says Matina.
Carolyn Hamilton, also from inner-city Sydney, was attracted to the Govinda Valley course because she wanted to immerse herself in her studies. "I felt it was important to be outside my normal life. The residential nature of the course gave my studies a meditative focus," says Carolyn. Carolyn often shared the drive from Sydney with one or two others on the course, which ran from January to June last year.
For Nicky Way from Tieri in central Queensland, proximity to home wasn't a consideration. "I did lots of research on yoga teacher training courses and chose the Byron course at Govinda Valley because it involved lots of face-to-face time, with breaks in between to consolidate what you've learnt," says Nicky. "The course content was comprehensive, taking in meditation, pranayama, anatomy and physiology.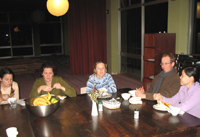 "The teaching staff and Govinda Valley staff were very nurturing and supportive. They gracefully picked me up, unasked, when I got off at the wrong train stop. The lusciousness, beauty and peacefulness of Govinda Valley reminded me of what yoga is all about," says Nicky.
"The healthy meals we enjoyed were an important part of the whole experience," says Carolyn. "They helping to cleanse our bodies and complemented our yoga asanas."
"They put so much care into the food," adds Matina. "We were absolutely exhausted at the end of each day and to have everything catered for with loving devotion was such a luxury."
Govinda Valley is run on a non-profit basis by 20 permanent residents and volunteers who consider diet as very significant to one's state of mind, general wellbeing and consciousness. The Govinda Valley organic garden supplies the kitchen with a lot of the food used in its sattvic kitchen. Sattvic food is nutritious, light and nourishing and most conducive to spiritual pursuits.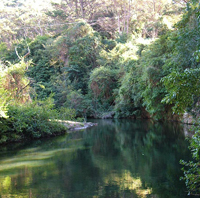 Cooks meditate and bathe before entering the kitchen and imbue the food they prepare with love and devotion. All food is free of meat, fish, eggs, garlic, onion and mushrooms and cooks ably cater for special dietary needs.
Govinda Valley residents are Bhakti yogis who seek to inspire by example. Since the Centre's inauguration on January 1, 2006, Govinda Valley staff have served Australia's yoga and wellbeing organisations in the spirit of karma yoga on retreats, workshops and conferences.
Susan Gock from Belmore in south-western Sydney completed her part-time Govinda Valley course in June 2006. "The course structure was very impressive and particularly suited my commitments and learning style," says Susan. "There were ample opportunities to practise teaching right from the start, and we gained a holistic view, not only of the yoga tradition, but also of the current industry and career progression for new teachers.
"The venue was just ideal. It perfectly supported and reflected what we were learning," says Susan.
The next part-time Govinda Valley teacher training runs from February 27 – 11 October 2009. Find out more.