Join us on a Spiritual Journey to India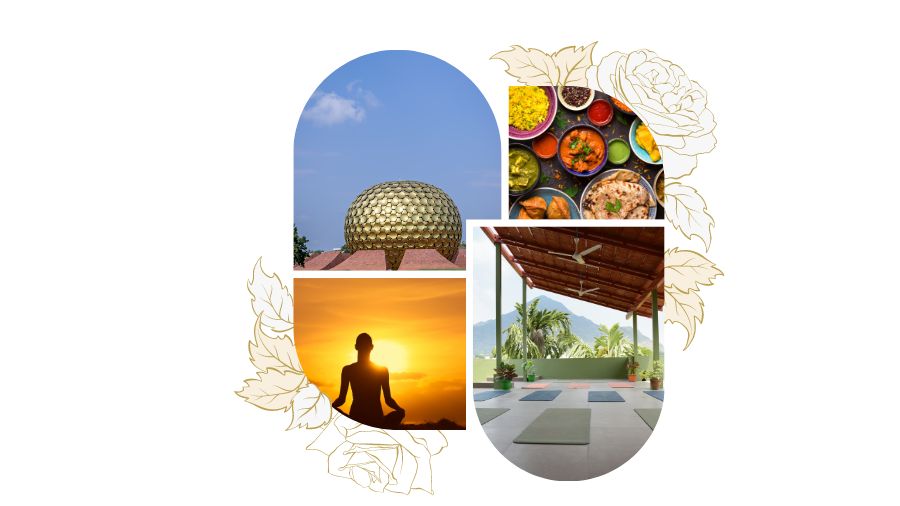 September 18 – 29, 2024
| Dates | RG TEST - Programs | Book Now |
| --- | --- | --- |
Are you ready for a transformational experience that will take your yoga practice – and your life – to the next level?
Our India Yoga Retreat is the ideal opportunity to immerse yourself in authentic yoga culture. An opportunity to truly unwind and take time to nurture yourself and experience the delights of the rich Indian culture. Experienced yogis can explore and enhance their practice, while new students can deepen their understanding of yoga asana (poses) and philosophy in a supportive and nurturing environment.
Immerse yourself in the Indian culture and this ancient Indian practice at the heart of yoga itself! Held in a tranquil and supportive environment. Our facilitators will nurture you throughout your journey, supporting your own personal transformation, as well as guiding you to develop a deeper, holistic understanding of yoga.
Inclusions
11 nights accommodation at the foothill of the sacred Hill of Arunachala.

Airport transfers in India.

Daily itinerary including yoga, meditation and spiritual enrichment.

Traditional and nutritious Indian meals – 2 meals each day onsite included in price. The third meal you will be given the opportunity to eat out and taste the local cuisine.

Guided day trips to French-inspired Pondicherry.

You will have the opportunity to deepen your understanding of yoga asana (poses), philosophy, meditation, pranayama (breathing exercises) and relaxation techniques.

Our flexible schedule is designed for you to explore your yoga practice but also immerse yourself in the local Indian culture with plenty of free time to explore. Create your own yoga retreat, and participate in as many or few activities as you wish.
Places are limited – click here to secure your reservation now.
Price
The price including all above is $2700 per person shared room (single room available at an extra cost upon enquiry).
The following options are available at an additional cost:
On site massage by local masseuse 

Local Ayurvedic Doctor with clinic nearby will be offering sessions
Places are limited – click here to secure your reservation now.
Your Hosts
Our facilitators have a combined teaching experience of over 100 years offering a wealth of knowledge and expertise to share with participants. John Ogilvie, the founder and director of Byron Yoga Centre, has been teaching yoga for over thirty-five years. He encourages a light heartedness in our approach to yoga and to ourselves.
Swami Pujan will be leading Meditation sessions and joining with John to deliver the yoga philosophy.
Bettina Kah joins John in teaching asana classes, breathing sessions and daily Yoga Nidra relaxation sessions.
Places are limited – click here to secure your reservation now.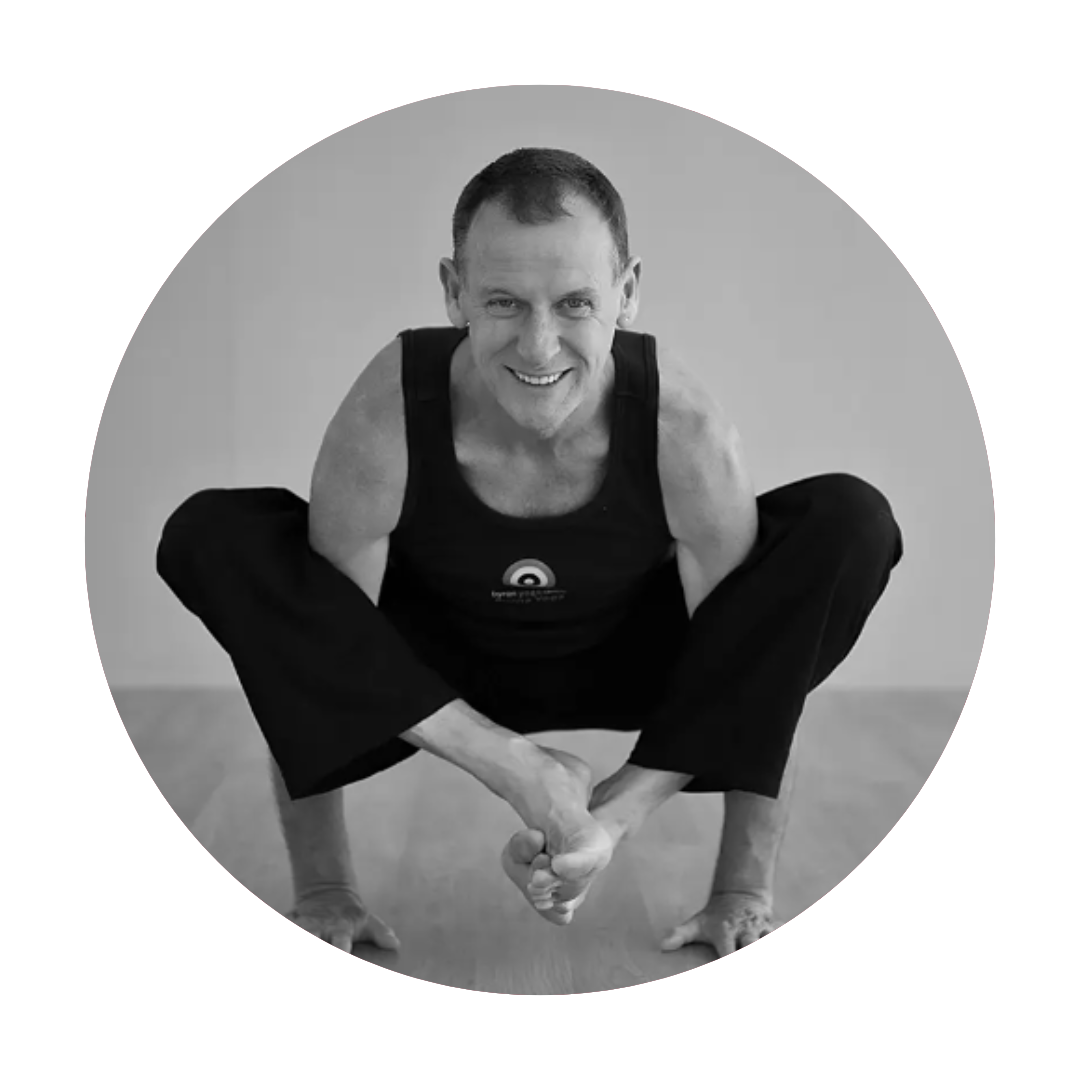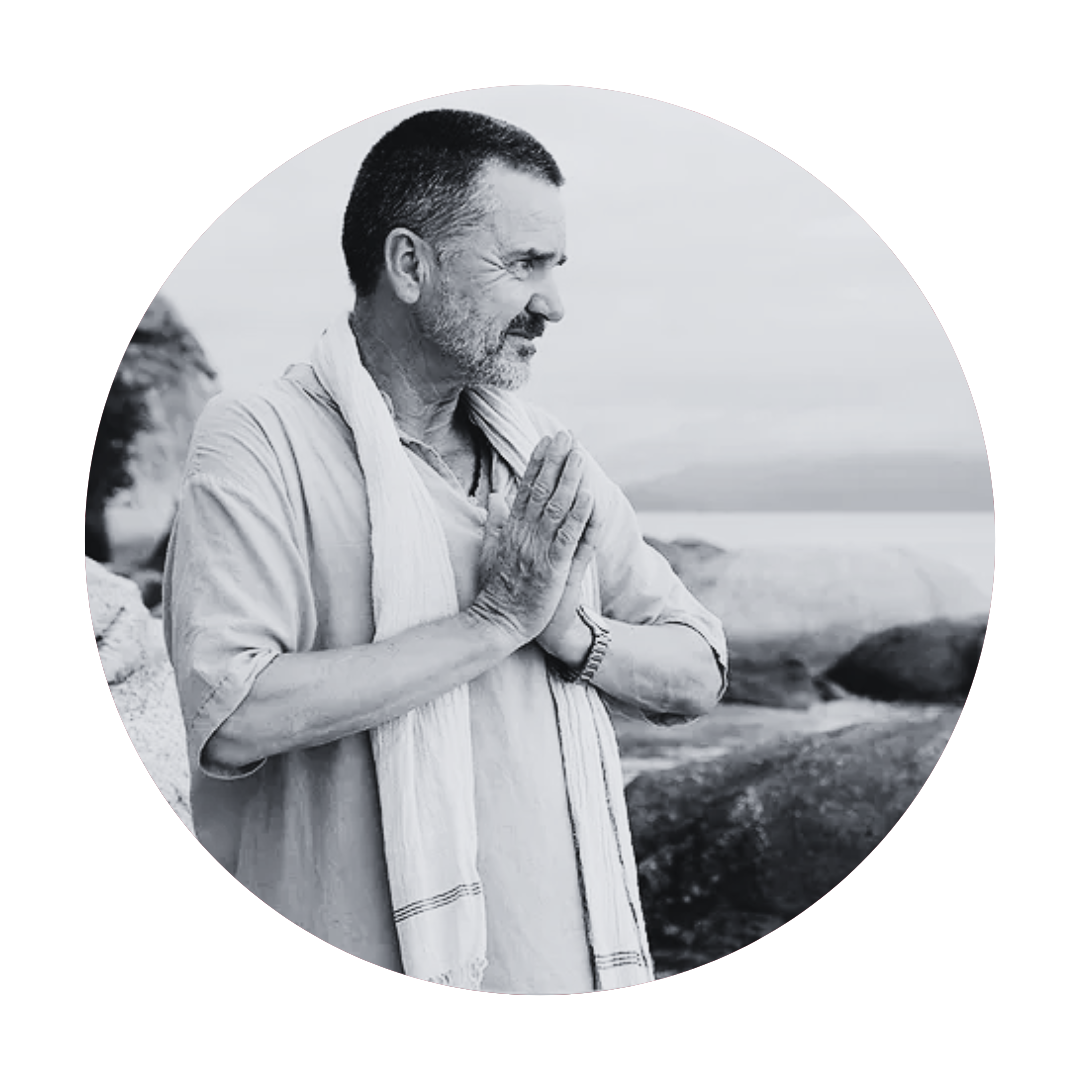 The Sacred Location
The Holy Hill of Arunachala, in Tiruvannamalai, Tamil Nadu has been a focal point of worship, meditation and retreat for centuries.  The scriptures, sages and saints  tell us that this mysterious Hill is, in fact, the form of Shiva himself.  The great saint Ramana Maharshi was 'irresistibly' attracted here after his Awakening, coming to Arunachala in search of his Father and remained here for his life.
There are many ashrams, temples and tombs of great saints in the ambit of Arunachala and seekers, practitioners and devotees from many traditions come to partake in the rarefied vibrational atmosphere that is especially tangible at the Samadhi of Bhagavan Ramana Maharshi.  It seems the whole hill emanates a strong sense of deep stillness and silence that cannot be talked about but experienced.  It has been a perfect place for ardent seekers to come and retreat into deep meditation and contemplation. Many great beings have attained liberation here.
Interesting reading: 
The Ramana Maharshi Ashram
Arunachala
davidgodman.org
A couple of easily accessible books are:
'Ramana Maharshi and the Path of Self-Knowledge' by Arthur Osborne
'Be As You Are: The Teachings of Sri Ramana Maharshi' by David Godman
Places are limited – click here to secure your reservation now.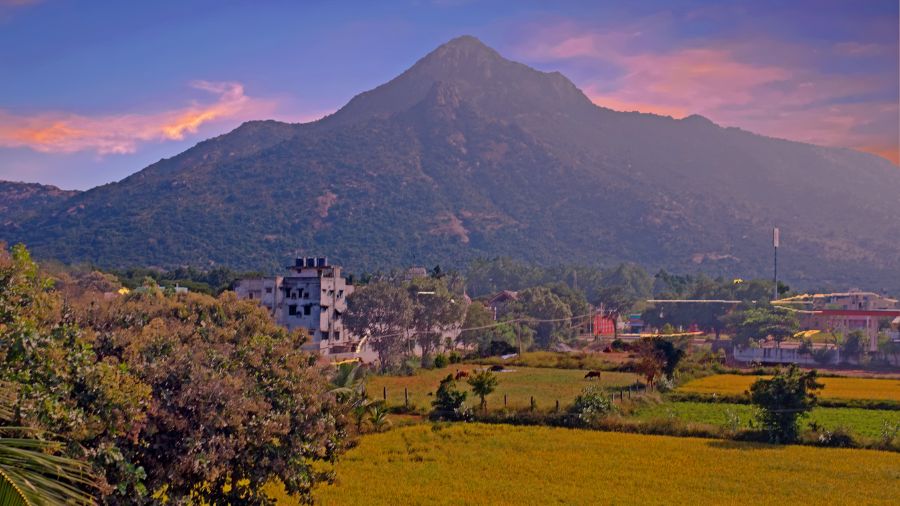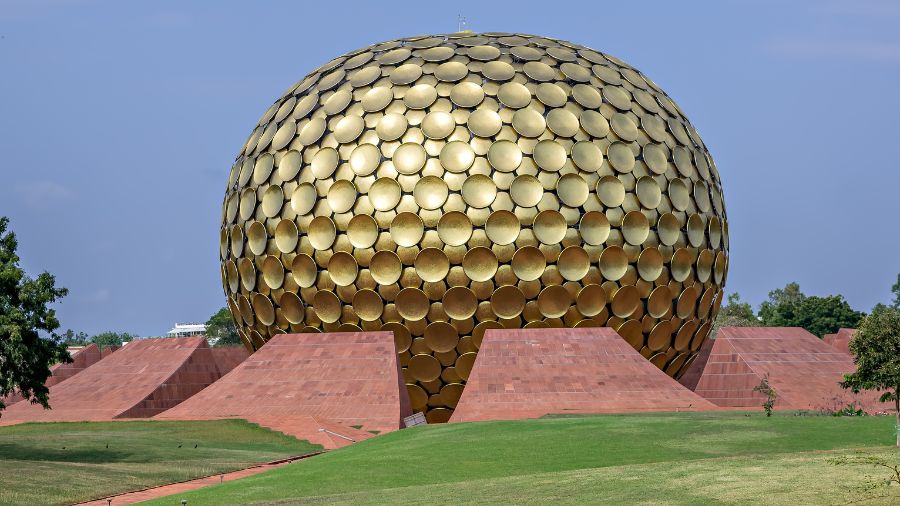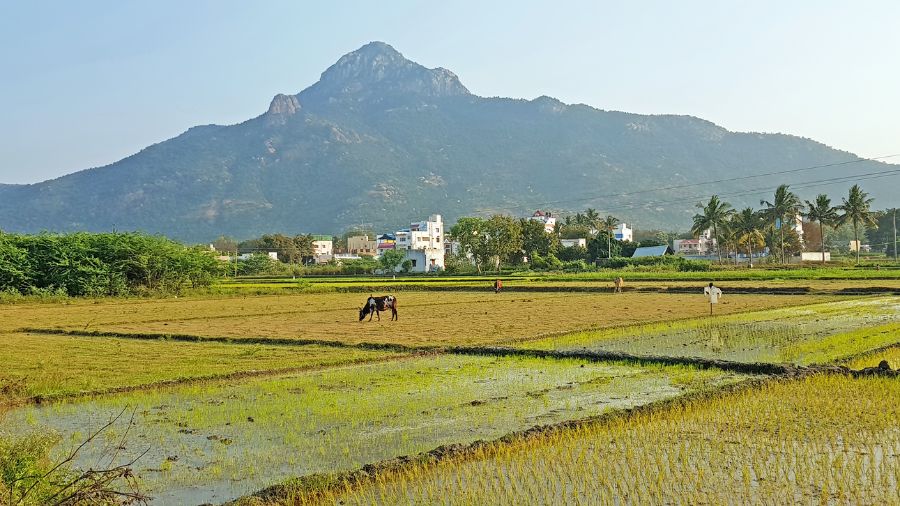 Accommodation
Sangam House
This unique home was crafted with love and has a western aesthetic quality with larger rooms, windows and attention to detail in the finishings and overall feel. The architect for Sangam was Suhasini Ayer, from Auroville, where she designed the well known Visitors Center.   What makes this place exceptional is its extraordinary view of Holy Arunachala from the roof and its proximity to the Ramana Maharshi Ashram, which is just a 10 minute walk from the front door.
Sangam Retreat House has a variety of exquisite shared spaces for group gatherings and for places to escape to, to be alone in contemplation and meditation.
The veranda, roof and areas in the garden around the swimming pool are lovely areas to be alone.
Sangam House has an elevator, filtered water in the taps throughout the house, yoga mats, hair dryers, electrical sockets that will accept UK, US and IN plugs (Voltage is 220 and 110 devices cannot be used without a converter) and 2 washing machines that can be used by participants (clothes can to be sent out for ironing at a low cost).
Sangam Retreat House is an alcohol, smoking and drug-free zone.
Rooms
The rooms have been aesthetically finished with comfort and beauty in mind. The hotel boasts luxuriously appointed twin share rooms with en-suite bathrooms.
Places are limited – click here to secure your reservation now.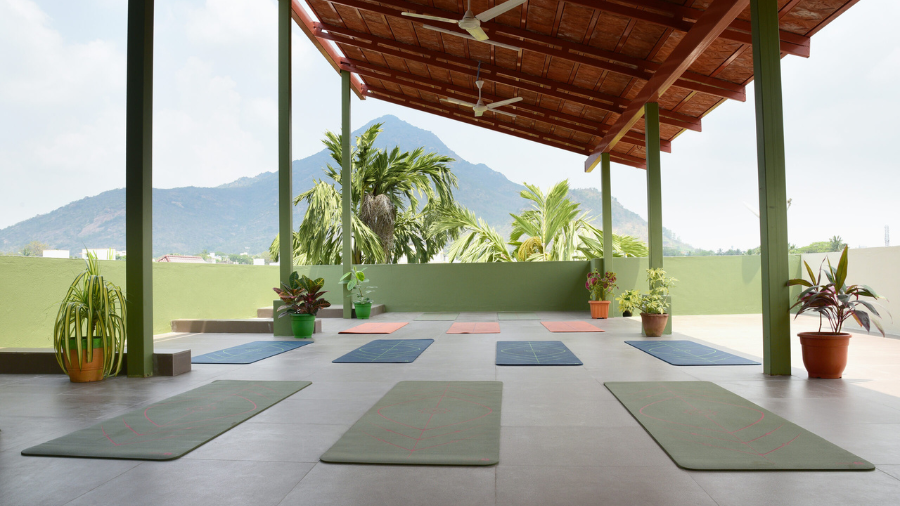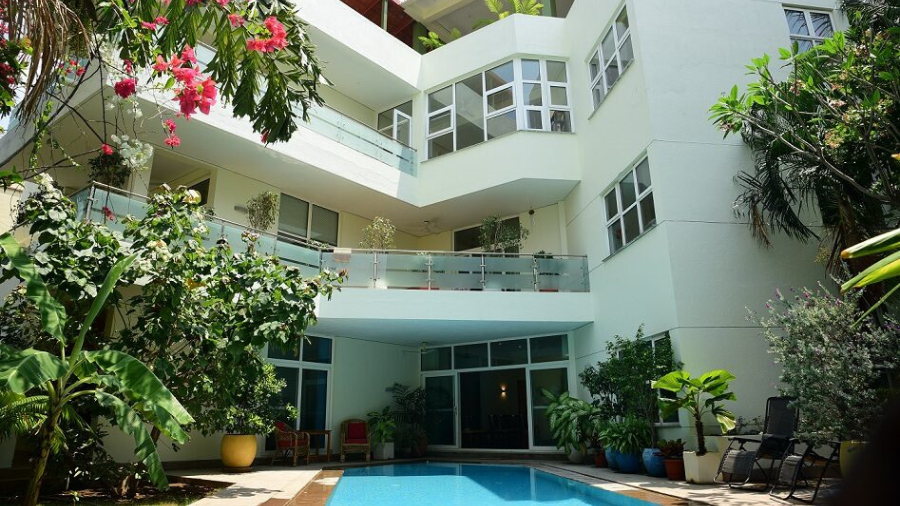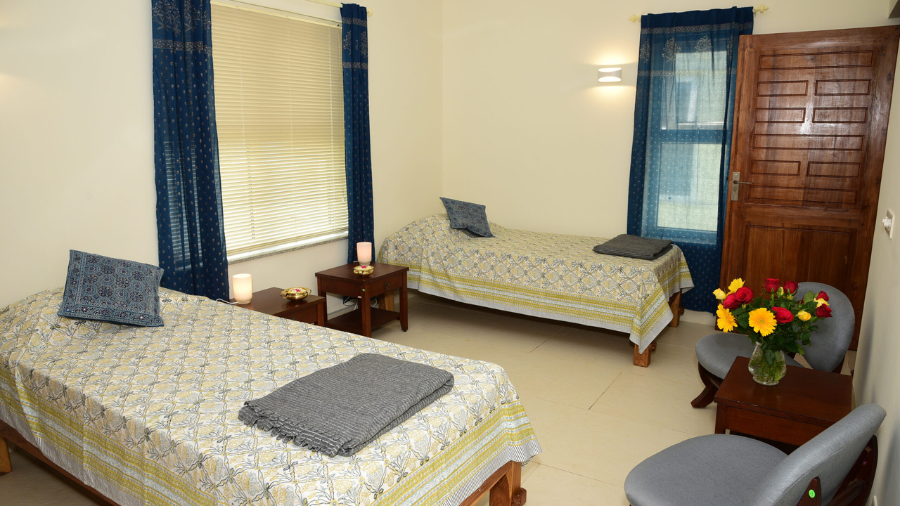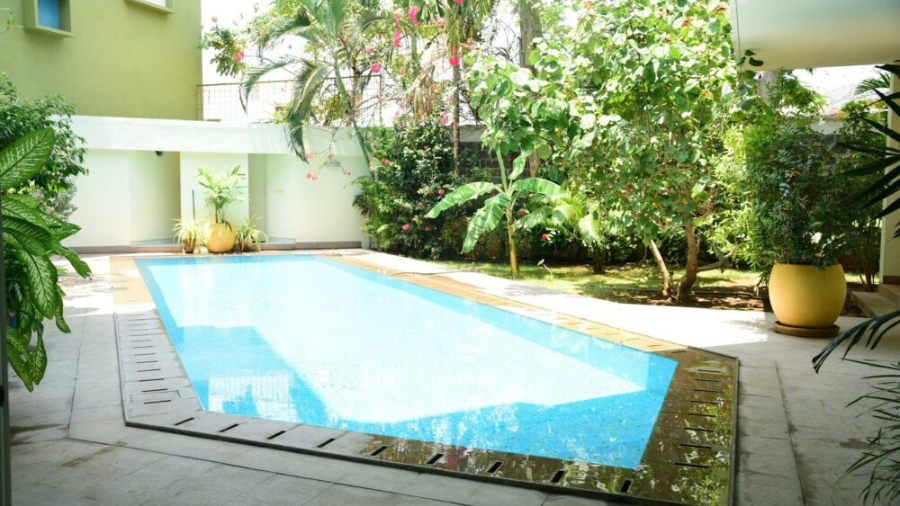 A Typical Day
07:00    Yoga Class
08:00   Breakfast
09:00    Alternate spiritual talks / meditation session / both by Pujan or John
12:30    Lunch (either on site or out)
14:00    Spend the afternoon exploring the town (supervised or independently) or relaxing by the pool
18:00    Dinner (either on site or out)
19:00    Yoga nidra / meditation / spiritual talk
Places are limited – click here to secure your reservation now.
Frequently Asked Questions