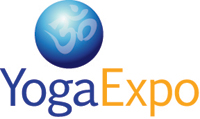 Despite the bracing winds of a Victorian spring, Melbournian's patronised their first yoga expo with gusto. The day was a success by all accounts, with a steady stream of yoga-devotees pouring through the doors of the Melbourne Showgrounds to enjoy a smorgasbord of yoga.
There was a gentle buzz as swarms of people meandered between the stalls offering everything from reiki treatments, to live yoga demonstrations, to the latest in yoga accessories.
Expo-goers enjoyed a fascinating blend of performances and talks ranging from kids yoga to Pranic Flow yoga. In keeping with the philosophy of the 'balance' of yoga, our minds and not just our senses, were also stimulated in a thought-provoking forum on yoga therapy hosted by yours truly.
Byron Yoga Centre had an eye-catching stand at the expo, boasting our cheery trade-mark colours of reds and oranges.
Congratulations to Michelle Robertson of Sorrento who was the lucky winner of our draw for a 3-day yoga retreat in Byron Bay.
Byron Yoga Centre will also be at the Sydney Expo coming up on Sunday, 19 October where we'll be offering another chance to win a yoga retreat at our Centre in Byron. So make sure you drop by to say hallo and fill out in your entry! For more information on the wonderful menu of yoga delights on offer at the Sydney expo.