Written by Pete Jackson
With a yoga teaching career spanning more than 20 years, including a solid reputation for working one on one, Sydney based teacher, Mark Breadner, has been invited to Byron Bay to share his knowledge at the upcoming Yoga Therapy Teacher Training Course at Byron Yoga Centre in July.
His long history of yoga and passion for sport has seen Mark combine his two loves to work with some of Australia's top athletes, applying the ancient tools of yoga therapy to help them realise their 'hidden' potential. Mark himself is a keen surfer, and in July, when not sharing his passion for yoga therapy, he'll no doubt be enjoying some of Byron Bay's famous surfing spots.
Ironically, it's Mark's love of surfing that has seen him put into practice his understanding of the gift of yoga therapy in his own life. A freak accident while surfing led to Mark losing sight in one eye, creating his greatest health challenge to date.
But first, let's travel back to when Mark was a child, when he was initially introduced to yoga. Mark remembers at age seven coming face to face with a class of yogis for the first time: "I remember coming downstairs at home to find a group of all women, as was common at the time, in my mum's yoga class," Mark recalls. His mother was the teacher and seeing a group of women dressed in yoga attire in his living room became a frequent and familiar sight. "I learnt about yoga by osmosis, and my mum was my first teacher," Mark recalls.
Later in life, Mark did what most teens do. He became involved in competitive sport but also lived a life of partying and socialising. The adolescent lifestyle began to take its toll. "I got really sick, and I began to wonder how to get my life back in balance," recalls Mark.
Remembering it's early influence and impact, he turned to yoga, and the benefits began to manifest. Yoga turned his life around and he completed a number of different teacher trainings. Combined with his existing passion of surfing, Mark moved in a new direction which ultimately shaped his personal destiny.
As a young adult, Mark became involved with members of the Australian Olympic swimming team as well as the professional surfing movement where he provided guidance in overcoming sports related injuries. "It was my time with these elite sportspeople when I began to utilise my practice of yoga to assist them achieve greater potential. After all, these individuals had already reached the top in sporting success, but they still experienced obstacles," he explains. Mark describes how he began to employ yoga therapy 'principles' to help remove blockages, or as he calls them – 'disturbances' – and help sports people 'reconnect within'.
The key, says Mark, was to show how these elite sportspeople could 'flow with life rather than swim against the tide'. His life of service through yoga therapy had begun.
"I undertook yoga teacher training and chose to devote my life to helping others overcome everyday physical and mental health ailments" Mark says. "I found that many people were living with stress and pressure brought about by leading a life based on external desires and a limited sense of self." Mark endeavoured to instil a more wholistic approach to improved physical and emotional health.
Mark's study of yoga therapy as a specialised discipline led him to incorporate a focus on 'stilling' the mind in his classes. "I found more and more students were seeking remedies from sore toes to life threatening addictions, and I focused my teaching offering a path towards a lifting of stress and desire," says Mark.
He began to see a change as students felt 'disturbances and blockages' fall away through their practice of yoga. As Mark explains, "I also found myself addressing students one on one to help them identify their limitations and reflect on how blocked energy pathways were leaving them frozen".
It's this approach which Mark encompasses in yoga therapy teaching. "The first step is to teach an awareness of how identification with external desires creates unnecessary stress in our lives," explains Mark. "By paying attention to our personal stories, we as yoga therapy teachers, can make a real difference to students whose lives have become trapped in the temptations of modern everyday living".
Mark says that combined with proper diet and continued awareness, yoga therapy has the potential to make the practice of yoga more powerful than the challenges brought on by modern living. "All our limitations fall away in yoga therapy, because yoga therapy works on numerous levels and layers," he claims. "As yoga therapy teachers, we have the potential to strip our minds and bodies of those thoughts and practices which inhibit and conflict".
Isn't it wonderful how the ancient practice of yoga can be used for the thoroughly modern ailments of the 21st century!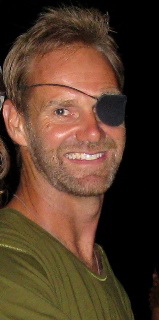 With his surfing accident, Mark was able to experience first hand, how physical trauma and injury can be managed through a combination of yogic-inspired, self belief and acceptance, as well as traditional medicine and therapy.
A turn in a wave led to the point of his board puncturing the eye socket leaving him not only partially blinded but also temporarily paralysed in the face. Mark says he went through a 'yogic experience' which saw him see 'bright lights and feel at peace' before being helped from the water and rushed to hospital. He resolved to overcome the setback and allow his brain to 'map things out again'.
Mark began to experience the path to his own healing, by working towards a removal of what he terms as 'congestion blocking the flow of life energy'. It's this flow of energy Mark says which our body uses to heal and maintain ourselves. He ultimately began to regain confidence in not only surfing but also in himself. It's a sense of worth which he says 'comes from inside' which gives him confidence to live a full life today. As Mark quips, it's allowed him to move on in life and 'go with it!'
Mark's personal journey as well as his lifetime connection with the yogic path, makes him well qualified to share his knowledge and experience of yoga therapy with aspiring yoga therapists. Don't miss him in Byron Bay this July.
Find our more about our Yoga Therapy Teacher Training Intensive here.
Footnote: Mark Breadner has established his own teacher training school YogaCoach™ in Sydney last year, after designing training programs for Heart of Yoga Sydney, Nature Care College and BodyMindLife.