I arrived with a break in mind, a chance to cut loose and ponder some of life's challenges. I returned recharged and clearer after being carried by the warmth and care of John's team. The immersion into the breadth of yoga from asana to ayurvedic healing, to yoga nidra and meditation provided a one stop shop for healing. All of this whilst being rocked in the song of the ocean across the road as whales gently pass. A breath taking location bathed in friendship that also puts nourishing, healthy food on the table – what more does your soul need?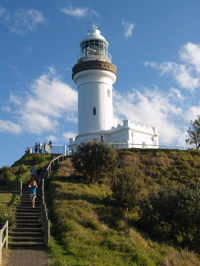 G. Tourelle
Thanks so much for your warmth and brilliant organisation. The retreat ran so smoothly under your guidance.
M. Carlyon
A retreat that is as flexible as the staff – awesome! I really feel like it will have a big impact on me when I return home.
J. Beck
As soon as you enter the doors of Byron Yoga you can feel the energy and calmness enter your body. The retreat experience is an elixir not only for your body through the daily yoga sessions and nourishing food, but also for your mind, as the learning experiences can be applied to everyday life.
C. Morris
This retreat brought together a great group. The main yoga studio has a beautiful, inspiring, nurturing energy that allows your practice to be a personal experience.
S. Auyeung
It's always about the people but combined with yoga, wholesome food and reflection this is the perfect retreat.
J. Vine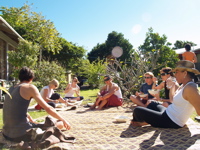 The retreat has definitely deepened my understanding of the practice of yoga and I've benefitted from having correct alignment in the postures.
A. Daley
I experienced lightness or rather bliss from the cranio-sacral session with Gitam during the retreat, as if I've touched base with my centre. Thank you so much. The experience keeps changing in very subtle ways, now I would call it lightness again, rather than bliss. It's a sense of light neutralism (a state of clearness which is neither positive nor negative) whereas bliss has a fullness. I noticed it in very unexpected ways, when I was running for the bus the other day I felt like an antelope – I was almost flying!
S. Ganesh
The retreat was a great introduction to yoga, with a fun, small group and positive, attentive teachers. The laid back attitude allowed me to de-stress and focus on the practices.
C. Barnes
On the first day of my retreat I was apprehensive as to who I would meet, what I would eat, where I would sleep and how many yoga sessions I would participate in, out of the optional 3 per day. It did not take long before my anxiety turned to a peaceful calm and to be honest, a feeling as if I had found home. I can honestly say that I met the most amazing, inspiring and genuine mix of eclectic people, ate like an organic vegetarian queen, slept the most restful nights sleep and took great joy in participating in each and every one of the 3 yoga practices per day, for the 5 days of my retreat. You have blessed me with an experience that I will sincerely cherish forever and I thank you from the bottom of my heart for being there at a time when I needed you the most. See you again soon
K.Lucas