Written by Gitam Garden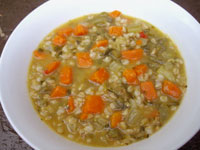 No other food soothes quite like a soup, especially in winter. This hearty soup uses barley, an oft-overlooked ingredient that is high in fibre, rich in protein, vitamins, minerals and amino acids with no cholerestol, leaving you free to indulge in a second helping!
Ingredients
1 tablespoon oil or butter
½ teaspoon hing
1 teaspoon cumin seed
1 teaspoon paprika
1 teaspoon salt
1 teaspoon ground black pepper
500 ml water or stock
250gm carrots
250gm potatoes
2 bay leaves
1-2 zucchinis
½ bunch celery
250gm cabbage
100gm barley
½ cup chopped mixed herbs, such as dill, oregano, parsley, basil
Garnish
¼ cup chopped parsley
½ cup grated cheese
¼ cup gomazio
Method
1. Wash potatoes, carrots and zucchini, peel if necessary, and cut into bite-sized cubes
2. Roughly chop cabbage
3. Finely slice celery
4. Heat oil in large heavy based pan, when hot but not smoking, add the hing and fry momentarily
5. Add cumin seed and fry for 2 minutes, then add paprika, salt and pepper, cook a minute more
6. Add potatoes and carrots and toss well
7. Add barley and stock, bring to boil, then reduce the heat to simmer
8.  Add remaining vegetables and herbs
9. Simmer for about one hour, stirring occasionally and adding water or stock if necessary
10. Adjust seasoning to taste.
Gomazio
Toast 1 cup sesame seeds in heavy based frypan until golden brown. Add 1 teaspoon of salt and process in a blender or food processor until slightly broken up.
This soup improves with standing. Any vegetables or beans can be added or substituted.
Preparation time: 75 minutes
Serves: 4-6.
Related articles