Become accredited as a Registered Prenatal Yoga Teacher
RPYS (Registered Prenatal Yoga School with Yoga Alliance)
10 Day, 100 hr Pre & Postnatal RPYT course
This fully residential 10-day intensive held in beautiful Byron Bay certifies you to become a Registered Prenatal Yoga Teacher (RPYT) with Yoga Alliance, and offers the highest qualification currently available in this specialised area.
This course represents the most in-depth immersion course of its kind currently available in Australia and is designed for yoga teachers or women's health professionals who wish to specialise in the growing field of yoga for pregnant women and new mothers.
This course is the natural follow-on for any students who have previously completed the Bliss Baby Weekend Prenatal/Postnatal Weekend Intensives or Online Courses.
"I looked all over the world for a pre/postnatal course that was both intensive and comprehensive. This was the only course that met all my needs. Thanks so much!" Andrea Brailsford, Yoga Teacher
Course Overview
This exciting new niche-course offers the opportunity to explore the theoretical background and practical applications necessary to safely and appropriately conduct pregnancy and post natal yoga classes (including 'mums and babies' yoga). Course Director, Ana Davis, is well known in Australia and abroad for her prenatal and postnatal yoga teacher training workshops.
Course Methodology
With a balance between theoretical and practical components, the rich faculty of pre/postnatal yoga teachers and women's health practitioners will cover course content that is both informative and comprehensive.
Learn the all-important background information on the stages of pregnancy and birth, and post partum physiological and emotional changes, from a team of experienced and qualified experts that include a Doula Trainer and Child Birth Educator, a Physiotherapist, an Ayurvedic Practitioner, plus experienced and passionate prenatal and postnatal yoga teachers and teacher trainers.
The course also aims to give students the practical skills and tools that will result in the development of an extensive teaching repertoire of appropriate and beneficial Asanas and other yoga-techniques for their pregnant and postnatal students.
To fulfill the Yoga Alliance Registered Accreditation of RPYT (Registered Prenatal Yoga Teacher) students will also be required to complete an additional 20 non-contact hours that will include specialised Case Study assignments.
"The scope was great. I really enjoyed the many perspectives and content that was covered. I loved the mix of theoretical and practical/ experiential learning. The many topics and mix of scientific, philosophical, practical and even energetic, artistic angle helped me delve deeply into the area of Prenatal & Postnatal Yoga, in a well-rounded and comprehensive manner." Penny, Yoga Teacher Sydney
Course Prerequisites ("Is this training appropriate for me?")
Our Bliss Baby Yoga 100 hr Prenatal and Postnatal Yoga Teacher Training course is suitable for yoga teachers, or those currently or planning to undertake yoga teacher training, as well as those working in related fields of women's health, such as midwives, doulas and nurses. The prerequisite to enrol in Bliss Baby Yoga's specialised teacher training courses is at least 6 to 12 months of yoga practice experience (so that you are familiar with the basic yoga postures and practices).
Pregnant women are very welcome to attend, ideally from 14 weeks gestation onwards. (Pregnant trainees may not be able to join in all of the postnatal practices included in the training, however are of course very welcome to join in / modify to what is appropriate for them, and otherwise observe and take notes).
Please note – this specialised training is not designed to qualify graduates to teach prenatal / postnatal yoga classes if they are not already a qualified yoga teacher. If you are planning on teaching prenatal / postnatal yoga classes we recommend undertaking a general Level 1 (200 hr minimum) yoga teacher training course in addition to this specialised training (particularly for the purposes of gaining insurance to teach, and learning the basic skills of 'how to teach' which are not included in this specialised training course).
If you are currently working in a related field of women's health (such as midwifery) and are planning to use this training to offer Prenatal / Postnatal Yoga practices within the context of your current work, your current insurance may cover you to do this.
If you have any questions regarding your suitability/eligability to undertake this training please don't hesitate to contact us through the web contact form or email info@blissbabyyoga.com.
"I got so much out of the training and feel really confident to teach prenatal/postnatal yoga classes. I also loved doing the course pregnant and feel it has positively impacted my thoughts on pregnancy and in the birthing process." Sally, Yoga Teacher, Melbourne
Course Accreditation
Bliss Baby Yoga is accredited with Yoga Alliance as a Registered Prenatal Yoga School (RPYS).
Upon completing the Bliss Baby 100 hour Pre and Postnatal Yoga Teacher Training course you will receive a certificate of completion, displaying completion of the required contact hours and content for RPYT (Registered Prenatal Yoga Teacher) certification with Yoga Alliance.
Please note the following requirements to register with Yoga Alliance as RPYT:
Teachers can register as a RPYT if they have successfully completed both a 200-hour yoga teacher training program and an 85-hour prenatal yoga training—in either order—that are registered with Yoga Alliance. Applicants must submit 30 teaching hours in prenatal yoga which must be performed after completing a program with a RPYS (Registered Prenatal Yoga School).
Our 100 hour course exceeds the 85 hours of required learning to obtain this qualification, and it includes a postnatal syllabus.
At the end of the course we will also include you on our online directory of qualified pre/postnatal yoga teachers.
For more information on accreditation options to become a prenatal / postnatal yoga teacher click here.
"Where do I begin!?  The whole experience was open, welcoming, friendly, informative, helpful – particularly feedback on practical sessions.   As well as sharing circles and the whole group experience.  The way in which the educators revealed their humanity and joined us for meals meant there was more time to chat," Vicki Thomson, Midwife
Your Teacher Trainers – experience & expertise
The Bliss Baby Yoga team is made up of a range of highly experienced yoga teachers and passionate women's health professionals. These will include Anna Watts – Childbirth Educator, doula and yoga teacher; Emma Grant – Director of Red Tent Yoga and Ayurvedic Practitioner; Lisa Fitzpatrick -Physiotherapist, Anatomy and Physiology Teacher; Star Despres – Prenatal and Restorative Yoga specialist; Maria Kirsten – Yogalates and Anatomy & Physiology specialist; Dr Lauren Tober – Clinical Psychologist; plus Ana Davis – Bliss Baby Yoga Director and Founder, as well as special guest teachers.
"I loved this training course! I feel enriched and inspired both personally and professionally. All the teachers and team from Bliss Baby & Byron Yoga were fantastic. It was wonderful to spend time with such nurturing, compassionate, knowledgeable and experienced practioners in this field. I treasure this experience and the friends I have made at this course. Thank you!" – Penny, Yoga Teacher Sydney
Course Content
The following subjects will be covered:
Pregnancy: the three trimesters, pycho-physiological changes to mum and baby
Birth: stages of labour; supporting a woman in natural/active birth
Anatomy & Physiology: understanding the changes to the pregnant and postnatal body
Applied Anatomy & Physiology/yoga therapy: working with back conditions and other complaints specific to prenatal and postnatal students
Safety guidelines for pre/post natal students (detailed analysis of contraindications)
Practising and teaching of safe and appropriate asanas, pranayama, yoga nidra, savasana, meditation, visualisations, and partner yoga exercises for pregnant and post partum students
Defining and recognising Postnatal Depression and 'Baby Blues'
Establishing and running prenatal yoga classes (including marketing and business management)
Establishing and running postnatal and 'mums 'n' bubs' yoga classes (including marketing and business management)
Restorative yoga as yoga therapy for prenatal and postnatal yoga students
Working with props (modifying postures for pregnant students and new mothers)
Adjustments and corrections for pre and postnatal students
Course Schedule
In this intensive training, the first morning session will generally start anywhere between 6am and 7.30am, and the days will finish anywhere between 7pm and 8.30pm.
In this intensive course you'll start every day with a sample prenatal or postnatal yoga class with one of our experienced Bliss Baby Teachers, allowing you to really feel and experience what the postures and practices would feel like for a pregnant or new mother.
The remainder of your day will consist of a balanced combination of practical and theoretical sessions with a variety of specialist teachers. There will also time for practice-teaching and integration of the vast amounts of knowledge you'll be learning.
Students need to arrive between 2pm-4pm on the first day to settle into their accommodation. Course introduction and orientation will begin at 4.30pm. The course finishes after dinner on Saturday 12th August, 2017, with trainees to check out by 10am the following morning.
"You fill the course with a bunch of fantastic information, a wonderful energy and vibe, great teachers, delicious food and in-depth material," Laura Grogen, Yoga Teacher
Course Venue
Byron Yoga Retreat Centre Skinners Shoot Road, Byron Bay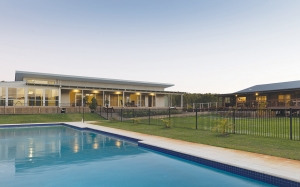 This fully residential training will be held at the Byron Yoga Retreat Centre, Byron Bay. The retreat and training centre is about a 5 minute drive or 20 minute walk from the town centre and beaches.
This eco-friendly training venue houses comfortable and fully equipped yoga studios, indoor and outdoor dining areas, a mineral salt heated pool, edible gardens and shared laundry facilities.
On-site Accommodation
This is a fully-residential training includes comfortable, clean twin / triple share rooms (2 / 3 single beds) with everything conveniently on site: accommodation, yoga studios and dining areas.
Shared bathroom or ensuite bathroom accommodation options available.
Email info@blissbabyyoga.com for further information.
Accommodation and meals are included in the total course fee.
ACCOMMODATION OPTIONS:
(Click the images below for a magnified view)
ROOM TYPE
Triple Share "Cabin Room" with shared
bathroom facilities
Twin Share "Pavilion Room" with shared
bathroom facilities
Twin Share "Ensuite Room" with adjoining
ensuite bathroom
 
Food
All meals are provided as part of this residential training course. The food prepared at Byron Yoga Centre is market-fresh and a real highlight for our trainees. Enjoy healthy and delicious vegetarian cuisine, organic wherever possible, designed along Ayurvedic principles to be light and cleansing.
Cost
See 2017 price structure below. Includes course fees, triple-share accommodation, all meals, comprehensive course manuals and DVD.
Bookings & Enquiries
All bookings are made through the Bliss Baby Yoga Online Shop. Payments can be made via Credit Card through PayPal or Direct Bank Deposit. A minimum deposit is required to secure your place. Payment plan options available.
2017 course registrations now open!

| | | | |
| --- | --- | --- | --- |
| Course | Accommodation | Price | Bookings |
| 100 hr RPYT Prenatal and Postnatal Yoga Teacher Training 10 day intensive | Triple share "Cabin Room" with shared bathroom facilities |  $2980 | This accommodation option is fully booked |
| 100 hr RPYT Prenatal and Postnatal Yoga Teacher Training 10 day intensive | Twin share "Pavilion Room" with shared bathroom facilities | $3380 | CLICK HERE TO REGISTER |
| 100 hr RPYT Prenatal and Postnatal Yoga Teacher Training 10 day intensive | Twin Share "Ensuite Room" with adjoining ensuite bathroom | $3795 | CLICK HERE TO REGISTER |
RPYT Upgrade Packages for 3-Day Prenatal YTT graduates Email info@blissbabyyoga.com for enquiries. 
Have you already completed a 22 or 30 hour Prenatal Yoga Teacher Training weekend intensive with Bliss Baby Yoga?
An Upgrade Package is now available – attend the final 6 days of this 9 day intensive (Monday 7th – Sunday 13th August, 2017) to upgrade your qualification to 85 hours to be eligible to apply for registration as RPYT (Registered Prenatal Yoga Teacher) with Yoga Alliance.
This training will expand upon your knowledge and practical experience in the area of teaching Prenatal Yoga, and cover Birth, Postnatal Yoga and Mums n Bubs Yoga in depth, with a strong focus on practical application.
The 1 day Level 1 Restorative Yoga Teacher Training add-on is also available with this package.
(Click here to view accommodation options).
| | | | |
| --- | --- | --- | --- |
| Course | Accommodation | Price | Bookings |
| 6 day RPYT Upgrade | Triple Share "Cabin Room" with shared bathroom facilities | $2195 | This accommodation option is fully booked |
| 6 day RPYT Upgrade | Twin Share "Pavilion Room" with shared bathroom facilities | $2395 | CLICK HERE TO REGISTER |
| 6 day RPYT Upgrade | Twin Share "Ensuite Room" with adjoining ensuite bathroom | $2795 | *subject to availability |

What past participants of the Byron Bay 100hr Prenatal & Postnatal Yoga Teacher Training have to say about the course: Email info@blissbabyyoga.com for enquiries.
"It was a wonderful experience with such a diverse group of presenters – very holistic. Thank you for the organisation of these different speakers and for allowing enough 'down' time for it to sink in. Namaste." Mel

"I enjoyed this course very much. I got so much more out of it then I expected to when I first signed up. Being residential is great as it allows participants to share experiences and connect on a deeper level." Daniela

"Not only did this course provide me with great knowledge but also an unexpected but welcomed inner journey." Tammy-Jo

"This course was factual and spiritual in the right way. I really enjoyed the bonding with other women and the femininity. I now feel that I can safely teach pre/postnatal classes with confidence."  Roisin

"This was an absolutely amazing course. Full of practical, useful information and inspiring teachers."  Lee
Byron Bay – General Information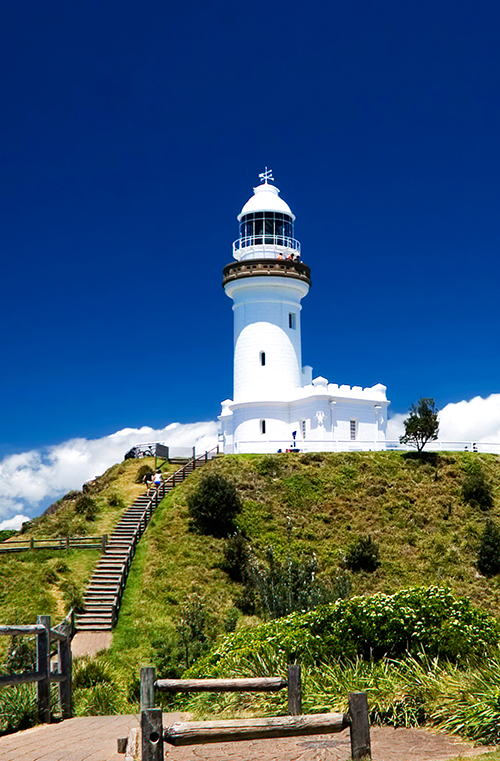 Cape Byron is Australia's most easterly point, located on the North Coast of New South Wales. With its numerous beaches, unspoilt hinterland and relaxed lifestyle, Byron Bay is a popular tourist destination. It is also a place where artists, musicians, dancers, writers, surfers, healers and of course yogis express their diversity and individuality.
The town has all major facilities: a hospital, cinema, supermarket, health food stores and great restaurants, as well as a flourishing alternative health industry. Bicycle is the easiest way to get around town and easily organised through Byron Yoga Centre.
The average summer temperature is 21C – 28C, and average winter temperature is 15C – 21C, There are also periods of heavy rainfall, especially in summer. The area has a total annual rainfall of 1734mm.
Byron Shire has a population of close to 30,000, while the town of Byron Bay has a population of about 9,000.
Byron Bay is located just off the Pacific Highway, 800km north of Sydney, 175km south of Brisbane. Airports are located in Ballina (30mins south) or Coolangatta (60mins north) and buses and trains arrive regularly.
The following websites provide information about Byron Bay and the surrounding area:
www.byronbay.com  | www.echo.net.au | www.byronbaynow.com | www.byronbay.org