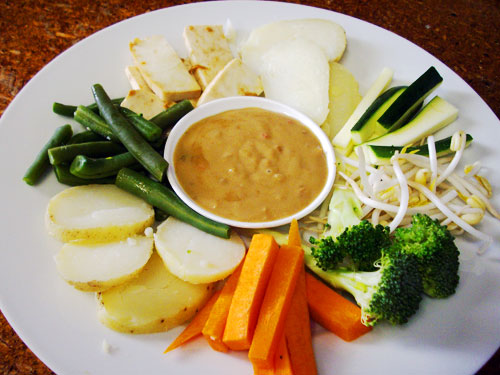 Written by Gitam Garden
Gado gado is a classic Indonesian salad and is such a hearty and filling salad that it can easily be eaten as a complete meal.
Peanut Sauce
1 tablespoon oil
1 teaspoon hing
1 teaspoon cumin seeds
1 tablespoon finely chopped ginger
1 teaspoon finely chopped red chilli
2-3 tablespoons kejap manis (sweet soy sauce)*
1 cup crunchy peanut butter
1 teaspoon salt
1 stalk finely chopped lemongrass
1 kaffir lime leaf (optional)
Juice of 1 lime
1 cup coconut milk
water
*If unavailable, use tamari or regular soy sauce and add honey
Method
Heat the oil and add hing, cook for a few seconds then add cumin seeds and fry over medium heat until they darken a few shades.
Add ginger and chilli and cook for 2-3 minutes.
Add peanut butter, salt, lemon grass, kaffir lime leaf, lime juice and coconut milk, stir well.
Heat to boiling, stirring constantly, reduce heat to simmer and cook for five minutes, adding water as necessary until the sauce reaches the consistency you like. Remove from heat and allow to sit for a few minutes
Salad
200gm tofu
1 tablespoon tamari
2 large potatoes
1 head broccoli
1 cup green beans
2 carrots
1 zucchini
1 cup beansprouts
Slice tofu into bite size pieces, toss gently in tamari and set aside to marinate.
Steam potatoes whole until just tender, remove from heat and set aside to cool. When cool, slice into bite size pieces.
Cut broccoli head into florettes and steam until just tender.
Steam beans until just tender.
Slice carrots into bite size strips
Slice zucchini into bite size strips
Arrange all vegetables on serving plate and serve with peanut sauce