Written by Gitam Garden
Preparation time 30 minutes – Serves 2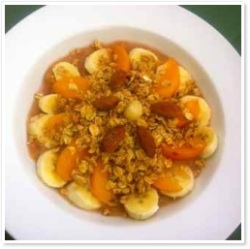 On a recent trip to Tasmania I was presented with a large bunch of fresh rhubarb, which inspired a delicious breakfast to eat on the verandah overlooking the ocean.
Ingredients:
1 bunch rhubarb

2 sweet apples

1-2 teaspoons agave syrup

2 bananas

4 apricots, nectarines or peaches

1 cup yoghurt

1 cup toasted muesli or chopped nuts, reserving a few whole nuts for decoration
Method:
Peel and chop rhubarb and apples, place in saucepan with a tablespoon of water and gently bring to the boil, reduce heat and simmer until very soft, adding water sparingly if required to prevent sticking.
Add agave to taste.
Place a mound of yogurt in the centre of each bowl and surround it with a sea of rhubarb.
For each serve slice a banana and arrange the slices gently onto the rhubarb like the petals of a flower.
Slice the stonefruit and arrange the slices between the banana slices.
Sprinkle a tablespoon or so of muesli or nuts over the centre and decorate with whole nuts.
This dish would also make a delicious dessert.
Dairy-free diners may like to cook a little basmati rice in coconut milk to replace the yogurt.