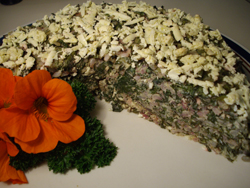 Written by Gitam Garden
At the recent winter yoga retreat at our Byron Bay Yoga Centre, so many participants requested recipes from retreat chef Gitam Garden that a book is underway. In the meantime, here is one of our favourites, warming spinach and fetta Hunza pie, an old hippie favourite.
Ingredients
1 cup (275gram) brown rice
2 cups boiling water
1 large bunch silverbeet (approximately 10 cups when chopped)
Half a cup parsley
1 tablespoon fresh oregano
1 tablespoon fresh basil
2 cup (400grams) ricotta cheese
2 teaspoons salt
2 teaspoons black pepper
2 teaspoons nutmeg
1 cup (150grams) fetta cheese
Method
1. Place rice in a 2 litre pan, pour in the boiling water and bring to the boil, then reduce heat and simmer until the water has been absorbed and the rice is tender.
2. Heat oven to 180 degrees Celsius.
3. Remove silverbeet stalks and thinly slice the leaves, place in a large mixing bowl.
4. Finely chop the parsley, oregano and basil. Add to the silverbeet leaves and mix well.
5. Add the cooked rice and mix well.
6. Place the ricotta in a bowl, add the salt, pepper and nutmeg and beat together. Add the ricotta to the silverbeet and rice and mix all together well.
7. Grate the fetta, reserve about one third and add the remainder to the rice and silverbeet mix.
8. Grease a casserole dish and press the mixture firmly into it. Sprinkle the remaiing fetta over the top.
9. Bake for 30-40 minutes until the top is golden and the silverbeet is soft. I made this one in a 'spring form' cake pan and used beetroot greens as well as silverbeet – hence the hints of pink colouring.