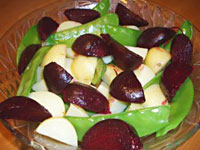 Written by Gitam Garden
Preparation time: 30-40 minutes
Serves 4 – 6
Searching for a therapeutic recipe for the southern spring, Gitam Garden walked around the Byron garden and was able to harvest the essential ingredients for this easy, tasty and nutritious dish. Beetroots are especially good for women's health and are at the top of their season at the moment.
Ingredients
2 baby beetroots per person
2-3 little new potatoes per person
3 snowpeas per person
1 tablespoon butter or olive oil
1 tablespoon tamari
Juice of half a lemon
Method
• Steam beetroots whole. To avoid the leaching out of the juice and colour, leave skins, root and a small amount of stem on the beets. Cooking time will depend on their size. To check, rub the skin of a beet with a fork, when it is cooked the skin will rub off easily
• Drain the beets, cover with cold water and remove all the skins. Set aside
• Steam the potatoes whole or in bite-size pieces until tender, about 15-20 minutes
• Add the snowpeas to the potatoes and steam for one minute to soften them
• Drain the potatoes and snowpeas and remove from the cooking pot into a serving dish
• Add the butter, tamari and lemon juice to the hot potato pot and shake to mix. Pour half over the potatoes and half over the beets
• Arrange the beets on top of the potatoes and enjoy!