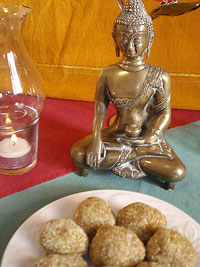 Written by Gitam Garden
Prasad is food which is first offered to a Deity before eating. Prasad is considered to have been tasted by the Deity and is therefore blessed food, to share among family and friends. The sweet, sticky richness of laddoo will transport you straight to India!
Ingredients
1 cup ghee
2 ½ cups besan flour
½ teaspoon ground cardamon
1 ½ cups brown sugar
2 teaspoon almonds
2 teaspoon pepitas
2 teaspoon cashews
Method
1. Melt ghee in a heavy based pan over low heat
2. Add besan flour, mix well and cook, stirring constantly to stop lumps forming
3. When a mouthwatering smell is released from the mixture, after about 15 minutes, it is cooked
4. Remove it from the heat and allow it to cool
5. Chop the nuts and add them, with the sugar, to the mixture and mix in well
6. Form the mixture into smooth balls in the palms of your hands
7. Arrange on a serving plate on your altar and offer to your Deity before serving.
Preparation time: 30 minutes
Chill time: 30 minutes