Written by Gitam Garden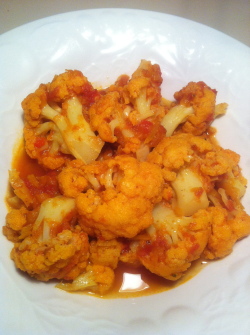 Cauliflowers are cheap and plentiful at the moment, and they are so rich in anti-oxidants and other health-giving properties. Lightly browning the cauliflower before cooking it in the curry sauce really helps to bring out the flavour.
1 cauliflower, broken into florets
2 tablespoon oil or butter
2 teaspoons coriander seeds
1 tablespoon cumin seeds
1 tablespoon oil
1 teaspoon hing
1 teaspoon turmeric
1 tablespoon chopped mild red chilli
1 teaspoon garam masala
1 teaspoon salt
3 large tomatoes chopped
1 cup grated pumpkin
Lightly roast the coriander and cumin seeds and grind to a powder.
Sauté cauliflower in oil or butter till browned, then remove from the pan and set aside.
Add 1 tablespoon oil to the pan, when hot add the hing, then turmeric and chilli, stir and cook on a very low heat 2-3 minutes.
Add tomatoes and cook for 5 minutes then add the pumpkin and continue to cook till the oil separates.
Add garam masala and salt and cauliflower.
Simmer gently until the cauliflower is tender, adding a little water if the sauce becomes dry.
Serve with rice or chapatti.