Written by Gitam Garden
Pears are ripe and delicious at the moment! Here's a yummy desert, with ginger and cinnamon to warm you on a cold winter's night.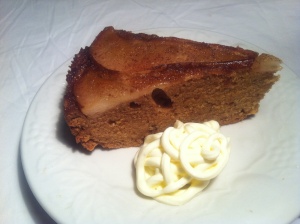 4 ripe pears
2 teaspoons ground cinnamon
½ cup plus 2 tablespoons soft brown sugar
½ cup rice bran oil
½ cup plain flour
1 teaspoon baking powder
2 teaspoons bicarbonate of soda
1 – 1 ½ cups ice water
1 tablespoon finely grated fresh ginger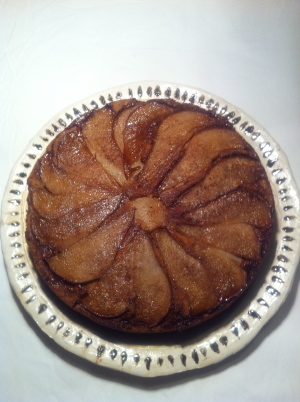 Heat oven to 175 deg.Grease a 30 cm springform cake pan and line with baking paperMix together 1 teaspoon cinnamon and 2 tablespoons sugar. Sprinkle half over the bottom of the cake pan.

Core pears. Cut lengthways into 1cm slices and arrange  slices over the bottom of the pan. Sprinkle the remainder of the cinnamon and sugar mix over the top.

Place oil and remaining sugar into food processor and process for 2 minutes. Sift together flour, baking powder, bicarb and remaining cinnamon and add to the oil and sugar mix and process for 2 minutes, adding sufficient water to make a soft batter.

Add remaining pear and grated ginger, and process a further minute.

Pour the mixture into the baking pan over the pears and bake for 35-45 minutes, until golden and just firm.

Cool 10 minutes in the pan then invert the cake over a large plate, remove the pan and the baking paper.

Serve with cream, ice-cream or custard.