Written by Christine Lines
Ana Davis, one of the senior teachers at the Byron Yoga Centre and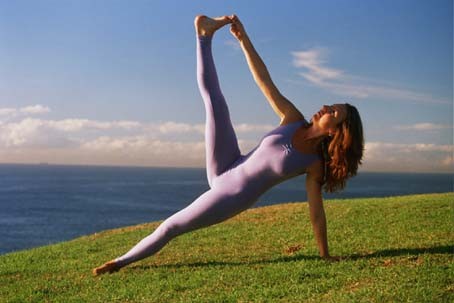 specialist in pre and postnatal yoga, was born of hippy parents in the early 70's. Joining her mother at Satyananda yoga classes as a child, she had an early introduction to a gentle, classical style of yoga, (which she jokingly referred to 'as boring back then'), despite this, the more gentle approach became the path she was to follow later in life.
Reading the life story recently of the great yogi master Krishnamacharya, I learnt that he dreamt of the great saint Vedanta Desikacarya when expecting his fourth child, a second son. It was the basis for the name choice of the yogi known to the world today as TKV Desikachar. This prompted me to say to Ana once, 'Perhaps your mother had an intuition of your life path when she named you Ananda?' The translation from Sanskrit is 'bliss'. In her beautifully modest way she just laughed!
Ana re-connected with Satyananda yoga at University in Newcastle where she undertook a double major in Japanese and Drama. With a long background in dance, having studied ballet at school, she loved the physical aspect of moving into the postures. She speaks of her 'enjoyment of the relaxation experienced in savasana, the sense of community found within yoga, and the physical challenge of the practice'.
Just as one of my other favourite teachers, Donna Farhi, studied yoga at school and then continued a disciplined practice as a sole student, Ana studied yoga out of a book at high school and admits to being, 'very disciplined, almost masochistic. I enjoyed the pain of dance and a was very academic student.'
She has always been a morning person, rising at 4am to study, and enjoyed the immediate payback of yoga and the synergies between yoga and dance. 'In my early '20's I loved vinyasa flow, in my late '20's I loved ashtanga, moving all the time, like dancing. I've always been very creative and enjoy making sequences to music, it appealed to the dancer within me.' With a background in choreography, linking and structuring the flow of movement came naturally to Ana and she often plays music in her classes today.
I asked about the connection between her dance and yoga, and knowing her secret desire to take her passion for flamenco dance to a professional level one day, wondered what made her choose to focus on yoga. She explains, 'Yoga is an inner form, whereas dance is very much about the outer, and I realised I wasn't into dance in a competitive sense, in terms of performance.'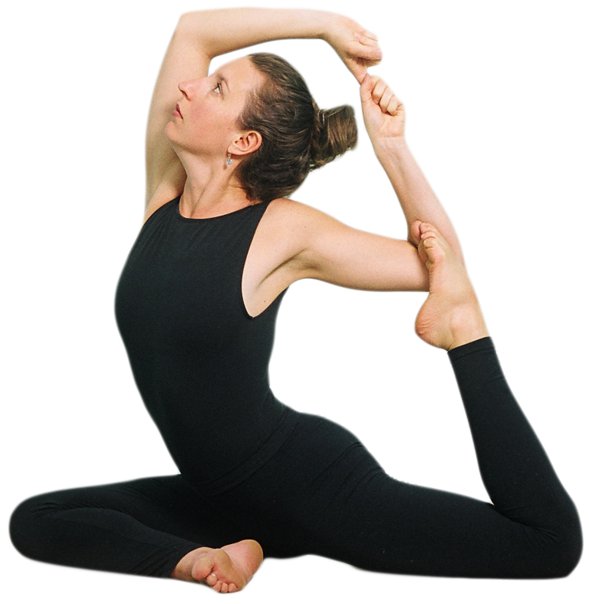 Ana continues, 'I originally wanted to be a journalist, however I also had an interest in theatre and dance and so chose an Arts Degree instead. I often wonder how different my life might be if I'd chosen the path of journalism.' At the age of 21, she was granted a scholarship to study for a year in Japan and pursued the academic path.
'The academic world is very much of the mind and at times it overwhelmed me. I was on the academic ladder from honours student to PhD and yoga supported me with my studies and the long hours spent sitting at a desk,' Ana explains. 'I found yoga so holistic and enjoyed the balance it offered my body, when my mind was so over-stretched.'
She recalls, 'a distant dream to teach yoga' and although she was studying Japanese expressed, 'I didn't love it. Although I definitely diverted my studies to focus on my interest in gender studies with my thesis specialising in Japanese feminism, focusing on women in the media. I was granted a scholarship for my PhD, which meant a minimum of three years researching one feminist writer – a very narrow focus.'
Instead Ana chose to defer her studies and started work marketing for a Japanese company specialising in student cultural exchange between Australia and Japan. She continued to practice yoga and then discovered Simon Borg-Olivier and Bianca Machliss in Newtown, in the mid '90's. 'I enjoyed the challenge and creativity of their classes, it was so different to the gentle, Satyananda style I'd been familiar with, and I keenly attended three to four times each week.'
This led to Ana enrolling in a one-year part time course in yoga teacher training. At that time most people interested in this path had to apprentice to a senior yoga teacher, there were very few options to enrol in a course for this career choice. 'I noticed a small advertisement in the Sydney Morning Herald for the Sydney Yoga Centre in Surry Hills and had an immediate feeling – this is going to change my life! I felt a rush of joy when I signed up for the training.'
Ana speaks of, 'the immediate connection I felt with Eve Grzybowski' and mentions the other teachers on the course, Mardy Kendall and Colin Rivers, with great warmth. 'I embraced the community of yoga, there's nothing like the bond of close friendship that forms during a yoga training.'
It was during that year, a fellow trainee – a journalist, knew she was unhappy with her work and recommended Ana for a job as a production assistant on a television program. Over the ensuing years, she worked her way up to Production Manager and then Producer, managing the corporate video division within a PR company.
At the end of her training, Ana eagerly started teaching as much as she could, whilst holding down a demanding job in television. Ana recalls that period in her life, saying, 'I was dissatisfied with my corporate life. I'd hit the ceiling as such and remember sitting in a boardroom meeting with four men in a discussion about the raising of targets.' She was the only woman and thought, 'I'm bored with this! What will I do instead? Yoga! I left the corporate world and focused on teaching yoga.'
Ana established her business, 'Corporate Calm' and offered stress management courses as a full time yoga teacher, supplemented by some freelance production work. 'I completed a Diploma in Remedial Massage and did half yoga and half massage. In 2000 there was a huge demand for yoga, so there was no shortage of yoga teaching gigs.'
Teaching in different venues meant the added stress of too much travel and Ana speaks of the dream of many yoga teachers, 'I wanted a base from which to teach. My own space Bondi Bliss Yoga came into being, which offered general as well as gentle classes; this was quite a niche market back then.'
By this time Ana was in her early '30's and spoke of the 'creative time in a woman's life, when she's starting to think about having a baby and channelling that energy into a different form of creation – a new business.' She recalls the really high rent of the studio, located at the back of a gym, 'I started with no money and it was just myself to start with, so the pressure was on!'
However, by now Ana had a well-established reputation having appeared as the yoga teacher for 'the boys' on the hit-reality TV program, 'The Block', as well as teaching privates to celebrities like Bob Hawke's wife, Blanche d'Alpuget, and her new venture quickly 'took off'.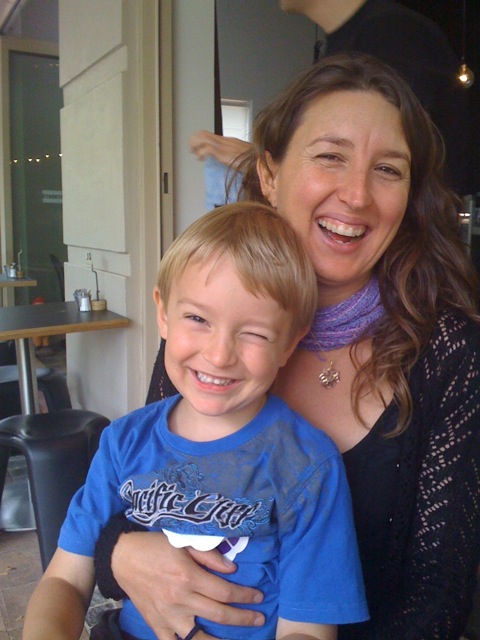 Over time, her studio expanded as more teachers joined and a few years later Ana became pregnant. She reflects on her changing approach to yoga at different stages in her life, an approach she is passionate about in her specialist area of pre and postnatal yoga. 'I taught all through my pregnancy and naturally evolved as a teacher into more pre and postnatal yoga.' After the birth of her son, Ana took six weeks off from teaching and kept running the studio, which developed more of a focus on family, with prenatal, mums 'n' bubs and kids yoga. With her energy in this area, the business naturally grew.
'It became even more of a social, supportive environment, where mums shared over a cup of tea and was one of the few studios specialising in pre and postnatal yoga,' she says. 'I trialled the different classes with my own baby and offered gentle, personal classes which suited the middle aged demographic of the area, as well as the young families.'
After several years, Ana naturally found it challenging to run a business with a small child and decided it was time to move to Byron Bay, always her long-term plan, where she had more family support. A close friend continued to run the studio in Bondi and eventually bought the business.
In Byron, Ana took a short break to focus on motherhood and then began teaching from home in Suffolk Park where 'Bliss Baby Yoga' was born. 'My home studio was large enough for ten students and I was in a niche market once more, offering mums 'n' bubs classes and pregnancy classes.'
Around this time she re-connected with her love of writing and was filled with ideas for books and articles. Her first piece entitled, 'The Yoga of Motherhood', reflected her life change, current practice and attitude towards yoga. Published in the Australian Yoga Life Magazine, AYL, 'It was very much about Bhakti Yoga, and parenting being, in my experience, the ultimate expression of devotion.' She was experiencing a huge adjustment in her practice describing it as, 'a completely different pace, sitting with my baby, spaces of emptiness, rather than intellectual stimulation.'
Ana describes motherhood 'as a sacrifice of time for your own personal practice, yet yoga is a tool that supports you through all phases of life.' It's an important ally. 'The baby doesn't come with an instruction manual and it feels like there's no time for yoga. I knew intuitively how important it was to give myself even just five or ten minutes of mental space, to nurture the nurturer.'
She began to combine her passions of teaching and writing and continued to publish a number of articles in national magazines. This led her to cross paths with Byron Yoga Centre's director, John Ogilvie.
Ana read an article in the local paper about John and his recovery, many years ago, from addiction.  This prompted her to contact him for an interview to write a more in depth article for AYL. They met and instantly connected and at that first meeting John asked Ana to work for him.
Ana embraced her new role as the Marketing Manager at BYC, as well as joining the teacher training staff, offering the women's health sessions as part of the Level I / Level II trainings. 'There was a natural affiliation between Bliss Baby Yoga and Byron Yoga Centre and John offered me the opportunity to develop and expand my new pre and postnatal yoga teacher training into its own weekend training as an elective.'
The different strands of Ana's life including yoga, the Japanese language and studies in feminism were slowly merging into one and she describes it as an exciting time. 'It had been ten years since my last visit to Japan for a TV shoot, I missed the language and John was keen to branch into the Japanese market.' They discussed the idea of a BYC tour of Japan, Tokyo and Kyoto, and Hong Kong, which took place in July – August '09. John shared the message of Purna Yoga and Ana the message of maternity yoga.
'Work snowballed; I was asked to return to Japan twice more and this year have three more workshop-tours planned,' she said.  'Returning to the country where I'd lived and studied felt familiar, yet different and was a great opportunity to brush up on my Japanese language skills.' This helped communication on a business level and understanding on a cultural level. 'I was able to connect more with the students; they soon realised I knew the language when I started to respond to questions before the translator had time to finish!'
Ana speaks about 'empowering birth, in a more upright, active position' with great passion and belief from her own experience. 'It's so natural to use yoga postures and breathing techniques to support the women's body during the birthing process,' she explains. 'Teaching Japanese women about natural, active birth is a real joy – they're so hungry for this information and lack the birth centres we're so fortunate to have here in Australia. In some ways Japan is behind the West and I saw my work in a broader context.'
Her course keeps evolving as she continues to refine the content and presentation based on years of experience in this field and more personal stories from the women she interacts with during the training and workshops. 'Birth is a magical, sacred moment and I love collaborating with other women and sharing this incredible phase in a woman's life,' Ana says.
John Ogilvie recognises the importance of this area, which is often overlooked on other courses. Two sessions are incorporated into the Level I training and an additional third session is included in Level II. Ana believes, 'This is sufficient if a pregnant woman comes to a general class and you can then recommend she finds a class specialising in pre-natal yoga.'
For students interested in this area, Ana's weekend training provides the knowledge to offer classes specifically for pregnancy. She prides herself on the unique nature of the course saying, 'It's very practical and provides a good toolbox of skills, backed up with the contra-indications and a focus on safety. Students look at the pregnant body and learn to adjust and also become familiar with the different stages of pregnancy and how to alter the practice through the three trimesters.' She's created a system for teaching pregnant women that will inspire prospective prenatal/postnatal yoga teachers with confidence
Given the importance of life cycles in a woman's life and Ana's son about to don his school uniform for the first time, it's no surprise that her next project is designing an expanded 200-hour course focusing on pre, postnatal and kids yoga! On our recent summer retreats in Byron Bay no less than ten women attended with careers in the education system, all keen to share yoga with the children in their classroom. Ana's story is a beautiful demonstration of how yoga can literally support us throughout life, from birth and beyond.
Click here for more details on Ana's next Bliss Baby Prenatal and Postnatal Yoga Teacher Training in March.