Delicious autumn fare
With pumpkins aplenty in the Purna vege patch, and the weather getting a little cooler, what better time to cook up a batch of pumpkin soup!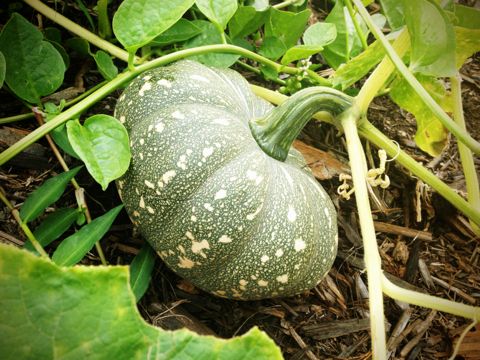 ¼ cup oil
½ teaspoon hing
1 tablespoon fresh ginger, finely chopped
1 teaspoon cardamom seeds
1kg pumpkin, cut in cubes (no skin)
water
1 teaspoon salt
1 teaspoon ground black pepper
½ cup parsley, finely chopped
sour cream or yoghurt (optional)
Method
Heat the oil in large pot. When hot, but not smoking, add hing and fry momentarily. Add ginger and cardamom seeds, cook for 2-3 minutes on low heat. Add pumpkin and stir well to coat pieces with oil. Add enough water to just cover the pumpkin, then add salt and pepper. Bring to boil, reduce to simmer and cook until pumpkin is very soft. Remove from heat and mash to a smooth consistency, add warm water (or milk or cream) if necessary. Serve hot, swirling a spoonful of sour cream or yoghurt (optional) through each serve. Sprinkle parsley on top.
Enjoy!