Judith Lasater (Rodmell Press, 2000)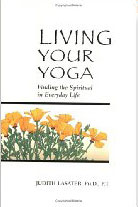 Written from a teacher's perspective but not being one, my reservation over whether I'd 'get' this book were soon dismissed once I'd ploughed through section one. Lasater reinforces much of what I enjoy about yoga and it's place in my life. The author writes of her journey with yoga to a higher state of awareness and the way her yoga helps her personal life both within herself and through her children. In fact, it's her 3 children who feature throughout as teachers through their simple and honest response to life, a lesson not lost on Lasater. She talks of discipline's intention and commitment and each chapter is practical, with tips which apply the philosophy of practice, along with mantras for daily living at each chapter's close.
Lasater reminds us taking control means letting go of control, great advice as we looks towards a new year! I like also how she reminds us to acknowledge our ego in order to let it go. She's also compassionate in the way she allows us to apply the practice of yoga in the way we interact with others in daily life while discouraging 'burn out'. A holiday read such as this which tells us to live gently without putting too much into our lives could be just what a holiday needs.
Editors note: In the interests of rounding things out, I asked Pete to review this book as it shares a similar theme to Donna Farhi's "Bringing Yoga to Life" – in which it discusses practical applications of Patanjali's Yoga Sutras.
Review by Pete Jackson