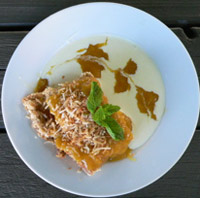 Written by Michael Walker
This decadent, summery cake is great for reducing excess Pitta, especially good for all doshas during hot weather. Not only is it quick and easy to make, it's almost healthy!
Ingredients – cake
1 cup of self-raising kamut flour
1 cup of desiccated coconut
1 cup of raw sugar (a little less if you prefer less sweetness)
1 cup of soy milk
Method – cake
1. Stir all ingredients together and place in a buttered loaf tin.
2. Cook at 160 degrees for 30-40 minutes.
Ingredients – sauce
1 ripe mango
1-2 tablespoons of butter (or macadamia butter)
Sugar to taste
A squeeze of lemon juice
Method – sauce
1. Melt butter on the stove; add sugar and any juice that comes off around the mango seed when squeezed.
2. Simmer for a few minutes and then add roughly sliced mango.
3. After another 5 minutes of simmering, add the lemon juice and adjust taste to your personal perfection.
Pour over whole cake or even better over each individual piece of cake, serving with a little running cream and toasted shredded coconut.
Related articles