Written by Gitam Garden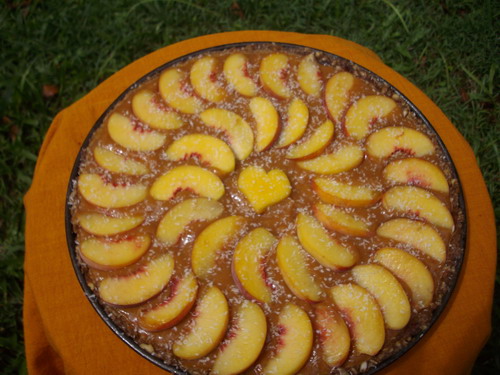 Preparation time: 15 minutes
Chill time: 30 minutes
Serves: 8-10
For the last couple of weeks the yellow-fleshed peaches have been sweet and delicious, melting in the mouth in a taste explosion. For my friend Jennifer's birthday celebration last weekend I made this peach tart, so simple, made in a matter of minutes and chilled for a couple of hours before we fell upon it. I thought it was huge but it was all eaten in less time than it took to prepare.
Ingredients
Base
2 cup almonds, walnuts and/or sunflower seeds
1 cup dates
1-2 tablespoons water
1 teaspoon ground cinnamon
Topping
3 cups roughly chopped peaches
1 tablespoon icing mixture
3 sliced peaches
Method
Soften dates by heating with water in a small saucepan, add more water if necessary
Put nuts or seeds into food processor and blend until they break up to resemble breadcrumbs
Add softened dates to the nuts and process until the mixture forms a spreadable dough, adding a little water if necessary to keep it moving
Press the mixture into the base and sides of a 20cm pizza tray and chill while preparing topping:
Roughly chop 3 cups peaches and blend with the icing mixture
Spread the mixture over the prepared base
Thinly slice the remaining peaches and arrange over the top of the tart
Chill then serve

Click here to read about our new recipe book 'Gitam's Garden – Healthy Sattvic Recipes from the Byron Yoga Centre Kitchen' and order your copy online today!