Written by Kara Goodsell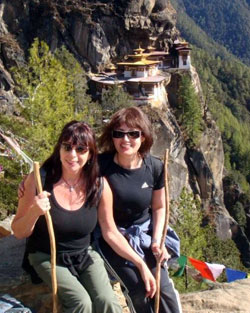 Yogic philosophy speaks of a person's dharma, or purpose in life. Some are born to be teachers, inspiring understanding and change in another's life. Judy Krupp is one such teacher, whose diminutive frame is filled with passion and humility that lights the way for others.
Over thirty years ago in Cape Town South Africa, a friend, knowing Judy's interest in body and movement suggested she try a yoga class. Coming from a background of ballet and dance, and having thrown herself into fitness in her early twenties, she was drawn to the fluidity of Hatha Yoga – "It was the sense of artistic skill in the fluid movement, as well as the spiritual component, that immediately appealed."
Judy was drawn by the personal challenge and sense of freedom she found in the yoga studio as she continued to practice. Soon after, it was suggested she try an Iyenger yoga class and it was through these classes "my interest in the precision and technical aspects of the practice were ignited." During this time Judy remarried, moved from the seas of Cape Town to the suburbs and was busy raising three small children.
It was in this next epoch of Judy's life that her interest in the bio-mechanics of movement was aroused. Judy started practicing with Iyengar teachers, Larry Caplan, who had a background in physiotherapy and Magna Stallenbras.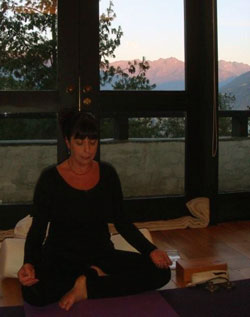 Judy meditating on retreat in Bhutan as the sun rises over the Himalayas in the background
"Larry's classes had a therapy slant, which appealed to my fascination with the human body and movement. I practiced with Larry for a total of five years and by this stage yoga had become a huge part of my life. It was Larry who instigated my teaching yoga. There was a lot of political unrest in South Africa and Larry was preparing to emigrate. Larry asked me to teach when she went traveling. I had never intended to become a yoga teacher, my background was in fashion, but Larry's request meant I just did it!"
The situation in South Africa began to worsen and Judy decided it was time to leave behind the crumbling politics of the country – "I did not want my children growing up in a racist country." With a letter from her Iyengar teacher tucked safely inside the now boxed possessions of her life, the family immigrated to the North Shore of Sydney. Judy says it was her intention to get back into fashion and to teach yoga on the side.
She started practicing at a Mosman school and, in one of those serendipitous moments that pattern our lives, the school received a phone call looking for a teacher. Judy was put forward and began her teaching career in Australia at the Kuringai Yoga School, where she continued to teach for the next thirteen years. She also set up a small studio, running regular classes from her home.
"It wasn't until I began teaching night-time classes that I realised what I was teaching was not suitable for a lot of people. I wanted people to finish class feeling better than when they walked in and knew that I had to re-think my teaching and return to basics."
It was through journeying to the other side of the world that Judy's exploration of yoga began to broaden; she began to attend classes in many different styles and philosophies of yoga.
"I practiced Ashtanga classes and for me it was a revelation in flow and breath. I was constantly updating my skills as a teacher and attended a workshop by Angela Farmer. It was here that I learnt to let go of having to be in a pose for a long time and found a sense of fun and fluidity in practice – a huge revelation.
"I attended a number of workshops and a teacher training run by Donna Farhi, which sparked an interest in the Body Mind Centering work of Bonnie Bainbridge-Cohen and the developmental patterns of movement, working from pre-birth into stages of universal movements. Donna's philosophy and practice revealed to me the importance of working with the internal body and I began to move away from the muscular-skeletal to the more fluid systems of the body and the organs, working with a deep sense of the internal. The first thing in life is a sense of breath and if people are not breathing properly, there is a restriction in movement, which can lead to injury".
In around 1995, one of Judy's children developed chronic fatigue syndrome. The distress of watching her child suffer had Judy traveling from one end of Sydney to the other, searching for therapists. She visited a recommended therapist who practiced SLM (Steve Lockardt Myotherapy), a form of body work focusing on re-alignment, starting with the pelvis and legs.
"Watching the way the therapist worked on the table was like watching a yoga class. I was fascinated. I undertook a massage course in the SLM method and began supplementing my teaching with massage. Massage led to me working with a range of different imbalances of the body. It was like pieces of a puzzle coming together.
"I also became involved with a group of teachers on the North Shore who regularly got together and studied with Simon Borg Olivier. At the time Simon was studying physiotherapy at university and he began to integrate the science of physiotherapy with yoga postures. We would all practice together." Judy later studied anatomy and physiology with Simon – "I actually did the course twice! I believe you can never know enough anatomy, it is a life-long study."
In 1998 Judy was invited to teach workshops and massage at a school in Singapore. Since then, her international reputation has continued to grow and she is regularly invited to teach in far off places including Bhutan, Hong Kong, Bali and Kuala Lumpur.
Throughout her journey of learning, she nurtured a dream of having her own school. "I asked the universe and one day saw a 'For Lease' sign in Stanley Street in St Ives. I pulled over and my dream became a reality. It started with only me teaching in a small studio but, as I was traveling quite a bit, I realised that I could not do this alone. As had happened to me in South Africa, I threw teachers in at the deep end, asking my more experienced and committed students to take over my classes."
Like the song says "from little things, big things grow." The building Judy's school was in extended and Judy was ready to finally integrate her knowledge, skills and passion, complementing the body, mind and spirit with a school offering yoga and natural therapies. "I wanted to bring together fabulous therapists and yoga, and took a huge leap, by taking on the extended space of six treatment rooms in 2004.
"The St Ives Yoga Room and Life Centre began to offer natural therapies including Shiatsu, acupuncture, osteopathy, cranial sacral therapy, lymphatic drainage, various forms of massage, homeopathy, psychotherapy and the Alexander Technique. We now offer up to 17 yoga classes per week, including specialist classes such as pre-natal yoga and meditation classes. Our therapists also run free workshops that we put on to educate and make people more aware of well being. It is a wonderful way of sharing knowledge with the community."
The next era of Judy's yoga journey began in 2007, when the paths of John Ogilvie and Judy crossed. "For years I had been taking the kids for holidays to Byron – it was the only place I could go on holidays with the kids and do yoga! I would always do classes with John who, at the time, had a school in the Epicentre at Belongil.
"One day John and I had breakfast after class. John had recently started running Teacher Training Courses in Byron Bay and we started talking about the possibility of running the training at St Ives. I had always loved John's sequencing and his understanding of yogic philosophy and pranayama. With a deep sense of knowing, I was certain that our combination of skills and knowledge was a perfect complement.
"I see John as my 'other side'. I couldn't commit to our partnership unless I felt it was authentic and complete – the absolute best that could be offered. Offering teacher training allowed me to continue sharing my passion for yoga and give committed students the chance to teach."
The St Ives Yoga Room and Life Centre now runs regular Level I and II Teacher Training courses, affording students not only a combined knowledge base of more than 50 years of teaching and practicing yoga, but also the opportunity to teach community classes to the public, with proceeds being donated to charity.
With the humility that shines its subtle light in a true teacher, Judy says "Yoga has never been about asana and fancy postures – rather it is about how we accept our limitations and lack of strength and pain in the body. The learning lessons are gained by being on the mat, not what can be performed on the mat. My passion for yoga remains strong – I see my role as a student passing on my passion."
Judy says that in her wildest dreams, she would never have anticipated how the mainstream has now accepted yoga. She maintains that the two most important aspects for a student to progress are a consistent home practice and the feedback and growth gained from developing a relationship with a teacher.
Judy understands that yoga is still evolving and she continues to find meaning on the mat. In recent years she credits Rodney Yee, David Life and Sharon Gannon of Jivamukti and Eric Schiffmann as being teachers influential in her practice.
"It is important that your yoga practice and training nurtures you as this keeps it authentic – take it all in with a sense of love."
Visit Judy's website to view a program of classes. Find out when the next Teacher Training program at St Ives with Judy Krupp and John Ogilvie commences.