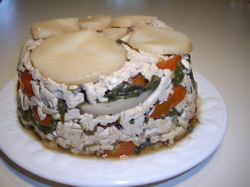 Written by Gitam Garden
Preparation time: 45 minutes
(not including marinating the tofu)
Serves: 3-4
The cherry tomatoes are practically exploding from the bushes this month, and the silverbeet is still looking good, so here's a little creation to use up a few, with tofu for a protein hit.
Ingredients
Marinade
½ tablespoon ghee or oil
½ teaspoon hing
1 teaspoon cumin seeds
1 tablespoon grated ginger
1 teaspoon paprika
1 teaspoon salt
¼ cup tamari
¼ cup water
300gm firm tofu
1 kg potatoes
1 bunch silverbeet, thinly sliced
1 punnet cherry tomatoes
1 cup sunflower seeds
1-2 tablespoon sesame seeds
Sauce
½ tablespoon ghee or oil
1 tablespoon besan flour (or any other flour)
Method
Melt the ghee (or heat the oil) over moderate heat, add hing and fry momentarily, then add cumin seeds and fry 30 seconds. Add ginger, paprika and salt and cook for 2-3 minutes, add tamari and water and stir
Grate tofu loosely, add it to the spice mix, stir well and marinate until an hour before dinnertime, then:
Heat the oven to 180
Slice the potatoes to 0.5 cm rounds and steam until just tender, about 15 minutes
Steam silverbeet until wilted, reserving the water
Slice tomatoes to 0.5 cm rounds
Grease a casserole dish and cover the bottom with a quarter of the cooked potato slices. Follow with about a third of the tofu, then a third of the sliced tomato, then a third of the spinach, lastly a sprinkle of sunflower seeds
Repeat to make two more layers, keeping aside enough potato for a final layer
Melt ghee in a small pan, add the flour and stir over moderate heat for a few minutes until the mixture begins to colour very slightly. Add the left over tofu marinade and ½ cup vegetable water and stir
Bring to the boil and add more vegie water as necessary to make a thick smooth sauce, adjusting seasoning if required. Pour the sauce over the mixture then add the final layer of potato and sprinkle sesame seeds over the top
Bake for 30 minutes or until the sesame seeds are golden. Serve hot.