"Be in this world as if you are a traveller, a passer by…for this is not home."
– the Prophet Mohammed
Byron Yoga Centre's Retreats Manager, Christine Lines, has enjoyed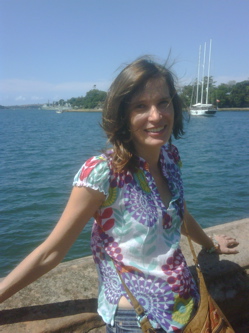 travelling throughout her life. "My family had a holiday home on the coast throughout my childhood," she explains, "and time away seemed to balance the demands of the business and community on my parents. The holidays created my first experience of travel and retreat as an instinctive choice."
Christine has developed a career and lifestyle around her adventures. "My father once called me a gypsy and it inspired me to understand the deeper meaning behind why I travel." Her spiritual path has been interwoven with her travels, the inner and the outer journey, and she speaks of her fascination for the different countries of the world, the varying landscapes, ways of life and systems of belief.
She grew up in England and both home and school created a very structured environment. Christine ventured away from this at the age of 18 to experience life on a kibbutz in Israel for five months, instinctively drawn by "the freedom of being and the connection found in community life." She then lived and worked in London for just over a year, and felt that a career in the city and a lifestyle of commuting wasn't a path she could follow.
Drawn to the vast expanse of Africa instead, she travelled overland for several months, "I wanted to strip away the props of society and feel at ease in any situation. I now understand it was the search for inner peace and I felt so at home with a simple way of life."
Christine came to yoga soon after arriving in Australia at the age of 21, attracted by the relaxed lifestyle and the spaciousness of living near the ocean. Living in Sydney, she visited the spiritual bookshop Adyar and the bookseller handed her a copy of 'Autobiography of a Yogi.' "I devoured the book," she recalls. "It was in many ways beyond my full comprehension, yet it inspired me to explore yoga."
She remembers her first class at the Surf Club in Clovelly one Sunday morning, "Tears began to flow down my cheeks and I had no idea why. The teacher seemed to understand my emotional response and suggested I rest in savasana."
Christine studied Travel and Tourism and worked in the industry for ten years in corporate, retail, wholesale and online travel. During this time she went through phases of regular practice and enjoyed the stillness experienced through yoga.
Through Buddhism she then discovered meditation. "The Buddhist teachings into the nature of the mind felt such an invaluable life skill. I knew why I had been touched by the words of Shakespeare, 'There is nothing neither good nor bad but thinking makes it so' during my school years."
Christine felt ready for a new focus and following the words of Thoreau – "Go confidently in the direction of your dreams! Live the life you've imagined" – she created an internet-based business that combined her passion for travel, writing and spirituality.
The experience of her first Buddhist retreat gave Christine the idea of organising small group journeys with her meditation teacher, John Barter. "We planned a journey through Thailand, a country he hadn't re-visited since being a Buddhist Monk there many years prior. It laid the foundation for my future work. I covered the practical side and my teacher covered the spiritual side of daily meditation, discourse and discussion."
In 2003 Christine moved from Sydney to Byron Bay and suggested they plan a retreat there. "I loved organising the meditation retreats in between my travels and 'being of service to others' during the retreat itself. A retreat brings together like-minded people and the shared experience creates connection and friendship that is really special." The retreats continued on a regular basis and developed Christine's practice of daily mindfulness, which she found easier than meditation. "I was sometimes unsure if I was actually meditating as thoughts kept continuing to arise. It took me a while to accept this as natural."
She met John Ogilvie during this time, the founder of Byron Yoga, who taught yoga on one of the meditation retreats. "I found it easier to sink into quiet meditation after yoga practice – I'd missed the understanding that asana means steady comfortable seat. My earlier yogic path had focused on the physical movement rather than preparation for sitting." They discussed the possibility of organising yoga retreats together one day.
During Christine's round the world travels she experienced sensations of oneness and surrendering to life, feeling "a giant safety net of trust below the high wire." In South Africa she connected with the heart-opening Sufi path. The words of the Sufi mystic Llewellyn Vaughan-Lee, resonated with her deeply – "the spiritual path is the journey home, back where we belong" and there is a "a deep homesickness of the soul."
In January 2007 she returned to Byron and completed her Yoga Teacher Training. This deepened her understanding of yoga philosophy through the Eight Limbs of Yoga. "I'm fascinated by the connections between different spiritual paths. The training really enhanced my foundation of Buddhist meditation and offered new skills for preparation and practice including pranayama – breathing techniques."
Organising the meditation retreats was intermittent work inbetween other projects and she was delighted when John Ogilvie offered her the position of Retreats Manager in early 2008. "Byron Yoga created the perfect vehicle for me to focus on the work I love, to be independent yet within a team, planning retreats in Australia and overseas, including India, the home of yoga itself."
Christine feels the retreat experience offers an opportunity to explore our deepest sense of being and last year attended a week of tantric yoga. "On the first day the teacher gave everyone a new identity. I was given the name 'Already There' and wondered Already Where?" She continued to travel whilst contemplating this Zen-like koan.
In May 2009, Christine walked the Camino de Santiago, the ancient pilgrimage route across Northern Spain. "I read that a pilgrimage is to free oneself of all attachments and this felt like the natural next step in my life. The experience became an extended walking meditation, a way to practise gratitude for the simplest things in life, bring awareness to impermanence, listen to my body and trust my inner compass."
She planned the walk in between the summer and winter yoga retreats and enjoyed being able to travel and manage the responsibilities of her work online, weaving together the practical and spiritual aspects of life. Christine describes the pilgrimage as an incredible experience of camaraderie, culture and contemplation. Walking for 40 days, she carried only the bare essentials and shared basic meals and accommodation with fellow pilgrims along the way.
After the outer journey of movement in Spain it was time for the inner journey of stillness when she returned to Australia. "I attended a silent retreat themed 'Awakening the Heart Mind.' Through the discipline of continual sitting I experienced a profound sensation of letting go and an underlying sadness transformed into joy and freedom. Meditation connects me with the deepest sense of love, our natural state of being, and helps keep life in perspective."
After years of travelling, Christine quotes the words of the poet Yeats, "The only journey worth taking is the journey within." Yet the significance of every journey she's undertaken seems to have helped her reach that understanding.
The words of Vaughan-Lee remind her of the name 'Already There' she was given, "There is a light in the part of us that is already at home, we don't go anywhere else but to our self, somewhere within us we are already there."