Written by Gitam Garden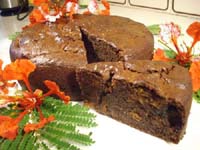 Christmas is coming, the Poinciana tree is flowering… Enjoy the indulgence of a a lovely rich and moist Christmas cake that is egg and wheat free!
Soaking time: overnight at least
Assembly time: 20 minutes
Baking time: 2 hours
Makes: 1 x 20cm round cake
Ingredients
2 cups mixed dried fruits: prunes, figs, apricots, raisins etc.
3 cups water
1 cup ice-cold water
1 cup oil
¾ cup soft brown sugar
2 cups kamut flour
1 cup brown rice flour
1 ½ teaspoons baking soda
1 teaspoon baking powder
¾ cup cocoa powder
¾ cup dark chocolate, chopped
Method
Chop the dried fruit into small pieces, add the water and leave to soak overnight in the refrigerator
Grease a 20cm springform cake pan
Preheat the oven to 160◦C
Place the oil and sugar in a food processor and process for two minutes
Add the flours, cocoa, baking powder and baking soda to the oil and sugar and process, adding the water from the soaked fruit
Add more cold water if required to make a batter
Add the soaked fruit and chopped chocolate to the mix and stir in
Pour the batter into the cake pan, place in the bottom third of the oven and cook for about two hours
Test for readiness by inserting a skewer into the middle of the cake, when it is cooked the skewer will come out clean
Cool in the pan for ten minutes and then remove from pan and cool on a wire cooling rack.
Store wrapped in greaseproof paper in a tin, and keep in a cool place

I cannot say how long this cake will keep. I haven't been able to keep one more than a couple of days, its too yummy and delicious!