Written by Kara Goodsell
Once upon a time, there was a wee lass living with her family under the grey skies of Northern England. Her name was Gitam and while the other children were playing with dolls, Gitam was playing in her garden. Gitam loved this place more than anything and each day would sink her hands into the soil, pour love onto the plants and watch her garden grow.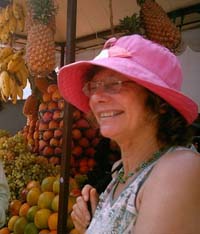 When she grew up, she married a man who loved his food as much as he loved to travel. He carried Gitam on an overland journey in a Magic Bus through France and across Turkey, weaving through Iran and Afghanistan, meandering across India to Nepal before landing in Melbourne, Australia on a blistering Christmas Day in 1970.
Along the way, Gitam collected memories on her taste buds and secret recipes from foreign books, which she's now collated and shares in this book. "My philosophy of food is that it should be nourishing, freshly prepared and aesthetically pleasing," explains Gitam.  " It's a form of nurture and a way of demonstrating my love to others. The preparation of food and spectrums of colour in a dish is a way of expressing my creativity."
After arriving in Australia, Gitam headed to a small town, Innot Hot Springs, in Northern Queensland. Innot was an old gold town which was by then little more than a pub and a post office. "There was a tin mine close by and if you took out a miner's licence, the government would grant a lease on land. We took an acre of land, pitched a tent and started a garden." The first thing she did was mow the grass inside the tent and dig her hands into the hard soil. Very soon Gitam was supplying fresh produce to the locals.
It was around this time that Gitam became a vegetarian. "The nearest butcher was over 50 miles away, so it was the tyranny of distance that eliminated meat from my diet!" Coming from an English background of meat and three veg, initially she became quite ill, breaking out in tropical ulcers, as the meat hadn't been adequately replaced by other proteins. It was the symptoms of illness that encouraged Gitam to study the nutritional value of different foods and dietary effects on the human body. "I found a book by Adele Davis, an American woman who wrote about nutrition in the '50's and '60's. For a time it was my Bible," she recalls.
As her interest in food flowered, so too did her philosophy on life. Gitam joined an alternative community, moving to Silver Valley on the banks of the Wild River. Here she enjoyed the opportunity to co-operatively share food and swap recipes with  the other members of the community, coming from all over the world.
Eventually Gitam moved back to Sydney and together with another woman from the community, opened one of Sydney's first vegetarian restaurants, "The Orange Blossom", in Darling Street, Balmain in 1982.
"It was a double window shop front with an oak door in the middle and seating for 40 people," she says. "We painted the walls an easy cream and bought all the fittings second hand from Tempe Tip, including red dining chairs with gilt edging from a restaurant in Taylor Square, and made our own table cloths from plum and aubergine brocade fabric."
Gitam explains that in those days vegetarian food was still new and alternative. "Our dishes were very experimental – it was about taking the meat out of a dish and replacing it with another form of protein, usually legumes such as beans, peas and lentils. We used lots of Indian basic spices, such as turmeric, which helps digest food and ginger which helps stoke the digestive fire and assist the body in absorbing the nutrients from food."
Cumin, coriander and garam masala, a ground mix including cassia, fennel and cardamom, were also frequently used in the recipes. "Most of our vegetables and herbs were sourced from the Flemington Markets. Three times a week we would drive out at 5am and fill baskets with fresh fruit and vegetables straight from the growers," Gitam says.
Gitam also loved to bake and soon the moniker of "The Cheesecake Queen" hung next to the mala beads around her neck. "I would take whatever fruits were in season and incorporate them into a cheesecake. I made almond, orange, banana, coffee and pumpkin cheesecakes. There was always a pot of chai tea simmering on the stove to wash away any worries."
After the business was sold, Gitam followed her heart to Nimbin in Northern NSW, where she worked in the Rainbow Café, another vegetarian restaurant and later, in Brunswick Heads, set up a sunflower sprout business, grown below a Hills Hoist in the backyard, supplying local shops and businesses in the Byron Shire.
Gitam joined the Byron Yoga Centre in 2007, blending the skills she had gained working as a legal secretary over the years to the good administrative functioning of the Centre. She soon introduced her culinary skills into the mix.
"Byron Yoga was running teacher training courses and retreat programs and John Ogilvie stressed the importance of participants eating healthy and nutritious fresh food, prepared with love and care to feed our students,"  explains Gitam.  Years of cultivating knowledge about food and nutrition, meant it was only natural that the important job of nourishing hungry students would land in the lap of Gitam Garden.
"I pulled out all my old recipe books and notes, trawled the recesses of my memory and set up a series of menus for the Centre, drawing on my knowledge of nutrition and Ayurvedic principles."  Ayurveda is the Vedic Science of Knowledge that focuses on balancing the different doshas or constitutional types of the body.
"Byron Yoga aspires to provide sattvic food, which is the purest diet, nourishing, and helps to maintain the mind in its most peaceful state," says Gitam. A sattvic diet calms and purifies the mind, enabling it to function at its maximum potential. "In every meal I try to include a grain dish, a legume dish, a vegetable dish and a green salad, so that whatever a person's preference, their needs can be satisfied."
Gitam's recipes are onion and garlic free and there are no eggs or mushrooms used. "These ingredients are considered to upset the Sattvic equilibrium, so I have had to experiment again with substitutes. For example, instead of using garlic to flavour food, I use Hing, which is an Indian herb made from the white resinous sap of the giant fennel. It aids indigestion and helps relieve locked up gasses from the stomach", Gitam says.
Through the practices of yoga, people are moving toward a higher state of awareness and purity and Gitam believes this makes one more sensitive to additives and processed foods often included in mainstream meals, hence Byron Yoga encourages Sattvic eating.
Now days, whether you join us in beautiful Byron Bay for a teacher training, retreat or special course, you'll enjoy Gitam's trademark, Sattvic food.   And due to popular demand, Gitam has compiled some of her favourite recipes into a new recipe book
The recipes in the book are for the most part gluten and dairy free. "Mainstream eating is overly processed and tainted and more people are presenting with allergies to these types of food. When we offer food to students and participants, we always offer alternatives to dairy and gluten."  The philosophy behind this new recipe book is encapsulated by Gitam's own personal moto: "Growing food should be fun, preparing food should be fun and eating food should be the most fun of all!"