Written by Pete Jackson
It's the festive season and many of us will celebrate the season according to our religious and cultural traditions, but perhaps not always our yogic practice. We'll eat and drink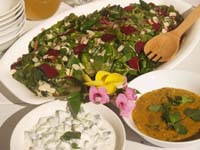 a little extra of those things we may normally avoid and generally break a few 'rules' as we join with family and friends for what will hopefully be a happy and harmonious Christmas time.  So, as yoga practitioners, can we break our good habits of eating nourishing, well balanced food for the sake of one-off Christmas 'partying'?  Yes, we can! To help, Byron Yoga Centre's resident Ayurveda teacher, Jacinta McEwen, offers some festive season tips.
Jacinta McEwen first taught yoga in 1987 after a professional career as a nurse and later a naturopath. Perhaps it was that early career in care which saw her eventually delve more deeply into ayurvedic medicine. Jacinta now runs Mullumbimby Herbals in Mullumbimby, near Byron Bay.  She understands how simple dietary and lifestyle adjustments can help us feel better in our bodies, and feel better about ourselves. "I love the self empowerment side of Ayurveda (and yoga) and how such adjustments can change ones health and mental states," says Jacinta. "And I love the deeper spiritual side of ayurvedic medicine (and yoga) and where consciousness intersects with health and karma."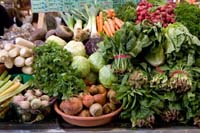 In the southern hemisphere, where summer and the season of pitta coincide with Christmas, Jacinta recommends we try to reduce the fire element or heat within by following these tips. Avoid excessive heat and excessive steam. Eat cooling foods – especially fresh organic fruits and vegetables where available, and avoid hot spicy foods especially those with chilli. Also avoid excess oils, fried foods, caffeine, salt, alcohol, red meat and hot spices. Cooling spices are an important part of a pitta diet. The best are cumin, coriander seed and green leaf herbs, saffron, dill, fennel, mint of all kinds, parsley and cardamom. Tumeric can also be good as well as small amounts of cinnamon.
Enjoy unhomogenised warm milk with spices to aid digestion, as well as cottage/paneer cheese and whole grains. Only exercise during the cooler part of the day. Meditate to deal with added tension and practice deep relaxation wherever possible.
Our whole system is better off with a few drops of Nasya warm oil in each nostril to soothe and strengthen the pineal and pituitary glands. "It clears out the sinuses and head-fog nicely too and is good to do before alternate nostril breathing, " suggests Jacinta.
Aloe Vera is a great cleanser and aids the liver, while also cooling the body. It's particularly good in summer heat. "I also use it externally for sun and wind burn, a common feature of our harsh Australian summer," adds Jacinta. St Marys thistle is a good liver support so start taking before drinking alcohol or 'heavy' foods such as meats or sweets high in refined sugar and continue for a few weeks. Our liver is the first line of defence against toxins, whether they are chosen toxins like caffeine, alcohol, recreational drugs or even excess sugar. So looking after the liver is always a good idea.
Andrographis complex includes tulsi and echinacea too and these three herbs aid our immunity and our liver and will help clear toxins from our body. They're a good choice the day before and after a big night out! Nux Vomica 30C homeopathic is a priority for the first aid kit and it's especially good when dealing with the after effects of seasonal feasting. It's also helpful if your celebrating leaves you with feelings of nausea or a toxin-related headache. And it helps the liver which, as we can see, gets a real work out this time of year.
From an ayurvedic perspective, Jacinta recommends self oil massage with warm black sesame oil, or mix in a little almond or coconut oil if you are a hot type constitution. This grounds and nourishes on all levels. "It's also calming but will also increase energy levels just when we feel dozy or drowsy if we have summer heat at Christmas such as here in Australia" she adds.
Swish some Gundush black sesame oil around your mouth before spitting it out to cleanse and nourish the mouth and throat. Jacinta reminds us "It's a party time so if you end up singing or talking a lot at this time of year, this will help!"
What about the added stress and pressure this time of the year can sometimes bring, particularly when family issues come to the fore? "If the season is taking its toll before the first sip of champagne, 'ex-stress' ayurvedic capsules are great," recommends Jacinta. "They nourish the nervous system and calm and strengthen the body and our emotions".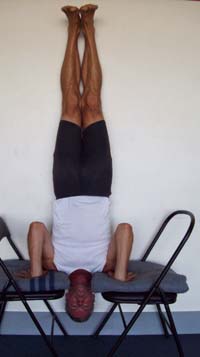 To help with tiredness and jangled nerves, try wrapping a horse bandage around the head, covering your eyes and forehead, then lie with your feet up a wall, sink in to the position, and relax. "You might also consider a supported head stand between chairs for an additional effortless pose," she adds.
Spend as much time as possible in nature's cool shady places. Get plenty of outdoor exercise. Also, try placing rose water soaked pads on your eyes to calm the heat of pitta. And, above all, spend some time with fellow nurturing souls who support you in your practice of balancing mind, body and spirit.
Foods we prepare ourselves should be simple and nourishing to help accommodate our bodies further when not indulging. Jacinta suggests soups and broths as good restoratives as are cooked or grated apples. We might also try to cut back on regular full meals in between festive foods and for this Jacinta recommends an almond smoothie with added herbal powders. "It's great as a light meal or snack to replace a full meal and is my favourite protein boost".
If you choose to eat out this time of year, Ibergast drops or triphala before and afterwards can help lessen any ill effects.
So, can we celebrate Christmas without 'over-doing it'?  Jacinta's reply is emphatic. "Of course we can!" she says. "It's all choice and putting effort into making and baking at home as much as possible".  Jacinta recommends where possible, make your Christmas feasting creative as well as nurturing. Home made treats, she says, can be enjoyed by all both in the making, baking and tasting. "I remember last year putting my two 24 year old sons to work rolling bliss balls while I baked" she muses. "For me it's special moments of closeness in the cooking as well as in the eating which nourishes and unites us".
If we try to follow these recommendations, there's no reason not to enjoy this festive season without sparing our carefully managed year long routine of yogic balance and harmony. As Jacinta says, "have a nourishing and heart opening festive season, and enjoy what the time brings, but don't pay the price into the new year too!"
If you're keen to take a further step towards a Christmas clean out, why not consider giving yourself time-out at one of our January retreats in Byron Bay, to support new year's resolutions of a healthier lifestyle. A highlight, as always, is the delicious food along with an ideal, healing environment in which to prepare for the year ahead.   And don't forget Byron Yoga Centre's new Recipe Book which is a compilation of the many wonderfully healthy and delicious meals that are created in Gitam's kitchen.
If you are spending Christmas in the northern hemisphere read this article for more information on nourishing foods for the winter season:
Ayurvedic health tonics for wintertime
Related articles: