Nadine, a Byron Yoga Centre Level 2 graduate and owner of Sohum Yoga in Victoria, is organising a private group retreat at Byron Yoga Retreat Centre for 2017.
Having done your teacher training at Byron Yoga Retreat Centre, what most excites you about your returning with a retreat group?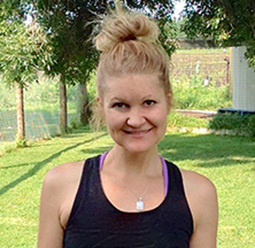 My reasons for returning to Byron Yoga Centre with a retreat group is to be able to share in the love of yoga in the environment where my yoga teaching journey began. I will never forget the life changing experiences and guidance that was given to me by the teachers at Purna Yoga.
What inspired you to do your yoga teacher training with Byron Yoga Centre?
I was given some sound advice from my yoga teacher – She suggested going to various classes where they teach yoga and observe how I felt in each environment. I went to a class in Brunswick, Victoria where John was teaching. I really enjoyed his class and energy. I decided to travel to Byron Yoga Centre for Level 1. The teachers at Byron Yoga provided me with the knowledge to be able to teach safely and wholeheartedly. I loved it so much that I decided to go to Bali with Byron Yoga to complete my Level 2. I can't thank Byron Yoga Centre enough. Click here to read more
What do you feel were the main things you gained by doing the training course?
Yoga teacher training completely fills you up with so much knowledge and depth of understanding of the philosophies, the asanas, anatomy, etc. I feel confident to teach safely. I teach students a well rounded yoga class and this is due to the foundations that were embedded through the courses at Byron Yoga Centre. I loved being able to stay at Byron Yoga Retreat Centre and Bali together with the trainees and teachers! We laughed, cried, ate beautiful clean food, chanted, meditated and the list goes on. I have made life long friends.
What is your primary intention for your retreat group?
My primary intention for my retreat group is for them to feel comfortable and free to be able to let go, rejuvenate, relax and unwind from daily stresses back home. The retreat will give the guests a place to really immerse in all aspects of yoga in a safe, nurturing environment truly conducive to inner exploration and expansion.
How is teaching impacting on your own practice?
Having a consistent practice is the key in my opinion for being the best teacher you can be. My teaching allows me to remember to continually come back to the question – 'What is the most important aspect of my practice? What do I want my students to learn from their practice?' That for me is union with body, mind and spirit. To always remember to be kind to yourself and others. Teaching students to pay more attention in how a pose feels rather then what it looks like.
I think we all judge ourselves much harder then anyone else does. If I can teach students in some way to let go of fear, control and judgement and embrace all they are – their true self ,then we are more open to breath, find space and live a life of peace. This is what my teaching brings home to me in my own practice.
How else are you incorporating yogic principles into your life?
I believe we all have a purpose. For me, what excites me is being able to give my full attention and care to those that are in my life. My family, friends, colleagues, students and strangers. Yoga reminds me time after time that we are all the same. To let go of judgment! Be present and live from the now. Seeing life as something to be embraced, grateful for every day, every moment, and every breath.
What are your hopes and dreams for the future?
My dream is to create my own sustainable home on a large property with a separate, spacious studio for the community to come and share in their love of yoga.
What advice would you give someone who is not planning to be a teacher and is choosing between a Level 1 yoga teacher training and a retreat.
They are both very different experiences. I feel a retreat allows you time to relax, rejuvenate and breathe. It gives you time to immerse in as much or little yoga as you wish.
Yoga teacher training completely fills you up with so much knowledge and depth of understanding of the philosophies, the asanas, anatomy, etc. It completely depends on your intentions. I would say DO BOTH!!!
Nadine's story:
Growing up Nadine loved playing musical instruments including classical piano, and dancing. She gained a Bachelor of Music from Melba Conservatorium of Music then completed a Bachelor of Education. She worked as a Primary School teacher for over twelve years before Yoga transformed Nadine's life!
Yoga provided the pathway and tools to overcome many challenges and to create a life of balance, good health, happiness and abundance. Nadine travelled to Byron Bay and Bali to complete Level 1 and 2 training with Byron Yoga Centre. She also studied Vinyasa at the Australian Yoga Academy of Yoga and Kids Yoga with Rainbow Kids.
Returning to her home town after years of travel and exploration Nadine started Sohum Yoga in Tooradin, South East Victoria. Nadine is a dynamic and warm yoga teacher who brings energy, humour and philosophy to her classes – and retreats!
She told us 'My intentions are for like minded people to come together and share in the love of yoga, healthy foods, meditation, music and yoga philosophy in the beautiful environment of Byron Yoga Retreat Centre.'