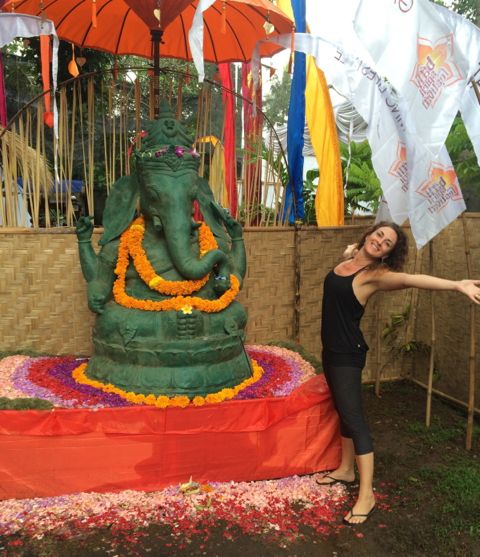 How did your yoga journey start?
I think I've always been a yogini at heart, if not in body. I started reading about yoga philosophy, meditation and asana in high school long before I set foot on a mat. I'm a big "gatherer" of information, so my yoga journey began with knowledge before practice. I first hit the mat in my early 20s, while feeling displaced living in America. I had visualised my practice before it began, so my first class felt like coming home. My teacher was an older friend who was the most serene, glowing woman – she radiated "I am", and I wanted some of that.
Why did you become a yoga teacher?
I started practicing with John and the teachers at Byron Yoga Centre in late 2008 – I did my Level 1 and 2 teacher training in 2009. The journey allowed me to connect with myself again, let go of fear and find the strength to begin healing myself and the relationships in my life. I taught for a short time at the Byron Bay studio and my local gym before joining the Byron Yoga Centre team in an admin role. As much as I loved teaching, the early class times and young kids made it tricky to balance, and so school hours in the office, my love for a "chat about yoga", and being able to facilitate others on their yoga path made the job a perfect fit. This is my 5th year with BYC and I love it – it's my second home and family.
What yoga pose puts a smile on your face?
I am loving Surya Namaskar right now as I love the feeling of moving forward into something great!
What have you learned about life from yoga?
My practice keeps me real – it grounds me, but more importantly it helps me create the space to stay open – open to love, grace and all the amazing things this life offers. I believe my practice is a choice, my line in the sand – I choose to be a better person, mother, wife… and every time I come to the mat I choose to be the biggest version of me I can at that moment. I love how my practice changes as life and my body does – yoga keeps me connected to myself, those around me, and life.