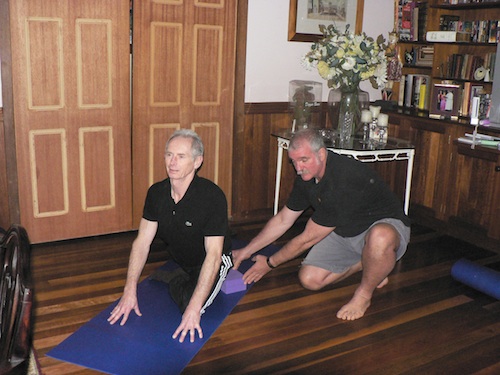 Written by Pete Jackson
To some, Tim Limbert is not your typical yogi. He is not only male, but also middle aged and working full time in the analytical world of tax accountancy. Tim is also a teacher training graduate of Byron Yoga Centre and takes to his 'other' practice like he takes to his kayak, which is as often as weather and conditions allow, close to home on the pristine waters of Byron Bay. While accountancy reflects Tim's desire to help others budget their bills, yoga reflects a desire to help others enhance their life through regular practice. How does Tim manage to merge the daily grind of accountancy number crunching with regular yoga?
Living where he does close to Byron Bay allows Tim Limbert to live his passion. For him, that passion consists of as many moments as possible paddling his kayak across sub tropical Wategos Beach under the sentinel of Cape Byron lighthouse. "Quite often you see dolphins, turtles and even whales blow their spouts in close range at certain times of the year," says Tim. "To be carried across the water at speed on a 2 metre wave is quite simply awe inspiring!" he enthuses. You begin to re-adjust your view and perception of this middle aged professional whose life was blessed not just with the birth of two sons and a beautiful daughter but also the introduction of yoga practice towards the latter part of the 1990's.
A chance meeting with Byron Yoga Centre's, John Ogilvie,  saw Tim embark on his yoga journey. The pair met through business and as Tim recalls, John in conversation broached the topic of yoga and spoke about his yoga school established in Byron Bay. "I'm not sure what John thought meeting me at the time, but somehow his passion and drive for yoga 'permeated' the conversation," recalls Tim. "John's way of subtly broaching the subject of yoga was at just the right level, letting it sink in only for it to later emerge, where it's deeper significance and calling became readily apparent". Tim soon found himself calling John to find out more about evening classes, which suited the demands of his busy work practice and helping raise, with wife Stephanie, their young family.
Regular practice awoke within Tim an interest to further explore his yoga.  Over time, he says realised there was more to yoga than what you could experience in a class. "I jumped at the chance to do the teacher training when a part time course was offered and by the end of the course I felt that I could be a teacher and start my own class," recalls Tim. The option of undertaking part time teacher training worked in well with Tim's full time work commitments, and he soon found himself immersed in all aspects of the level one teacher training.
With the guidance of Byron Yoga Centre, Tim developed a deep interest in yoga philosophy and its science of the body/mind. "As an accountant you're trained to think in a linear fashion, but learning how the body works from a more wholistic and practical perspective proved quite challenging and difficult at first, but eventually I found the theoretical aspect of the course highly inspiring," says Tim. "When you haven't had to think that way before, such a path of study breaks new ground in your thinking and approach to understanding the body," he adds.
Slowly and almost unwittingly, Tim's approach to yoga evolved and morphed to mirror his full time professional life. He began to inquire how, as a yoga teacher, he could turn his attention towards helping people just like him improve their quality of life through yoga practice. Tim could see and feel how much 'better' he felt, and how his not so lean, young and slender body responded to yoga.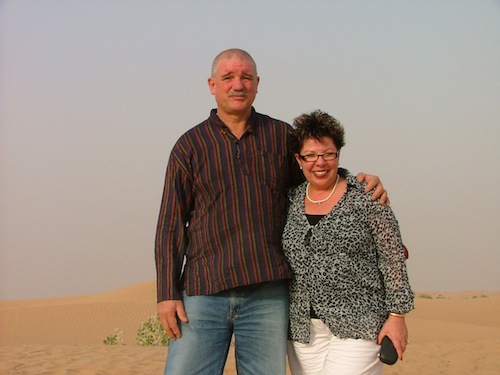 Yoga therapy teacher training beckoned as a further opportunity to deepen his understanding of yoga, particularly for all body types and conditions,  and Tim answered the call. He also began offering a regular weekly class in his local area in an old (unheated) community hall, where supported by his wife, Stephanie, Tim drew a small enthusiastic student population of anywhere between two and eight, catering specifically for those in their 40's and up, many of whom were new to yoga.
His time at Byron Yoga Centre helped him overcome the butterflies of teaching his own class for the first time. "I'm so grateful I was required to lead occasional public classes during my teacher training. That was a massive help overcoming the initial lack of confidence of preparing and leading a class," says Tim. The supportive environment of teacher training helped build self-confidence and rendered the experience for him less confrontational.
Tim chose to offer regular hatha yoga classes directed towards his own age group because he says he "understood what happens to the body's flexibility as we get older". Tim felt he knew what it was like coming from that sort of 'place' where the body presents initial physical resistance and a mindset to match. He knew how hard it can be for more mature individuals coming to class for the very first time to engage in regular practice.
Tuesday class with Tim Limbert became a 'gentle affair' where existing ailments were nurtured and honoured, and students encouraged to 'exhilarate but not exhaust'. His class starts initially with Pranayama breathing using either Viloma (3-part interval breathing) or Nadi Sodhana (alternate nostril breathing) to cleanse the nadis (energy channels of the body), bring calmness to the mind and expand lung capacity. He notes that:  "regular class members carrying common lifestyle problems of poor posture, anxiety and diet into class began to show evidence of an improved well-being". Stephanie was one of her husband's keenest students, with an endorsement that after yoga class, Tuesday nights ended up being her best sleep of the week!
To this day, Tim continues the juggle of work, yoga and kayaking, a lifestyle which he says keeps him 'grounded'. He says helping others through yoga has helped him 'find himself'. Yoga has become, like his time paddling on the ocean, a part of his life. While he'd never call himself a trailblazer, Tim says he'd like there to be more men like him explore the option of yoga practice and perhaps teacher training just as he did all those years ago.
Tim says male yoga teachers have the potential to broaden yoga's mainstream appeal: "I think having more men teach yoga will encourage more men to practice yoga". The challenge, he adds, is to keep those men (and boys) in class. He recommends teachers keep in mind some men seek a competitive atmosphere in what they do, which has no place in yoga class or practice. "Emphasise to those who may benefit the idea of only working to your personal limit, and that improved flexibility takes time," he advises. "After all your body is your teacher!"
In the future, Tim hopes to devote more time to his two loves, yoga and paddling, as well as his family. There's every chance with retirement looming, this unlikely yogi will immerse himself further into yoga with a regular daytime class for the elderly in his community. There's also a good chance he'll end up spending more magical moments paddling on the water off Byron Bay, getting up close and personal with those dolphins, turtles and whales.