85 Hour Certified RPYT Training Course
Accredited with Yoga Alliance
Gain the skills and knowledge to teach pregnant women and new mothers safely, whether it is in a specific prenatal class, within a general yoga class or a Mums & Bubs class 
9 Day Residential Prenatal Yoga Teacher Training: Friday 18 – Saturday 26 August

Price from $2,840 (includes tuition, all meals and 8 nights in quad (4) share room with shared bathroom, other accommodation options subject to cost and availability)
Earlybird price from $2,670
Earlybird – offer only available for bookings made more than 8 weeks prior to course commencement.
| Dates | RG TEST - Programs | Register |
| --- | --- | --- |
| August 18 - 26, 2023 | 9 Day Prenatal Teacher Training – August 2023 | Register Now |
Byron Yoga Centre's Prenatal Teacher Training Course is for yoga teachers, current trainees and those working in related fields such as midwives, doulas and health professionals. Also open to yoga practitioners with at least 2 years' experience and pregnant women at 14 weeks or more. Please note: only those with a 200 hour Level 1 RYT (or higher) certification who complete the 9 day course + the online hours and go on to complete an additional 30 hour practical teaching experience can apply to Yoga Alliance for accreditation as a prenatal yoga teacher.
Course Overview
Delve into the fascinating and rewarding area of prenatal and postnatal yoga. Explore the theoretical and the practical aspects of offering yoga classes to expecting mothers. Those who already have at least a 200 hour Level 1 RYT certification can become qualified to teach prenatal yoga.
You will learn from experienced trainers and specialists in the fields of pregnancy yoga and women's health. The training will enables you to teach pregnant women and new mothers safely, whether it is in a specific prenatal class or teaching pregnant, or new mothers, within a general yoga class.
The training will cover key asana to benefit prenatal and postnatal women along with how to modify postures, the use of props and also adjustments and corrections for pregnant women.  You will learn the contra-indications and safety guidelines for both a pregnancy and post birth yoga practice. The course will provide you will a large repertoire of suitable and safe postures and practices to integrate into your classes. You will learn how to sequence specialised classes and also how and when to provide variations and modifications for pregnant women during general classes.
You will participate in yoga classes that demonstrate correct teaching methodology and you will also have the opportunity for practical teaching experience. To become registered with Yoga Alliance as an accredited RPYT (Registered Prenatal Yoga Teacher) you will need to complete an additional 30 hour practical teaching experience on completion of the residential course and online hours.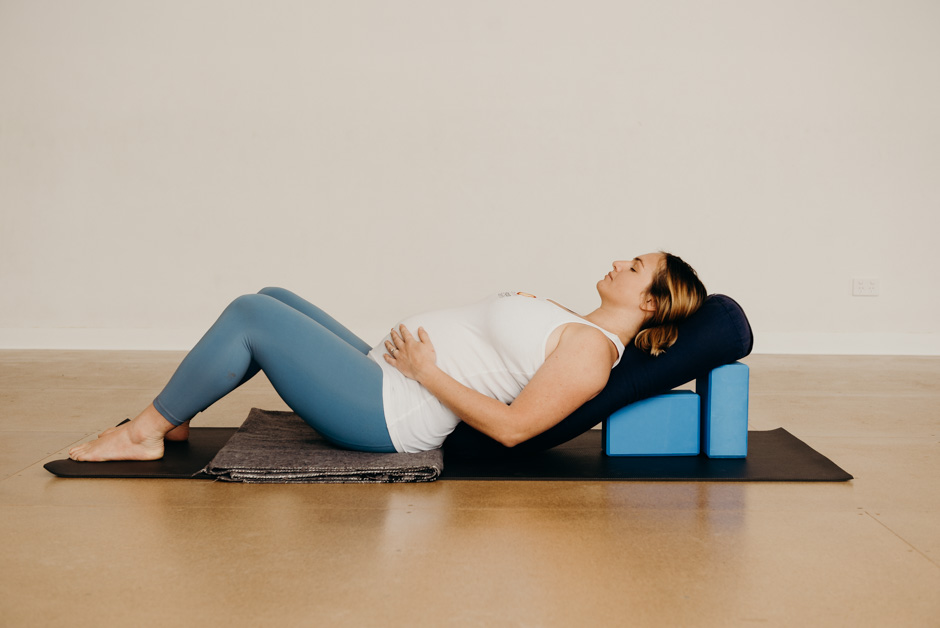 The theoretical sessions will cover applied anatomy and physiology specific to prenatal and postnatal women, safety guidelines and also the practical and business aspects of establishing and running prenatal and 'mums and bubs' classes.
This course is primarily designed for yoga teachers and health professionals wishing to add prenatal teaching to their repertoire. It is also open to yoga practitioners and particularly pregnant women in the second and third trimesters looking to design their own practice for pregnancy and to spend time on the mat with their baby. A rewarding course with a myriad of practical benefits to share with others.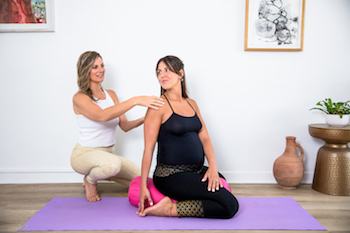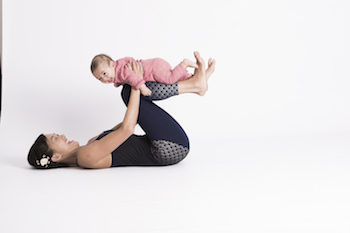 Course Structure For 85 Hour RPYT Certification
Part A: pre-course preparation: approx 5 hours
Includes online study, practising asana and some Skype supervised sessions where required with our trainers. It is recommended you allow 1-2 weeks to complete this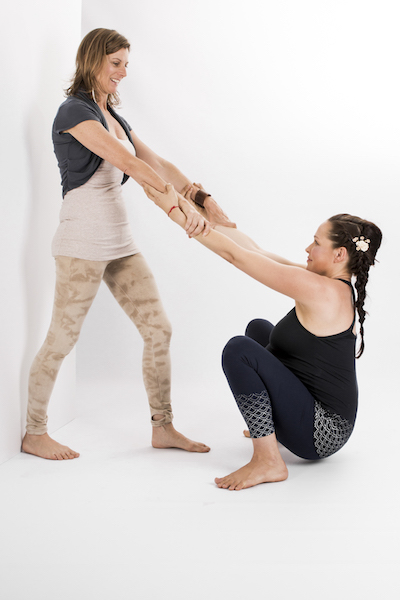 Part A.
Part B: the 9 day residential intensive (see Course Content below).
Part C: post residential intensive component: approx 10 hours
Includes e-learning units and journaling of practical teaching experience. To register with Yoga Alliance as a RPYT you also need to complete an additional 30 hours of teaching.
Residential Course Content
Take part in sample prenatal yoga classes for experiential learning
Important safety guidelines for prenatal and postnatal yoga
Learn the contra-indications for a pregnancy/ postnatal practice
Learn to teach appropriate asana for prenatal and postnatal women
Explore variations, essential modifications and safe adjustments for pregnancy
Gain experience in the use of props for pregnant women and new mums
How to structure prenatal classes and sequence sessions
How to support pregnant women in general yoga classes
Study the applied anatomy and physiology of the field
Detailed look at specific issues such as lower back pain
Understanding and recognising postnatal mental health issues
In depth look at the key developments of each trimester
How yoga can support women in preparing for a natural childbirth
Learn to successfully structure a 'mums and bubs' class
Practical teaching opportunities and constructive feedback
Course Accreditation

If you attend all the sessions in the 9 days course you will receive the certificate for 85 Hours once you have completed the online elements and post residential components. 
To attain accreditation with Yoga Alliance as a RPYT (Registered Prenatal Yoga Teacher) you need to have a Yoga Alliance approved 200 Hour Level 1 certification before you join this course. Yoga Alliance also requires you undertake an additional 30 hours of teaching experience in addition to the 85 hour training. Yoga Australia registration in this field requires 50 hours of training.
Both Yoga Alliance and Yoga Australia require members to complete CPD (Continuing Professional Development) each year. This course can count as 85 CPD points.
Your Teachers
The course will be facilitated by Senior Byron Yoga Centre teachers who have professional (and personal) skills and experience in prenatal/postnatal yoga and women's health.
Teachers will include:
Emma Louise Roger |  Jade Abbott | Tabata Ogilvie
Sample Program – 9 Day Prenatal and Postnatal Training
Day 1
2:00pm - Arrive and settle in to your accommodation
3:00pm - Welcome Circle
4:00pm - Restorative yoga class (example of prenatal class)
6:00pm - Dinner
7:00pm - Yoga Nidra
Day 2-8
6:30am - Sample prenatal asana, meditation and pranayama class
8:00am - Breakfast
9:00am - Theoretical and Methodology session
10:30am - Break
11:00am - Practical workshop
12:30pm - Lunch

2:00pm - Theory and Practical workshop
4:00pm - Practical teaching
6:00pm - Dinner

7:00pm - Yoga Nidra / meditation / pranayama
Day 9
6:30am - Sample prenatal asana, meditation and pranayama class
8:00am - Breakfast, check out of rooms
9:00am - Final session and closing circle
11:00am - Departure (you are welcome to stay on to use the facilities and have lunch)
* Daily program may vary slightly
Course Venue
This fully residential training will be held at the Byron Yoga Retreat Centre, Byron Bay.